Welsh-American place names
A census taken in 2008 revealed that there were approximately 1.98 million Americans with a surname that had Welsh origins.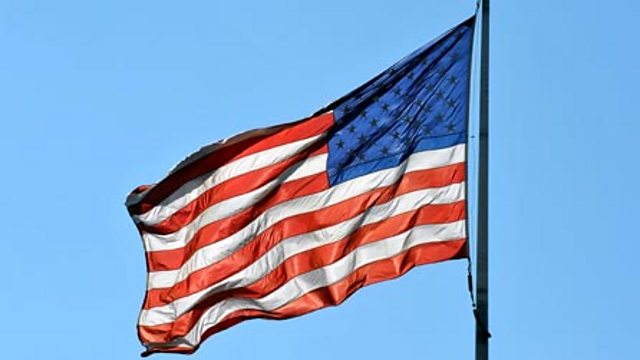 The star-spangled banner
Many of these, incidentally, were African Americans. There are hundreds of black Americans with names like Evans, Jones and Thomas and these are usually of Welsh origin. It comes from the old slave tradition of workers taking the names of their masters and would therefore seem to indicate that many of the plantation owners - or, at least, the overseers - were Welsh. Not exactly something we should boast or be unduly happy about.
But quite apart from people's names there are also lots of American towns and cities that are named after original settlements in Wales. Some of them are well known.
So we have Bangor in Maine, Newport on Rhode Island, even Swansea in Massachusetts. Yet not many Welshmen and women realise that there are no fewer than 10 Cardiffs in the States. These can be found in Alabama, Colorado, Idaho, Maryland, Illinois, New Jersey, Pennsylvania, Tennessee, New York and Texas. That takes some imagining, doesn't it?
It's easy to see why immigrants to the USA should choose to name their new villages after places they knew and remembered in the old world. It meant a degree of security and familiarity in a strange and, in the early days at least, largely untamed land. When death and destruction could visit at any moment, in the shape of disease or famine, raiding war parties of Native Americans, even from Britain's traditional enemies like the French, it was important to keep some semblance of normality alive. It was something firm and tangible to hold onto.
In later years, once America had achieved independence from Britain and begun to develop as an industrial and economic power of major proportions, people from Wales continued to settle in the States. Many of these were coal and steel workers, eager to start a new and better life. And that is why many Welsh immigrants settled in areas of Pennsylvania.
Welsh settlement in Pennsylvania had been going on for many years, mind you. Thanks to the efforts of William Penn in the late 17th century, the Welsh Tract was created. This consisted of 40,000 acres of land in Pennsylvania, most of the settlers being Welsh Quakers. Welsh was the predominant language spoken in the region and this was reflected in the place names of many of the towns that soon grew up. Places such as Bryn Mawr, Lower and Upper Meirion, Radnor and Haverford still exist and remain proud of their Welsh origins.
There are so many other towns and cities with names of Welsh origin in America. Some of them have fascinating histories.
Malad City in Idaho, for example, was created in the mid 19th century as a Welsh Mormon Settlement. And five towns in Maryland were built between 1850 and 1942 to house Welsh quarry workers who had made the dangerous trip across the Atlantic to work in the local quarries.
Dozens of Welsh-American societies meet on regular basis in all parts of the USA. Along with the surnames of thousands of Americans and the names of their cities they are part of a strong and undying link between the USA and the old country from which so many early settlers came.
Feel free to comment! If you want to have your say, on this or any other BBC blog, you will need to sign in to your BBC iD account. If you don't have a BBC iD account, you can register here - it'll allow you to contribute to a range of BBC sites and services using a single login.
Need some assistance? Read about BBC iD, or get some help with registering.