Ivor The Engine episodes unearthed
A rare collection of Ivor The Engine episodes, which have not been seen since the 1960s, has been unearthed in Kent.
The 24 reels were found at the back of the converted pigshed in Blean, Kent, where Peter Firmin and Oliver Postgate created their much-loved children's animated films. Postgate's son, Dan, said the episodes could be released once they had been converted into a digital format.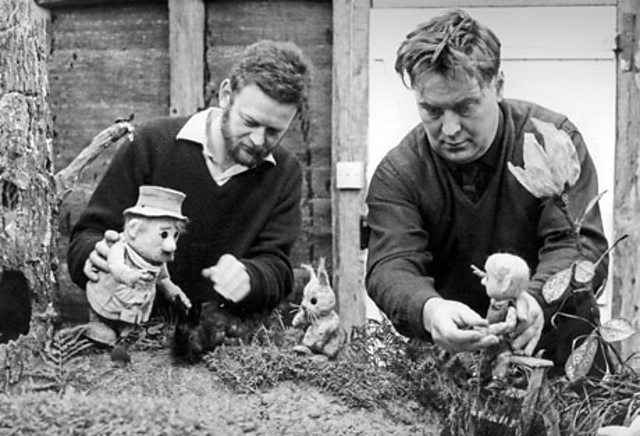 Peter Firmin and Oliver Postgate with creations Mr. Pogle, Tog and Pippin
Ivor The Engine was created by Postgate and Firmin's Smallfilms television company. It was made in black and white for Associated Rediffusion and first broadcast in 1959, but was remade in colour for the BBC in 1975.
It told the story of Ivor, a sometimes disobedient small green locomotive who worked for the Merioneth and Llantisilly Rail Traction Company Limited, although he dreamed of singing with the Grumbley and District Choral Society. In time he became first bass of the choir and transported the members from place to place.

His driver was Edwin Jones, known as Jones the Steam, who enjoyed fishing and daydreaming. Ivor's other friends included stationmaster Dai Station, portly choirmaster Evans the Song, fellow chorister Idris the Dragon, and fairground owner Morgan the Roundabout.
Smallfilms were also responsible for the creation of other television favourites Bagpuss, The Clangers, Noggin the Nog and The Pogles.
Read more on the story on BBC England News online, and read more about Ivor The Engine on the BBC Wales Arts site.