Oriel Davies Gallery exhibitions
Rural living and raw landscapes are at the heart of two exhibitions being hosted by the Oriel Davies gallery in Newtown, Powys.
The first, A Place In The Country, showcases the work of six Danish artists and their explorations of how urban living and country life compare.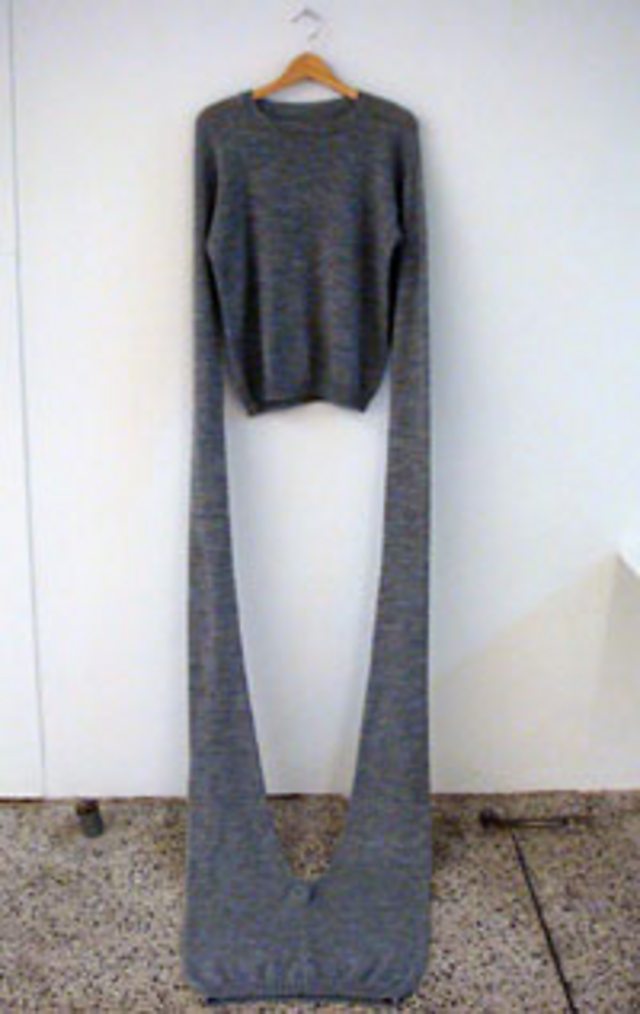 Karen Havskov Jensen, Heraldik, textile installation
Several of the artists live in the remote windswept region of West and North Jutland on Denmark's western coast where sand dunes, wind farms and tiny villages are prevalent.
The artists use their works to express their impressions of its quietude and natural splendour. One is Karen Havskov Jensen, who returned to the countryside after living in a city for many years. She works with traditional needlecraft and imbues her work with questions about what it means to live on the periphery of society.
One of her pieces includes a knitted jumper with incredibly long arms, which eventually merge into the trouser legs of a knitted pair of trousers. And above that is displayed a flag, where the pennant merges into a series of dangling socks.
Her interest is including motifs she spots in the landscape close to her home in her sculptures. A Place In The Country includes her major installation Around In The Reserve, with crocheted images of wind turbines, farm and wild animals.
The exhibit also incorporates delicate prints, installations and drawings by Klavs Weiss mostly concerned with geographical boundaries and the concept of 'home' explored via his installation He Who Lives In The Wilderness.
This tension between the urban and the rural is also a concern for Thomas Wolsing, who has himself left behind city life to reside in a village in North Jutland.
He uses cross-stitch images of decaying farmhouses and installations of deserted properties to show the harsh effects of agricultural decline and depopulation.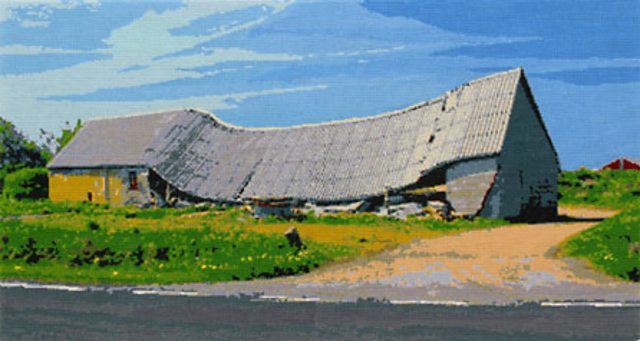 Thomas Wolsing, Collapsed House, cross-stitch textile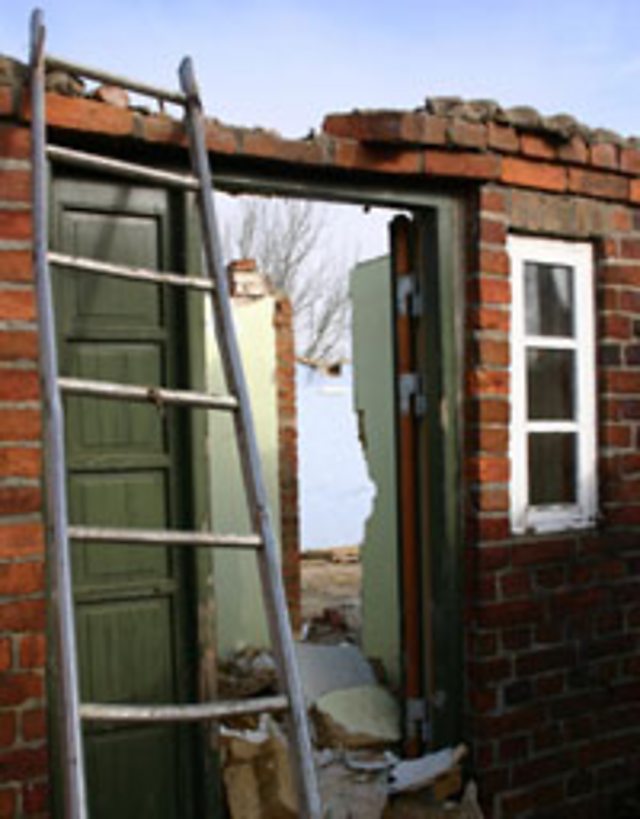 Detail from Jette Ellgaard's video projection Homecoming
Video is the main medium for Jette Ellgaard, who spent her formative years on a farm in West Jutland and chooses to make reference to this past life and compare the countryside of her childhood imagination with the actuality of now.
The curious works of Hartmut Stockter focus on inventions which explode romantic notions of what ideal nature means seen through the eyes of an artist who lives and works on a houseboat in Copenhagen's docklands.
His eccentric creations include The Portable Rat-Converter, a contraption which allows rats to change into squirrels by putting on fluffy tails, and life-sized sparrows made from discarded chewing gum and cigarette ends.
There is a much more physical element to the work of Marianne Jørgensen, who embraces cutting texts into the earth, writing with grass seed or creating explosions in her local field to highlight threats from encroaching urban development.
The exhibition has received financial support from Arts Council of Wales, the Danish Arts Council and Wales Arts International and will launch this Saturday 26 November from 4-8pm with discussion sessions with all the artists, performances and a selection of Danish food and drink.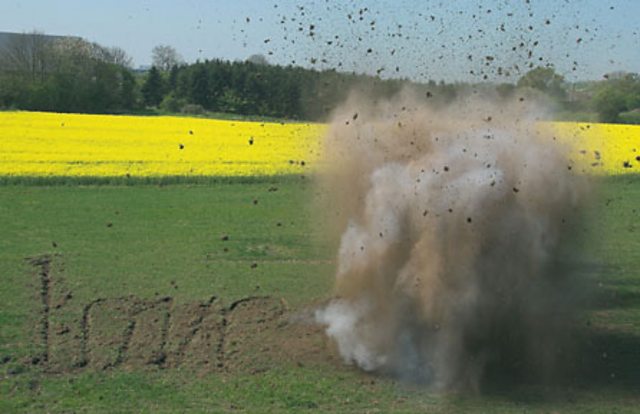 Detail from Marianne Jørgensen's video installation Love Alley
Visitors to the opening will be able to enjoy an unusual musical performance by Tom Gilhespy, who will be exhibiting his installation the Cain Valley Kettle Choir at 4pm. This sees 50 whistling kettles sing together as they are fired by specially created stoves.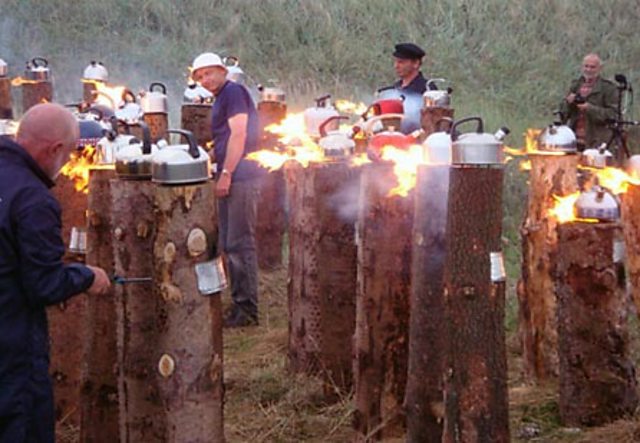 Tom Gilhespy's Kettle Choir
Also opening on Saturday is Rebecca Spooner's Hearth And Hill, which is on show in the gallery's TestBed space. Both exhibitions run until 1 February 2012.
The Testbed dedicated space is designed to display experimental work from new and emerging artists in Wales.
Rebecca's installation is created in response to the countryside and promises a "multi-sensory" environment featuring found objects from nature as well as film and photography.
She is a fan of using Polaroid photography, particularly Super 8 and 16mm film and is fascinated by the recurring motifs of the Welsh landscape.
She says about the exhibition: "It's about the tension between two desires, of wanting a shelter, a safe place or sense of home, and of being drawn outside to the hills and woods, finding wilder spaces".