Production to mark 50 years since Pont Trefechan protest
Nearly half a century ago, a group of people passionate about their mother tongue staged a sit-down protest on a bridge in Aberystwyth to highlight their desire for Welsh to live on and be given official status.
That famous Pont Trefechan protest on 2 February 1963 brought the battle to prevent the Welsh language entering rapid decline to the attention of the national media and galvanised the then fledgling Welsh Language Society (Cymdeithas yr Iaith Gymraeg) into action.
Now as the 50 year anniversary of that high-profile act of civil disobedience nears, Theatr Cymru is to stage a theatrical production in Welsh on the streets of Aberystwyth to mark the occasion.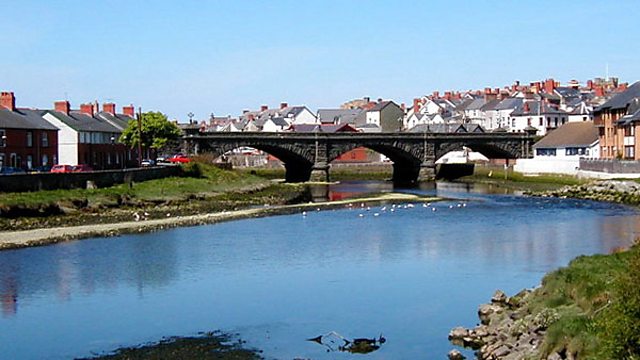 Trefechan Bridge
Image
©
John Lucas
and licensed for reuse under this
Creative Commons Licence
Y Bont (The Bridge) will be staged on Sunday 3 February with a mobile performance starting at the Aberystwyth Arts Centre before it wends its way around the streets and cafes of the town.
The one-off performance, which is already a sell-out, combines various media so the audiences can experience live performance, enjoy video clips at various venues and get a sense of the thrill and tension of the original protest.
Despite all 500 tickets to the show having already been sold, the public is being urged to engage with the event through social media, particularly Twitter, where photographs and videos of the day will be published for all to see.
Y Bont is co-written by the bilingual Welsh author Catrin Dafydd, writer Ceri Elen, author and Welsh language activist Angharad Tomos and the theatre's artistic director Arwel Gruffydd.
The content for the show has been taken from interviews the authors have done with protesters who were present at Trefechan Bridge on the original date as well as witnesses to the event.
The writers issued an appeal last year for people to come forward and share their memories so that the script could be based as accurately as possible on what happened before, during and after the protest.
The show is directed by Arwel and stars Lois Jones, Chris Hoskins and Rhys ap Williams as well as more than 60 students from Coleg Cymraeg Cenedlaethol, Glamorgan University, Aberystwyth University and University of Wales Trinity Saint David's.
Dylan Richards will be directing the television elements that will be broadcast later in the year on S4C.
Arwel said: "I don't think that such an event as this has ever happened before in the Welsh language.
"One professional performance of a new play to celebrate one very important event in our history; the Welsh language national theatre collaborating with students from three Welsh universities, and a dramatic event that combines theatre, film, TV and digital technologies.
"The preparations so far have been very exciting. It has been a privilege to discuss and record the accounts of those people that were there as part of the protest, when a group of determined young people began a tradition that would last 50 years of standing up for their rights and breaking the law when they believed that the democratic route was a barrier to their ambition of securing a future for their language."
For further information about Y Bont go to theatr.com or follow Theatr Genedlaethol Cymru on twitter @TheatrGenCymru and use the hashtag #Ybont.