On October 24, '350' protests took place in 170 countries all over the world as a reminder for world leaders meeting at December's,
Copenhagen climate change conference
that people all around the world care about the issue of climate change.
Here is what happened at Snowdon. Words and photos by our guest blogger - Huw Jenkins.
Saturday, 24 October: Rhyd Ddu car park in the rain.
I'd arrived early to make sure I got a parking space but I needn't have worried, fair-weather friends had taken the forecast to heart.
At 9am around 40 of us walked past a BBC cameraman, oddly preoccupied with filming our boots instead of the '350' banners! And started up the path to
Snowdon
.
We were one of many protests around the world aimed at bringing attention to the excessive levels of carbon leading to climate change - 350 parts per million. Okay but at 385 and rising, big problems lie ahead...
Rod Gritten: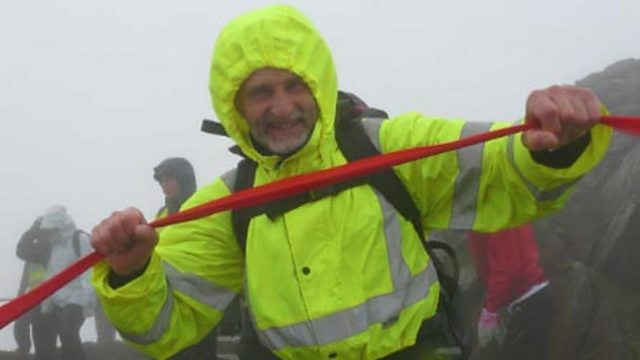 Our plan was to form a human ring around Snowdon, 60 feet beneath the summit at the 3,500 foot contour line.

By coincidence the circumference at this height is 350 metres. Our intrepid leader and a couple of other mountaineering types carried ropes to abseil down the steep side.

There was even talk of someone doing a fly past on a hang glider to film us in our fluorescent jackets, linking arms!

The journey up will not be remembered for the views, with low cloud disguising the steep drop either side of the ridge and 70 to 80 mph winds battering us.

Heavy boots were being blown several inches from the intended footstep but eventually Hafod Eryri beckoned us out of the swirling mist.

Trains had been cancelled - the wind being double the maximum force for safe operation. Rain had penetrated everywhere apart from the waterproof bag of dry clothes which I gratefully changed into.

Other walkers and fellow protesters converged on the cafe which was doing a brisk business in hot drinks.

Our plan was discussed and discretion being the better part of valour, we abandoned the ropes and opted to encircle the summit from just above the cafe.

A long red ribbon was unfurled and snaked up into the sky as people grabbed hold of it and walked it round the rocks.

The banner on a single stick flapped furious whilst the pair holding a banner between two poles were almost blown from the top.

A brief pose for photos with one hand on the ribbon and a fist punching into the storm then time to pack up and descend.

Had there been but 350 parts per million of carbon would it have been a fine day? No.

But this is a humbling place from which to experience the extremes of climate with wind speeds of up to 200 mph and 5 metres rainfall per year - it makes me realise how strong the powers of nature can be and that we mess things up at our peril.

Huw Jenkins

Watch the event on You Tube

COP15 - United Nations Climate Change Conference - Copenhagen 2009