Wynne Evans at the Llangollen International Eisteddfod: day one
For the third year running I'm spending time at the Llangollen International Eisteddfod. I've been a pundit for the Choir of the World and last year I headlined my own concert year.
This year I'm co-presenting the BBC Wales highlights programme along with Sara Edwards, which goes out on Sunday evening at 7pm on BBC Two Wales.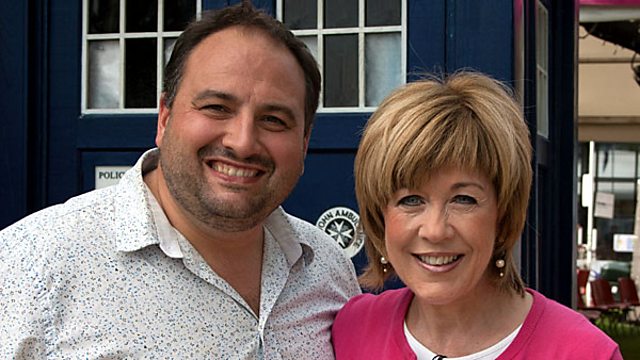 Wynne Evans and Sara Edwards
Yesterday's highlight has to be the parade, where all the visiting groups walk through the town in a spectacle of vibrant colour and international noises. Derek the weatherman has been especially kind to us, although I have to be careful my little bald spot doesn't get burned and end up on TV on Sunday night looking like I have really high blood pressure!
The River Dee seems to be full of swimmers cooling off. I wander down to the river to film with a Jinggaswara, a choir from Indonesia, who sing to me in full national dress - quite an achievement under the midday sun.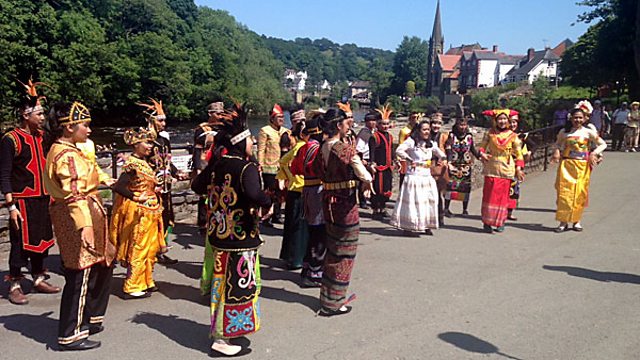 Performers in Llangollen
The fantastic thing about Llangollen is that there is music filling the whole town, and choirs are giving impromptu performances whereever they fancy!
Back on the Eisteddfod field, I'm lucky enough to meet up with not one but four local male voice choirs: Brythoniaid, Cor Godre Aran, Rhos Orpheus and the Fron.
So I take the opportunity to fulfil my ambition to conduct Gwahoddiad, while they have a bit of downtime backstage. As someone once said to me, it doesn't matter how you sing in a concert as long as long as you give a really good AMEN!