I spent many happy hours as a boy down at Freshwater East beach scouring the rockpools for signs of life during the summer holidays, and it's reassuring to know that in this digitalised age, little has changed.

The marine life is still there and the equipment - a bucket and a shrimping net on a bamboo stick are still the same - although we're advised not to use the net nowadays, as our hands are kinder on the animals apparently. Whatever you use - just be gentle.

These days there's a wealth of information available to the amateur rockpool enthusiast and it's not just for kids - why should they have all the fun?

A beadlet anemone by Gwylan: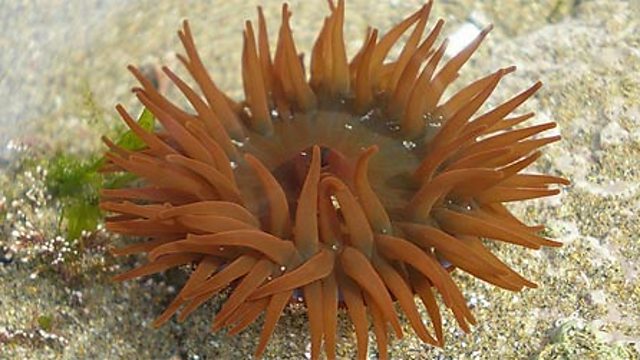 Safety

To be on the safe side, always go pooling with someone - just in case one of you gets injured or lost and always let someone know where you're going.

Check the local tide times before you begin and remember to add one hour on for British summer time.

Try and get to the beach as the tide is on the way out. That way the rockpools will be freshly stocked and you'll have a good four hours to explore before the tide comes in again.

So what can you expect to find?

Anemones, sea urchins, crabs of all shapes and sizes (hermit, edible, spider, shore, peeler), fish such as blenny and goby, shrimp, starfish, mussels, limpets etc are all common place in healthy pools as well as a variety of seaweeds.

If you're really lucky you might even come across an octopus or lobster tucked away under ledges in some of the deeper pools. Try feeding some shellfish or even a piece of seaweed to an anemone and see what happens...

Download our seaside spotter guides to help you identify key species:

It's always worth checking with your local wildlife trusts too as there are often guided rock pool tours during the summer months which are free and offer a wealth of information.