Profiling Dylan Thomas: a 'beautifully mannered' man
Dafydd O'Connor is the producer of Welsh Greats: Dylan Thomas.  Here, he talks about the challenges of making a TV documentary without any moving footage of the main subject.
There are no known moving pictures of Dylan Thomas.  That's something that helps feed his myth, that keeps Dylan unknowable and therefore fascinating.  But for an archive-driven TV series like Welsh Greats, which is all about old footage, profiling a man for whom there's not a surviving frame of celluloid in existence was a bit of a challenge.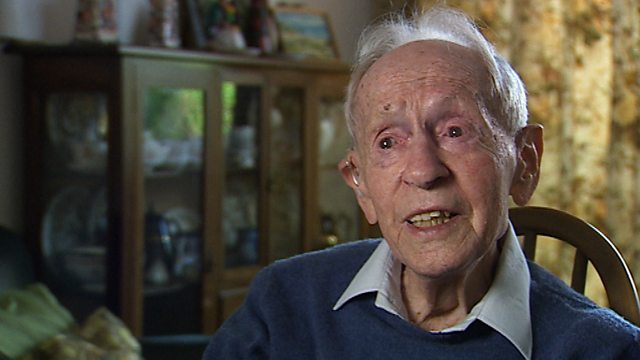 Vernon Davies attended Swansea Grammar School with Dylan.
So to tell Dylan's story we took a different tack.  We were lucky to talk to a number of people who knew him first-hand, among them Vernon Davies.  Now aged 100, Vernon knew Dylan as a boy and remembered him as "a happy chap, who got on well with everybody.  Everyone liked Dylan."  The two were fellow-sixth formers at Swansea Grammar School, where they worked together on the school magazine.  Vernon happily recalled editorial sessions spent composing dirty limericks which, as an ordained minister, he's spent the last eighty years trying to forget.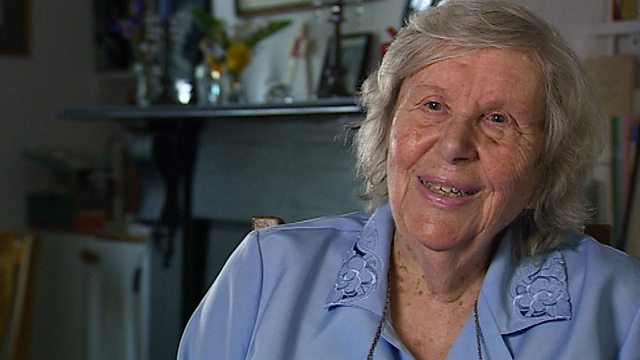 Gwen Watkins, widow of poet Vernon Watkins, and close friend of Dylan's.
We also talked to Gwen Watkins, widow of Vernon Watkins, a poet and close friend of Dylan's.  Gwen's first encounter with Dylan should have been at her wedding, where Dylan was due to be best man.  He never turned up. 
As Gwen told me, "We found out after that he'd been at some publishers trying to borrow some money.   He said he'd forgotten the name of the church, but in fact the publisher's secretary told us she'd put him in a taxi and said 'to the Charing Cross Hotel' which is where we were having lunch.  So, as usual, it wasn't true". 
But despite that unpromising start to their relationship, Gwen spoke of Dylan with great warmth.  The affection he inspired in the friends who talked to us, regardless of his failings or indiscretions, spoke volumes about the power of Dylan's personal charisma.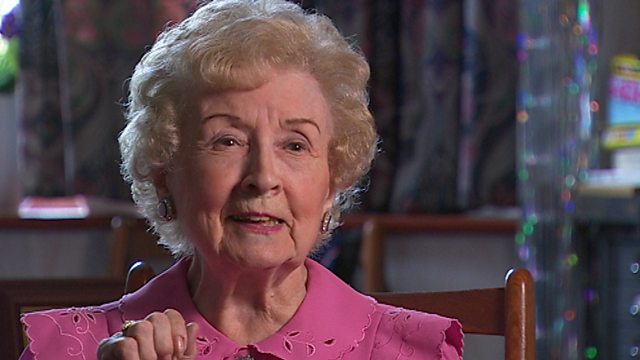 Elaine Kidwell remembers Dylan from his visits to Swansea Museum.
Elaine Kidwell, a one-time librarian at Swansea Museum, also remembered Dylan as a "beautifully mannered" man.  She told us how, in the late 1930s, after the pubs closed for the afternoon, he liked to call in at the museum. He had an understanding with library staff, who'd let him go down to the basement, where he'd promptly fall asleep in a comfy chair in the Gents.  At closing time it was Elaine's job to wake Dylan up and usher him out of the building to make sure he wasn't locked in overnight.
These stories from first-hand witnesses, along with interviews with biographers, experts and family, have helped us put together a portrait of Dylan the man.  Too often we see Dylan through the prism of his death, but I hope our programme offers an appreciation of Dylan in life, as a human being whose flaws and whose need for love we can all relate to.
Welsh Greats: Dylan Thomas is on BBC One Wales, 10.35pm on 24 April.
To discover more about the life, work and legacy of Welsh poet and broadcaster Dylan Thomas go to bbc.co.uk/dylanthomas.