Searching for Private Griffiths
One of the most rewarding quests I have undertaken over the last 10 years when I was working on Look Up Your Genes for BBC Radio Wales was the search for a photograph. Not just any old photograph, of course. Imagine never having seen an image of your father, never knowing whether you have his nose or whether there was ever a twinkle in his eye or a dimple on his chin.
And all his life, all that Ron Morgan could do was to imagine an image.
Among the chaos caused by World War Two, Ron Morgan was born in 1942 - before his biological parents had the chance to marry. This upset his maternal grandmother who was a captain in the Salvation Army and she felt it necessary to urge her unmarried daughter to give up the baby for adoption.
Baby Ron did not travel far though and was adopted by his maternal aunt and raised by her alongside the rest of her children in south Wales.
Adoption papers
Aware that he was treated differently but not knowing quite why, at the age of 19 Ron found an attaché case in a wardrobe which contained his official adoption papers. Although his original birth certificate contained no details of his father, the adoption papers encouraged the use of Ivor as a middle name and provided the minimum details of his putative father, "Private Ivor Griffiths of Swansea, deceased."
After some painful question and answer sessions with his adoptive parents Ron learned the basic facts behind his adoption.
GRIFFITHS, IVOR
Rank: Private
Service No: 3971373
Date of Death: 02/10/1944
Age:30
Regiment/Service: Welch Regiment

1st Bn. Grave Reference I, B, 16.Cemetery: FORLI WAR CEMETERY
Additional Information: Son of James and Esther Griffiths, of Morriston, Glamorgan
His birth father was Ivor Griffiths, who died in 1944 in Italy while serving with the Welch Regiment. At the age of two, with no husband and an illegitimate child, his birth mother made the decision that Ron would be better raised by her sister.
Several years later Ron managed to persuade the MOD to release Ivor Griffiths' campaign medals to him. With his authority I applied for Ivor's full World War Two service record, which is available to the next of kin providing that there is proof of death.
After paying £30 and waiting patiently for many weeks, we learned that service records rarely hold photographs. The details on the Commonwealth War Graves Commission website confirmed that Ivor Griffiths was aged 30 years at the time of his death. Born in 1914 this meant that he would not be living with his family on the 1911 census, but this did not matter as his parents' names were also provided by the CWGC.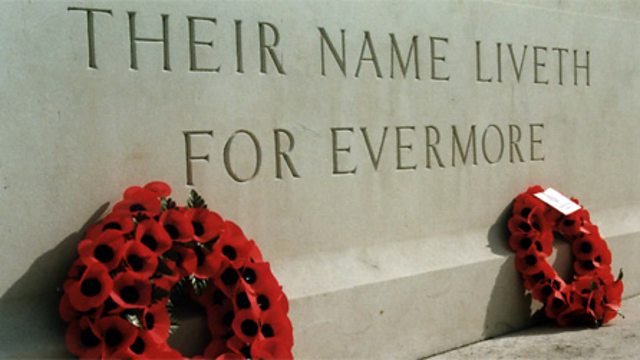 Searching the 1911 census
Knowing his parents' names, it was simply a matter of matching him to his parents on the 1911 census and searching for any siblings; all of which is much easier after 1911 when the mother's maiden name was added to the birth and marriage indexes, making it simpler to cross reference details.
I arranged a trip to West Glamorgan Archives based in the civic centre in Swansea, as well as the central library. This meant that I could access electoral registers and school admission registers.
So the Griffithses' family tree evolved, revealing that Ivor was one of nine children; fortunately increasing Ron's chances of having cousins. The school registers even carefully noted that Ivor's sister Bertha was an eczema sufferer, whilst the electoral registers indicated that another sister Hannah preferred to use the name Nancy.
It's easy to get carried away when searching and I often find myself building a whole family tree while trying to resolve the original query.
Newspaper search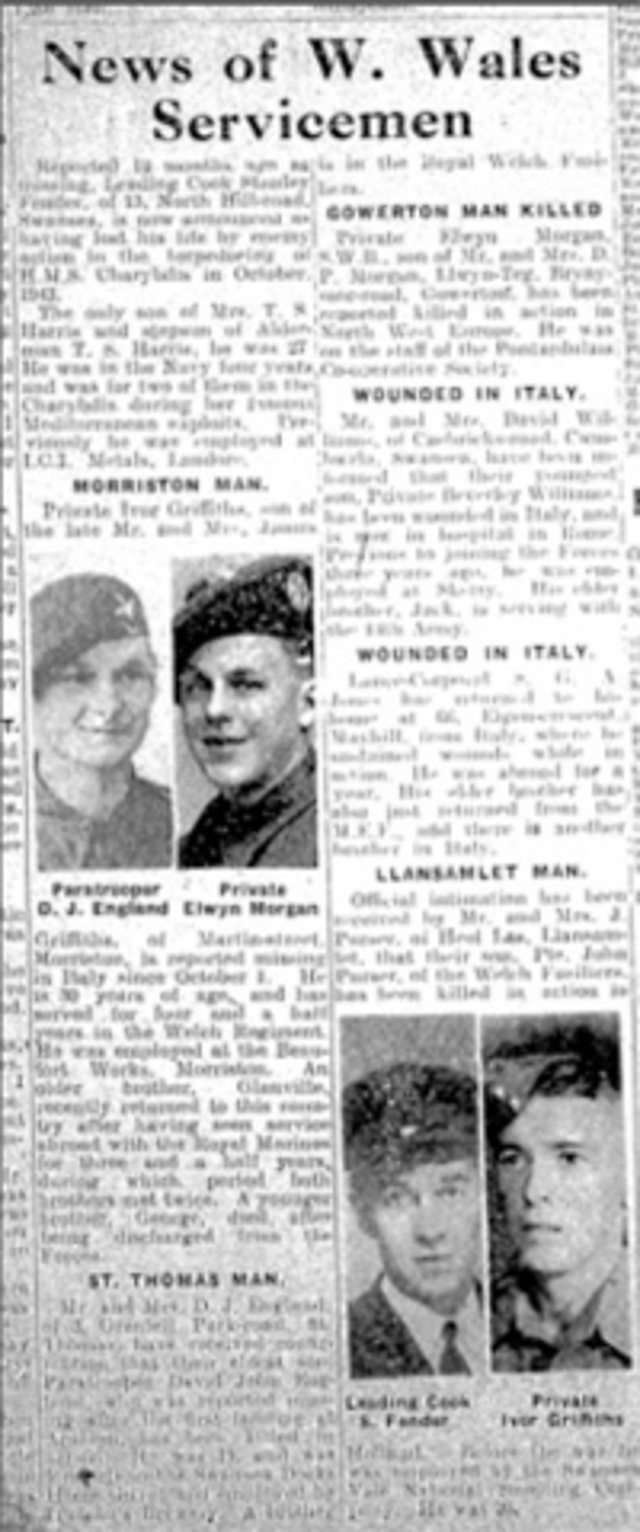 Newspaper cutting with Ivor's photo
Over lunch in the café overlooking Swansea bay it occurred to me that the main source of information during World War Two was newspapers and that I'd often seen photographs of young men and women in their uniforms printed in their local paper to announce their ultimate sacrifice.
Knowing that Ivor Griffiths died on 2 October 1944 I loaded up the microfilm for that month and year and whizzed through the Western Mail to the appropriate week. Only to find nothing. Not a mention.
Utterly deflated I started to rewind the film before realising that it was also a tradition to print a photograph of someone when they went missing.
And so, page after page, I slowly worked backwards, trawling each day carefully and eventually found Ron's father Ivor. The details in the text matched those names on the 1911 census and the name of the street also matched the entries in the electoral registers.
It's a faded old photograph, not quite in focus and not easy to reproduce in any quality, but none of this meant any the less to Ron.
I spoke to Ron this week to check he was happy for me to share his story and he told me that since we last met his daughter has taken on the challenge and just last week he met up with yet another paternal cousin who has more photos of his father and more memories to share.