Harry Houdini in south Wales
When legendary magician and escape artiste Harry Houdini visited Newport in 1905, he was already a star on both sides of the Atlantic.
Welsh audiences in 1905, 1913 and 1914 were treated to his usual programme of well-known feats, including the water torture cell, jail-breaking and an array of miraculous escapes.
He even accepted challenges from the locals, most notably a group of Newport joiners who built a series of wooden casks from which he would escape. According to contemporary newspaper reports, he complained on only one occasion, during a performance at the Newport Lyceum on 18 April 1905: "They had omitted to provide air holes, and as Houdini, who has his share of humour, quietly remarked that he needed air sometimes, there was little delay while the holes were made."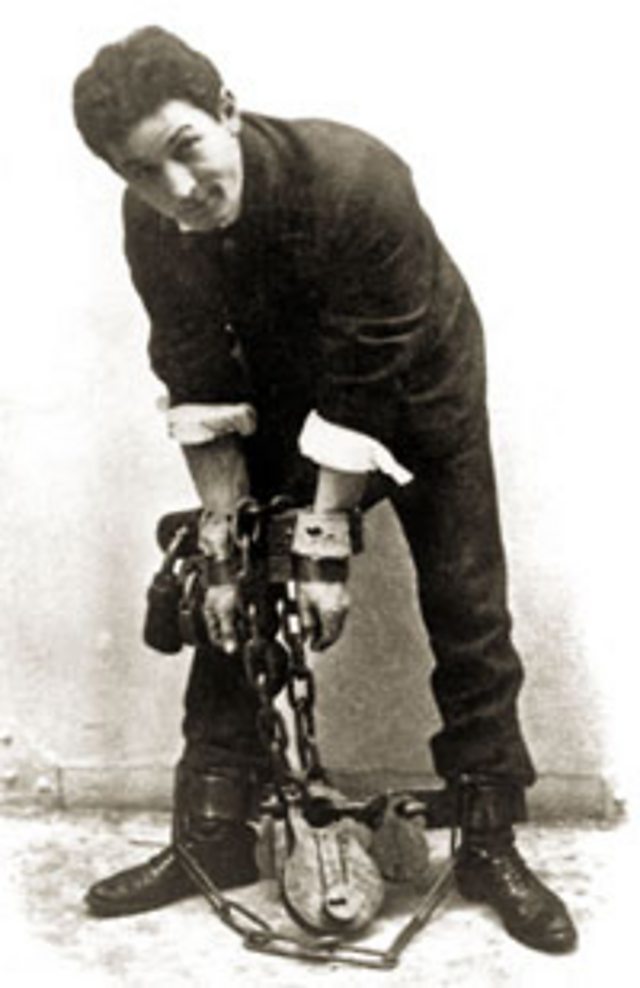 Harry Houdini
His programme would also include a company of popular vaudeville acts. Newspaper advertisements list performers including Vandinoff, "the lightening painter in oils"; Nelson "with and without a piano" Jackson; and, perhaps most impressively, Mr Bowmeester who "plays a pathetic sketch which includes a dozen parts, eight or nine of which are sustained by himself." Whether Bowmeester's performance surpassed the giddy heights of Billy French and his "wooden shoe dancing" can only be left to speculation.
Houdini amazed audiences in towns and cities across the country, but the magician's appearances in Newport were notable for his clashes with the authorities.
In 1905, during a run at the Newport Lyceum, he instigated court proceedings claiming to be the victim of an assault. By all accounts his courtroom audience was less receptive than the music hall crowds he was accustomed to.
The story follows that in April 1905 Houdini went to a nearby Cardiff theatre, the Empire, to see Hilbert, a local escape artist and music hall performer. The stunts Hilbert performed were so similar to those of Houdini that they shared a nickname in the Welsh press: "The Handcuff King".
Houdini, accompanied by his wife and mother-in-law, went to the theatre disguised as an old man, with talced hair, a moustache glued to his upper lip and carrying a walking stick. With the show about to begin, Houdini called out "fraud" and, brandishing a pair of handcuffs, yelled "I have a pair of handcuffs you can't get out of!"
Mr Lea, the theatre manager, had Houdini forcibly removed from the auditorium. He was grabbed by the throat and thrown into an alleyway outside. While Houdini alleged Lea personally assaulted him, Lea coolly denied involvement in the altercation. When asked by the alderman "if you had been there, would [Houdini], you think, have suffered even more than he did?", a smiling Lea replied: "Well, he would have run the chance."
The magician's case against Mr Lea was swiftly dismissed.
Challenge to Harry Houdini from member of the public in Newport
Houdini's second run in with the authorities occurred in 1905, when Chief Constable Sinclair allowed him "to try his luck" in escaping a cell in Newport Police Station, naked and handcuffed. The Weekly Argus newspaper, dated 22 April 1905, reported how an "astonished" Sinclair witnessed a fully-clothed Houdini emerge from the cell after merely four minutes. A throng of 1,000 people met Houdini on the Town Hall steps, where he received an ovation from the crowd.
When Houdini next returned to Newport in 1913, his relationship with the authorities was of a less amicable nature.
On Monday 3 March, while performing at the Newport Empire, he announced his intention to leap into the River Usk from the Newport Bridge pending the permission of the authorities. When permission was not granted, he devised a plan to bypass the authorities and perform the stunt regardless.
Two days later police and crowds of onlookers flooded the bridge. Houdini had anticipated the clamour and so placed a lookalike, along with the theatre manager and press representatives, in an open top car to act as a diversion.
The crowd, after an initial commotion, realised the magician was not in the car and began to disperse. The lookalike continued to engage the attention of the police while Houdini made his way to the opposite side of the bridge and, already stripped and handcuffed, lowered himself in.
Upon miraculously freeing himself from his bonds and swimming ashore, he returned to the Empire that evening and, according to the South Wales Argus, was greeted by a "magnificent reception" from his audience.
The press hailed the jump as a "triumphant vindication of Houdini's pluck and resource," praising him for outsmarting the police force in order "to keep faith with the public".
Indeed, the stories which have emerged from Houdini's appearances in south Wales are an enduring testament to the faith between a legendary performer and his mystified yet adoring audience.