Joe Bach: A Polish artist in Wales
His name was Josef Herman and he came from Poland. But to the people of Ystradgynlais in the Swansea Valley he was known simply as Joe Bach and accepted as one of them.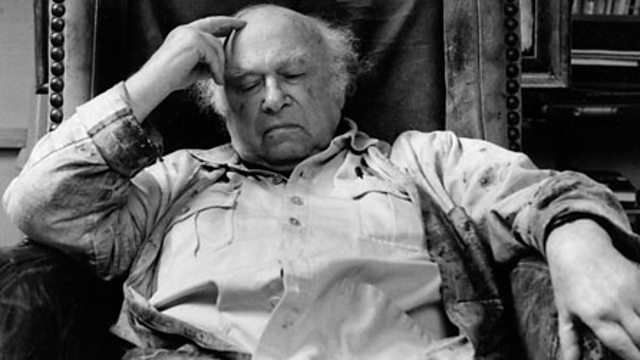 Josef Herman (Photo © Bernard Mitchell)
Herman was an artist and regularly used the miners of the village as his subjects. The people of Ystradgynlais understood that he was different from them, that he was a renowned painter who made his living from his brush. It was as if they understood that, through his skill and talent, he was giving them a degree of immortality that was priceless.
Josef Herman was born in Warsaw in January 1911. He came from a Jewish family, the eldest of three children, and like so many others endured the anti-Semitism that was rife in Poland in the years after World War One. The family was poor and Herman had to leave school at the age of 12. He became, at first, an apprentice printer but even at this early age he was displaying a remarkable talent in drawing and painting.
Between 1930 and 1932 he studied at the Warsaw School of Art and achieved his first exhibition in Warsaw in 1932. He worked for a time as a graphic artist, his bold and naive style lending itself to the medium. Even in these early years his reputation was beginning to grow and develop.
In 1938, Herman felt obliged to leave Poland, due to the rabid anti-Semitism he was encountering, and moved to Brussels where he continued to paint and draw. His family remained behind and in due course, once the Germans invaded, were swallowed up by the horrors of the Holocaust. Herman lost his entire family in the genocide of the 1940s.
When World War Two broke out in 1939, Herman saw the likely turn of events and quickly moved, first, to France and then to Britain. Once established in Britain he lived in Glasgow and London for a while, meeting and collaborating with other European artists in exile such as Michael Peto. Then, in 1944, he came to Ystradgynlais.
As Herman himself later said, he went to Ystradgynlais for a two week holiday and ended up staying there for 11 years. His work during this time had a clear political edge, Herman being fascinated by the coal miners and the harsh social conditions he encountered.
In his distinctive, almost one-dimensional style, with detail kept to a minimum and the emphasis focused clearly on shape rather than precision, his paintings gave the men of the valley a dignity that has endured.
All his life Herman was fascinated by workers, by grape pickers and fishermen but by miners in particular. He became friendly with the artist Will Roberts who lived nearby, in Neath, and in 1951 his reputation had grown sufficiently for him to be commissioned to paint a mural for the Festival of Britain. His subject, naturally enough, was coal miners.
Herman always regarded this painting highly. It remains a hugely powerful piece of art and has now found a home in Wales, at the Glyn Vivian Gallery in Swansea.
Unfortunately, Herman's connections with Wales were ended soon after he completed the Festival of Britain mural. His health had become badly affected by the damp conditions in the Swansea valleys and in 1955 he left Ystradgynlais. He lived something of a peripatetic life in places like London and Spain before settling in Suffolk.
In 1961 Herman married his long-time partner Nini Ettinger but tragedy struck the family when their young daughter died. Fame and celebrity continued to follow him with Herman winning the Gold Medal for Fine Art at the 1962 National Eisteddfod. Other honours also came. He was elected to the Royal Academy of Arts in 1990 and nine years previously he had been awarded an OBE for his services to art.
Herman died on 19 February 2000, a venerable and much-respected figure in the world of art. His life had been full and active but, in the minds of many, he produced his best work during the 11 years he lived in Ystradgynlais.
Josef Herman was an artist who produced powerful and dramatic canvasses. His subjects, often labourers and manual workers, are presented honestly with a degree of compassion that appeals to everyone, children and adults alike. As someone once said, there are no frills in Herman's work but his paintings remain hugely powerful.
You can view Herman's works between 1938 and 1944 at the RWA in Bristol. The exhibition is on until 8 July 2012.