My Christmas: the toy shop owner
So much for the digital age. When Father Christmas opened his mailbox this year he would have seen no shortage of requests for old fashioned toys like wooden train sets and board games like Ludo.
That's according to Sean McMahon, who since April has been putting the 'Mac' into Mr Mac's Magical Emporium, a new independent toy shop in Whitchurch, Cardiff.
"A lot of our classic toys are outselling modern toys this year," says Sean, 38.
"The basic figure-8 wooden train sets have sold out. Board games are very, very popular. Ludo is one of the most popular. Jigsaws are also doing well."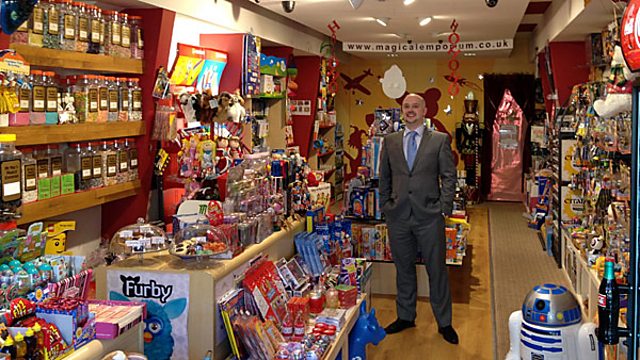 Sean McMahon of Mr Mac's Magical Emporium
The recession has brought tough times for independent retailers, so you might be forgiven for thinking that Sean has sent his own request to Santa this year, for more customers.
But not so. While acknowledging that the shop's first festive season is crucial, Sean says business has been brisk.
"It's extremely important for us," he says, "but I'm not at all nervous about it because we have been very busy since we opened. The amount of stock that we have been selling has tripled.
"As a whole, UK independent toy shops are struggling against the chains but at the end of the day everybody has their own business model.
"We offer a lot of attractions in the shop and we're doing really well because we'll go the extra mile for our customers.
"We also stock toys that are not available in big stores."
In the toy world Christmas always brings talk of crazes. Which parent or child could forget the years when a Buzz Lightyear, a Tracy Island or a Cabbage Patch Doll were as rare as hen's teeth and yet a must have under the tree?
There is no stand-out favourite toy this Christmas, says Sean.
"There are quite a few crazes this year," he says. "There's Skylanders Giants, which are action figures. They were the number one toy last Christmas. And there's also Moshi Monsters."
This, however, does not necessarily mean a relaxed Christmas for the doting parent. Another vintage craze is making a comeback after 14 years, Sean adds, and is already looking scarce.
"Furbys have completely sold out this year. They've sold out in a lot of the bigger toy chains stores too," he says, referring to the robotic doll which looks a little like a cross between an owl and a hamster.
"The Fisher Price record player has also sold out."
Of course stressed shoppers are another Christmas staple, but Sean is of the opinion that this is another area in which the indie toy shop can beat the big chain store.
"It's quite a stress-free environment in our shop," he says. "There's something about a small independent toy shop that disarms people.
"We also sell sweets and the high-powered smell of chocolate that greets people when they walk in usually does the trick."
Sean's shop employs five, but also receives important feedback from his two children, aged eight and 14, who one presumes always stay one step ahead of the trends.
"My children can be the envy of their mates," says Sean," but they help out in the store and in choosing products to sell."
Their father will be working right up until Christmas Eve, he says, and then has plans for his own Christmas celebrations.
"I'm hoping to enjoy Christmas Day then go on a well-earned holiday."
The top 10 most popular toys for Christmas this year*
Fisher Price Classics (Record Player, Teaching Clock etc)
Furby
Skylanders Giants Game & Figures
Ludo Board Game
Remote Control Inflatable R2-D2 (Star Wars)
Contruction Bricks (Lego, Cobi, Megabloks)
Warhammer Models
Traditional Wooden Train Sets
Moshi Monsters
Puppets (Hand Puppets & Finger Puppets)
*According to Mr Mac's Magical Emporium