Weeping, exploding pipes take centre stage at new gallery
Since it opened late last year the Attic gallery in Cardiff has played host to several interesting exhibitions exploring the various perspectives surrounding mental illness.
Located in a chapel-like space above the charity Journeys, which offers support to people suffering from depression, Attic aims to give artists a space to express themselves creatively and provides an opportunity for dialogue with those affected by mental health issues.
This Friday sees the launch of a new exhibition, Growth, by the artist Susan Adams, which follows a two week residency. See our previous blog post on her work.
Growth will see noisy pipes exploding out of the gallery's floorboards, walls adorned with childlike drawings and even sculptures which weep into buckets.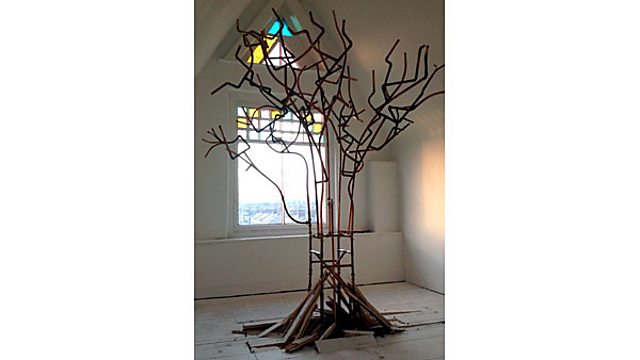 Artwork by Susan Adams
Susan told me: "The main part of the exhibition is drawing on the poetics of space and the idea of the house as an analysis of the human soul.
"I wanted to create something that made the room seem as if it was coming alive.
"In one of the rooms there are plumbing pipes which have exploded through the floorboards and grown into big trees and I have been doing lots of soldering and made a big tree that fills the room.
"It's also an audio kinetic piece so it shakes and sounds come from it which builds on the sense that pipes are always creaking and tapping and feel like the very artery of the house.
"There are also two weeping sculptures - a satellite dish and another that is pipes bursting through the floorboards and both of them are crying into buckets."
What Susan hopes to communicate with the exhibits is that growth can be both a positive and negative thing - the spreading of cancerous cells or the growth and development of the human spirit.
But it can also be a part deep within us that is bad and has been neglected and has grown unnoticed beyond the realms of our consciousness.
She said: "Everything grows - the good, the bad, the indifferent. I want to take people on a journey up to the top of the house, the attic, neglected and marginal, an idea that operates above and beyond our everyday lives. Perhaps a nursery strewn with the forgotten lives of toys that expired when we reached puberty.
"I wondered what happens if they did not relinquish their meaning, refused to be 'pruned back'. Perhaps these abandoned parts of ourselves carried on growing, as it were, unchecked?
"I also wanted to reference this other cultural phenomenon about the madwoman in the attic and that part of ourselves we keep from public view, which stems from my love of Brontë's Jane Eyre, or Jean Rhys' Wild Sargasso Sea."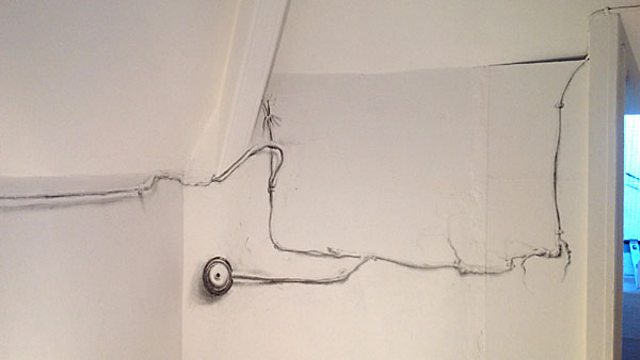 Artwork by Susan Adams
Susan said she found Attic so inspiring as an exhibition area because it creates a psychological space and brings back memories of childhood.
She has had to take up several floorboards in the creation of her pieces and has also been drawing on the walls, one of those activities most people are forbidden in childhood.
Attic is on the top floor of Journeys charity, located where Albany Road meets Plasnewydd Road in Roath.
Growth opens Friday 19 April at 7pm and then runs each day until Monday 22 April from 12-5pm. It will then be dismantled and Susan hopes to develop the idea in another space in the future.
She is currently teaching at Cardiff Metropolitan University and has held a number of prestigious artist in residency positions including those at Gloucester Cathedral, Millay Colony for the Arts New York, Welsh National Opera, Bardsey Island and Shaftesbury Abbey.
To find out more about Attic visit their website  or their Facebook page.