Autumn has arrived in Wales this week bringing heavy rain, strong to gale force winds, blustery showers and some sunshine.
It has also turned noticeably cooler with north-westerly winds bringing colder air down from the Arctic.
In fact tonight is going to be the coldest night of the week with some ground frost, especially in the countryside, on sandy soils and in rural areas with temperatures falling close to freezing in a few locations.

Over the weekend, the weather is set to change again.
Saturday will start dry and bright with some sunshine but gradually cloud over with a few spots of light rain in the north and west.
The south and east and Mid Wales should stay mostly dry with top temperatures between 14 to 16 Celsius with a light to moderate west to south-westerly breeze.

On Saturday night the rain will spread across the country with some moderate bursts but much milder with temperatures around 8 to 12 Celsius.

Sunday will be rather cloudy with some rain and heavy showers but some drier interludes too.
It may even brighten-up on the north coast with some sunshine and temperatures around16 to 18 Celsius.
Anne Riggs in Haycastle sent me this pic of Newgale beach looking bright and sunny earlier today: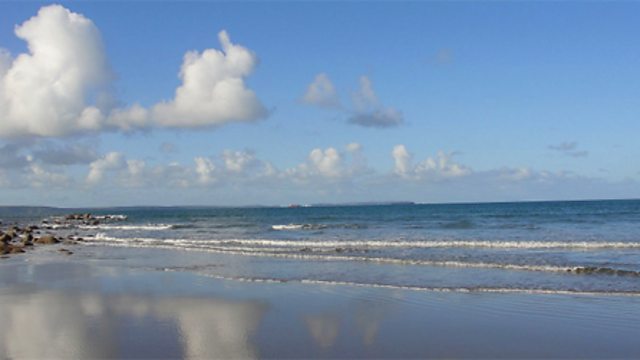 The wind will be light to moderate west to south-westerly and feel fresh on exposed coasts and hills.
Next week is best described as mixed - with some rain and showers at times but also some sunshine and becoming warmer too.

There's lots going on this weekend!
The Lampeter Bee Keepers Association are holding an open day at Norwood Gardens, Llanllwni near Pencader on Sunday from 10.30am with lots of activities and stalls.

Pop along to a fun and free Deadly Day Out with CBBC's Live 'n' Deadly on Sunday and meet naturalist Steve Backshall.
In Barry - the first Vintage and Steam weekend is taking place at Romilly Park with three Traction Engines.
You can also see one of the very first petrol driven fire engines, several vintage buses and World War Two memorabrillia including pump engines and over 150 vintage cars. Fireman Sam is attending too!
While in Knighton, Powys, The Battle of Britain Parade is taking place on Sunday at 10.15am with a parade through the town.
Derek
Vintage fire engines on BBC Wales History