Woodfest Wales
, in St Asaph, North Wales kicks off today and runs until 6 June.
The festival is a celebration of all things wood and showcases a variety of wood related activities, crafts and forest industries.
One thing that particularly caught my eye however was the mountain bike event. Some of the top UK trail riders will gather to take on what can only be described as a terrifying wooden obstacle course - the only one of its kind in the UK.
I'm showing my age now but does anyone remember '
Kick Start
' on BBC One? It consisted of kids on motorbikes riding over crazy assault courses against the clock. Well, imagine that only with mountain bikes and you're half way there.
I loved that show though and spent many hours making elaborate ramps to fall off in the comfort my own back yard. Happy days, long before game consoles...
Some of the riders in action: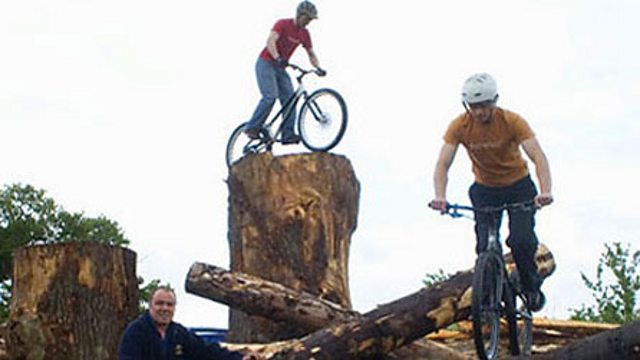 Anyway, back to the wood....the monster that everyone fears is an 11ft high balance board that the riders must battle - using every ounce of balance they can muster.
Despite safety nets, a few riders were injured last year so it's definitely not for the faint hearted.
The custom designed course will consist of 'North Shore style' (trails that incorporate natural and man-made features of terrain) see-saws coupled with gap jumps over water - all of which are designed to test the riders balance and concentration.
There will also be tractor tyre 'gap jumps' and a Land Rover that the riders will have to ride up, over and off.
Find out more at the
woodfest website
and if you go along - I'd love to have some photos from the event to feature here.
You can email pics to me at
wales.nature@bbc.co.uk
Thanks
Gull