Public protest at threat to art gallery programme
It's a tough time to be involved in the arts - budgets are tight and extra pickings in funding terms are slimmer than ever.
Last month a committee of Welsh assembly members said drastic cuts in funding mean councils and arts organisations are now unable to maintain the number and breadth of projects of previous years and participation is down as a result.
And early in January young musicians staged a concert outside Newport council offices to protest at the authority's plan to cut its contribution to the Gwent Music Support Service (GMSS) budget.
GMSS teaches pupils to play instruments, organises orchestras and bands, and provides practice facilities.
Yesterday, Newport Council was the target of a different protest - this time to highlight plans to end the programme of temporary exhibitions held in the city's art gallery and to make the post of visual arts officer redundant.
The move is part of its attempt to make savings of £7m in its budget for the next financial year. It says frontline services must be protected. Councils across Wales are facing similar tough decisions and the arts will always be vulnerable in this context.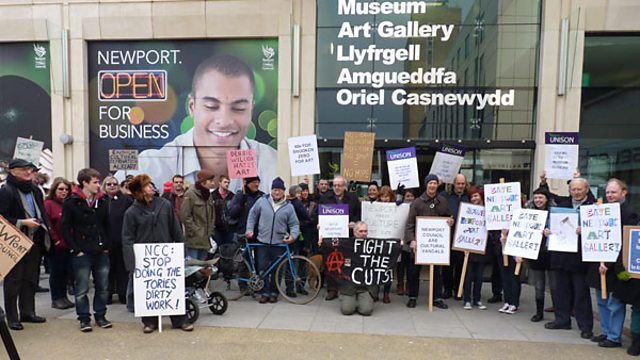 The protest outside Newport museum and art gallery
The campaign against ending the gallery programme has received the backing of Newport-born actor Michael Sheen, who has criticised the council for not consulting the public.
He said: "I am hugely disturbed to hear of the plans… not only because of what that would mean to the numerous home grown artists who would lose precious, and in many cases the first significant exposure for their work, as well as the thousands of visiting people to the area who would lose the opportunity to discover and enjoy this valuable programme, but also because of what it suggests about the future plans for funding of the art gallery and the entire museum itself."
A petition opposing the move currently has more than 1,300 signatures.
Protest organiser and artist Neil McNally said around 150 people had turned up to Thursday's event and there was general concern ending the exhibition programme could lead to the closure of the gallery and museum.
Newport City Council strongly refutes this, saying that the possible relocation of the library, museum and art gallery to another city centre location is under consideration but closure is not on the cards.
A spokesperson said: "This is a longer term proposal and not included in next year's budget."
But McNally told me: "Newport is overlooked as an arts destination and this decision effectively kills off contemporary art in the city.
"It also closes a key attraction which brings a lot of visitors to Newport. With all the closed shops it's already a ghost town and this is just another nail in the coffin."
In the past the gallery has seen exhibitions from big name artists including David Hockney and David Bailey and provided a showcase for many up and coming artists.
McNally says visitor figures he has seen show it brings in around 28,000 people to the city each year.
Fellow arts blogger Emma Geliot, who attended the protest, told me: "Newport needs a reason for people to go there instead of Cardiff or Bristol and this gallery is an important platform for Welsh artists.
"A new showcase for graduates would have helped with graduate retention as most art graduates leave and now the university is stopping its fine art degree.
"I think art overall is going downhill in Newport. The city used to be at the forefront of public art commissioning in Wales; now they're dismantling the Budd murals."
Last year it was announced that the mosaic artwork created by Kenneth Budd which details the 1839 Chartist uprising is to be pulled down to make way for a £100m city centre shopping development.
McNally says there is a general concern that the gallery programme is ending without any public consultation and will make savings of just £40,000.
It comes at a time when Newport University is closing its fine art course, Mermaid & Monster (M&M) - a contemporary art agency based in Wales - has announced its closure and National Museum Wales has announced that 35 jobs are to go, with a further 160 appraisals and £2.5m of cuts.
The Arts Council of Wales has said councils should continue to invest in the arts even in these straitened times.
"We regret deeply any cuts to arts funding," a spokesperson said. "The arts in Wales are enjoyed and valued by large numbers of people across Wales.
"We don't underestimate the challenges that face local government, and we continue to discuss with local authorities ways of lessening the impact of potential funding cuts.
"Whatever the outcome of these discussions, the Arts Council cannot 'make good' cuts in local authority funding, and we remain convinced in our belief that local authorities should continue to invest in the arts as part of a balanced portfolio of services for their local community."
The council's raft of budget proposals is set to be approved at a meeting on 26 February.
It maintains that contemporary art exhibitions will instead be staged at The Riverfront, while the art gallery keeps its permanent exhibition, but McNally maintains the Riverfront is not a suitable venue and will not attract new artists to exhibit.
A council spokesperson said: "The temporary exhibitions programme in the art gallery has operated since the 1970s and was largely funded through the Arts Council Wales.
"However, this guaranteed funding ended and since then grant funding is awarded on a project by project basis.
"It has been decided to end the temporary exhibitions programme, which is part of a non-statutory service, and this will provide the opportunity to display work from the permanent art collections on a regular basis.
"There are no plans to close Newport Museum.
"The Riverfront theatre and arts centre, which is owned and managed by Newport City Council, also hosts temporary art exhibitions and the future focus on contemporary art will be within the Riverfront."
McNally says he and fellow campaigners are not yet ready to give up the fight.