The Hay Festival has become such a massive phenomenon, inspiring imitators across the UK and beyond, that it's sometimes difficult to remember how it all started.
Unless, that is, you drop into the Hay Winter Weekend, as we did for Sunday's Phil the Shelf on BBC Radio Wales.
For several years now, the big festival has occupied a fairly vast rural site well out of town, with famous folk ferried to and from Hereford station or their hotels, their meals served in a private restaurant tent.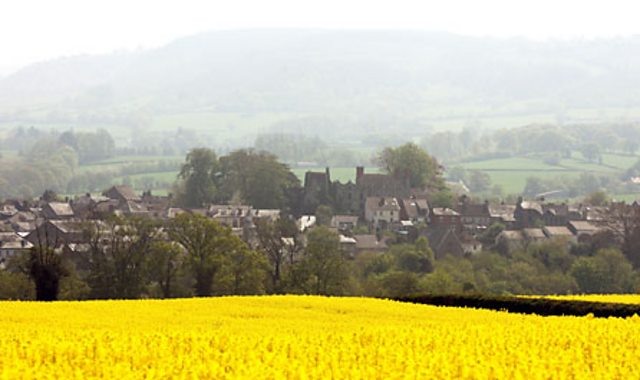 Hay-on-Wye
But this three-day pre-Christmas event brings the festival right back to where it began, over 20 years ago, building on the success of the local second-hand book trade.
Most of the weekend's events are held in Hay Community Centre, down the bottom of town near the edge of England, and you'll see famous writers poking around the bookshops and queuing for coffee behind their readers - just like the old days.
There are no actual global superstars at the Winter Weekend, but the guests are more relaxed and generally available for a chat. And it's certainly a lot easier for us, not having to chase people and find they've been grabbed by Sky Television again.
On Sunday's programme, from Hay, Adam Hart-Davies discusses The Book Of Time which, as he points out, has more about the nuts and bolts of time and is easier to understand than Stephen Hawking's Brief History of it.
We also break into the secret world with BBC security correspondent Gordon Corera's history of MI6, The Art of Betrayal. And we discover why your dog really doesn't want to eat you, with biologist and canine shrink John Bradshaw.
It was a touch dispiriting, however, hanging around the community centre, to observe, first-hand, the effects on the bookselling business of the recession and the online shopping revolution.
In past years, after every gig, you'd find long queues of fans waiting to get newly-bought books signed - sometimes buying multiple copies for Christmas presents.
This year you could watch people turning up for one particular event and then disappearing. And while a gig would be virtually sold out, when it was over most of the audience would head straight for the exit, without buying a book.
'It's the same everywhere,' one well-known author told me ruefully. 'We had an audience of 500 at the Cheltenham Festival and sold 12 copies of the book.'
The implication is that, in these penurious times, an increasing number of people are prepared to forego a signature in favour of a half-price deal on the Internet.
Meanwhile, with two prominent second-hand bookshops recently shutting down, the town is well split over plans for a big supermarket where the primary school now stands... a site alongside the nation's most scenic car park, once occupied, until it moved up the road, by the Hay Festival itself.
A central supermarket would be good news for local people on low pay, who currently have to travel to Brecon, Abergavenny or Hereford for cheap food. But the idea of a huge store selling food, clothing, electrical goods and - the final irony - cut-price best-selling books - horrifies small shopkeepers and supporters of the concept of an independent Hay.
That means a Hay with no chain stores - a status nurtured for decades by King Richard Booth, now compelled, for health reasons to spend more time in London. Last Saturday, Father Christmas was doing an afternoon shift at Richard's former headquarters, The Limited, and looking, to me, a bit less jovial than of old.
But Hay's always been eccentric enough to come through crises that would have turned a less-confrontational town into a commercial cemetery of sad charity shops. Someone always thinks of something... and knows how to publicise it.
This week, for example, I heard anarchic whispers of a Hay-based campaign against the hated ebooks which, because they have no second-hand life at all, are a further threat to the local economy.
Of which more next week...