A long weekend of music (parts three to six)
I'm camping at a festival for the first time since 1992, which was some green affair in Criccieth where the band I was in initially got turned away for looking "too electric".
I hate camping. I'm not overtly fond of festivals - mostly the people who go to festivals, but don't judge me for being so judgmental. I'm very happy for them to give themselves botulism in a field, in their jolly braids and oxymoronic dreadlocks, juggling falafel and playing obscure drums until the magic mushrooms wear off at 4.57am - just so long as I don't have to join them.
I used to go to a lot of festivals. I was forced to work at them by my first producer. She'd prod me awake at 8am, drag me into the backstage area at Glastonbury and frogmarch the likes of Richard Ashcroft and Thom Yorke up to me for interrogation. It rather put me off the whole affair.
To me, the UK's biggest and most mind-expanding festival sites were nothing more than massive open-plan offices with treacherous portaloos. It's only recently that I realised some people go to festivals to enjoy the experience; not everyone is there to try and corner Public Enemy in the back of a tour bus.
My shopping expedition goes well. I pay particular attention to the waterproof coat.
"It's worth paying a little more for this one," says the very helpful assistant. "It has an Aquadry Water Resistant System."
I've heard it occasionally rains at festivals so - despite the awe-inspiring price - that's the one I go for. I text my mate Andy who is already on site.
"Do I need wellies?"
"Yes, you need wellies."
I wouldn't be seen dead in wellies, and - in general life, mincing about at gigs or tramping pavements to pick my daughter up from school, I don't need wellies. I choose the cheapest ones. Once again, and with more verve, what could possibly go wrong with a pair of wellies?
The school visit goes well. I look serviceably professional.
"And what do you do Mr Walton?"
"I work with young people." Well, it's not exactly a lie, is it?
Part four: Travels With Myself, No Other.
I don't leave my house until 3:30pm. This means I have missed Gallops. I won't even have a chance to offer them a feeble apology because they flew to China hours after their set. There's a story worth pursuing in there somewhere - a better one than this, no doubt.
The last time I went to Cheltenham I was rock climbing a long time ago. I know it's (vaguely) south of where I live so I hit the A49 and trundle through Oswestry and Shrewsbury, getting hypnotised by the backsides of a million Ifor Williams trailers. Bridgnorth seems to be the next logical step followed by the surprisingly picturesque Kidderminster.
I sing along to my Future Of The Left CD (I do a mean Goals In Slow Motion), munch Minstrels, and lose concentration. None too suddenly I'm lost. The signs all point to places that sound like characters from Middlemarch: Chaddesley Corbett, Honeybourne, Lickey End and Hanley Child. I have no idea where I am.
Google Maps is useless because there is no 3G signal. I stop to ask a man dressed as a human cannonball.
"Do you know the way to Cheltenham?"
"No, sorry. Are you lost?"
"Stopping my car to ask a stranger for directions is something of a clue, no?"
It all gets a bit unfinished Kafka. After endless minutes of twisty, turny lanes all the same, I spot a sign for Worcester which in turn begets a sign for Gloucester, and despite another half an hour of being flummoxed by Cheltenham's road 'system' I find myself on a long narrow lane that I think may lead to the festival. There are no signs, though. This is unusual for a festival. Normally there are as many signs as stragglers clogging the lanes in various states of cider-induced disrepair.
P'raps I've come on the wrong weekend. That would explain a lot.
My fears are allayed by a pair of luminous stewards who appear in front of me with welcoming smiles and clear directions to the car park.
"Is it muddy in there?"
"It's not too bad," but the smile cracks for just long enough for me to realise that I'll need my wellies. Oh well, they were only £4.95 - and they'll be as good as any.
Part five: 2000 Trees (It'd Only Take Two Matches... But They'd Have To Be Waterproof Ones).
That joke (the one about the matches) is from Jimmy 'Future of the Left 2nd Guitar' Watkins. Much as I'm tempted to steal credit for it, he can run much faster than me. And you. And most impalas.
2000 Trees is an independent festival that has been running in the beautiful Gloucestershire countryside for the last five summers. It has a strong ethic of supporting the best underground UK bands.
There are no corporate sponsors blighting the landscape or compromising the philosophy. Everything - from the weekend tickets to the very excellent, locally sourced food stalls - is fairly priced. This integrity and commitment to quality is one of the reasons that in a summer of multiple festival cancellations and failures, 2000 Trees has managed to sell out.
The mud starts at the edge of the car park. Initially it's a source of some amusement.
"Well, I'm at a UK festival. Of course there will be some mud. Just enter into the spirit of things Walton. Pretend it's chocolate sauce... at least it's not raining."
At which point, of course, it starts raining.
My friends and I are staying in a bell tent. Most of the people we've told about this have comedically hyphenated a word onto the end of the word 'bell' to describe the kind of people they imagine stay in bell tents at festivals. Oh, ha ha! Still, with the sky condensing all around me I was very glad I didn't have to pitch anything in the unfolding maelstrom.
Friends located - I notice a long-hard-battle-lost look in the red rims of their eyes. Andy - a veteran of 400 festivals last summer alone - laughs at my mud horror. Matt - who has been on wristbands all afternoon - suggests the bar. The two Petes concur. I don't need much in the way of persuasion - and we squelch down a hill that is fast metamorphosing into a sewage rendition of Ski Sunday.
Transpires that my Aquadry Water Resistant System is only resistant to moist breath. I'm soaked through by the time we get to the bar. Still, it's really nice in here. They serve a local cider called Badger's Bottom, and the people are all damn fine and smiley.
One becomes two... two becomes three... three becomes four... and by that stage we're all laughing at the rain and the mud. Hell, some people are rolling in it! Ah, the indomitable British spirit! Could you imagine the sun-kissed Californian denizens of Coachella showing such defiance and gumption?
I wish I hadn't mentioned 'sun-kissed Californian'.
A couple of hours in and I still haven't seen a band. Well, I saw two songs from the new line-up of Gallows through the tent flap of a rammed Cave Stage. Their new singer looks like Buster Bloodvessel but sounds like a castrato Godzilla. A rivulet starts to run down my neck and the small of my back so I return to the bar.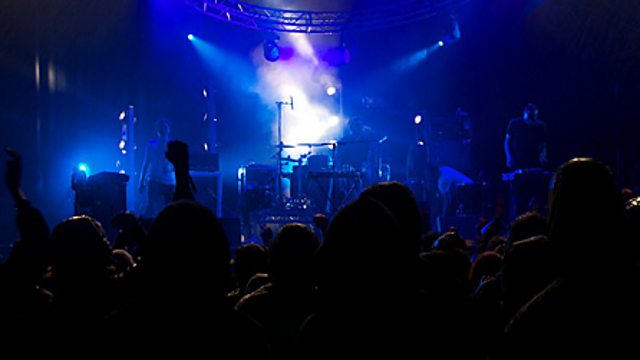 65 Days Of Static
Part six: 65 Days of Static.
I tell Pete 1 that I need to go and see a band. Leeds' Pulled Apart By Horses are on in a big tent. However I've seen Pulled Apart By Horses before, so Pete 1, Pete 2, Andy and I brave the open, main arena. Due to all day drinking, Pete 1, Pete 2 and Andy are functioning some distance south of compos mentis.
None of them bring waterproof clothes with them. And the rain is coming down Lions and Irish Wolfhounds. Andy decides the bar is the best vantage point. Pete 1 stands with me in the monsoon. Pete 2 disappears.
The minute the band start playing, the rain turns into gem-encrusted butterflies. Or maybe that was a mildly hallucinogenic property of the cider. 65 Days of Static are expansive and instrumental. They're Sigur Ros minus the falsetto or ubiquity. Their music fills your head with glittering pocket symphonies. When people stretch their music over such vast canvases, sometimes it's hard to feel the humanity in it. But not 65 Days of Static, and not here in the luminous deluge.
They're a perfect accompaniment to this superabundance of H2O. Pete 1 and I are verging on the ecstatic. To such an extent that Pete 1 holds a mite of a girl's massive umbrella for her so that she can rest her arm and have a little dance. Many such acts of spontaneous kindness are happening across the site. That's probably why they give out so many free condoms. Well, it's one way to keep warm.
We retrieve Andy from the bar where he's spent the set studiously reminding himself how the local ales taste. His hard work has made for unsteady feet. He does a strange dance in the beer tent before tumbling over and taking out a table and a reveller. Our climb back to the tent, up a slow moving mud flow that would make for a National Geographic documentary, is interrupted by Andy's repeated insistence on falling headfirst into it.
He grips onto a pole halfway up the slope as if his life depends on it. He has a mad smile on his splattered face. He looks like a chocolate mousse gone feral.
"You're OK, you're still cool," says Pete 1, convincingly... for a downright lie.
"This... is... great!" says Andy.
And you know what? Despite everything - including a new and unexpected squishy sensation in my welly boots, it is.
Part 7 to denouement tomorrow. Will include actual mention of Welsh artists. Probably.