Hay-on-Wye: fighting back
It was Peter Florence, director of the Hay Festival, who said, 'Why did it take you so long?'
He meant writing a novel set in Hay-on-Wye.
Good question. I think I just said I'd been saving it until the time was right. The thing is, I write thrillers, and thrillers always work best against a background of life-or-death tension. We're like that, novelists - we much prefer negative situations. And in Hay, even under the Christmas lights, nobody can fail to notice the bigger gaps between bookshops these days.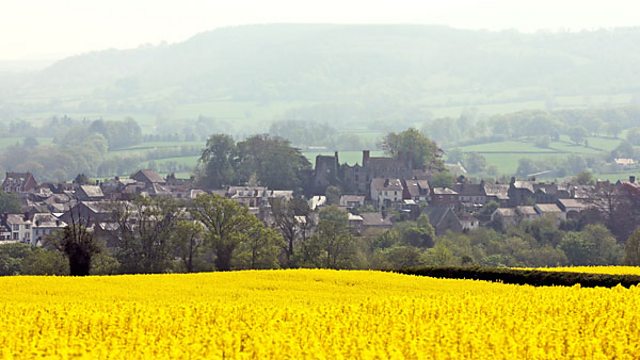 Hay-on-Wye in the distance
It had been mostly growth for over 30 years since Richard Booth began opening secondhand bookshops, calling himself King of Hay, declaring independence and refusing government grants.
Hay didn't need the government, the Tourist Board or the development agencies. With as many as 40 bookshops, Hay was getting international publicity. Hay was cool. Soon, Hay had the biggest single-site cultural festival in the UK. Local property prices went through the roof.
So there was dismay, almost shock, when it became clear that the town itself was facing the same problems as all the others either side of Offa's Dyke - the decline of the high street due to Internet shopping. And another scourge almost exclusive to Hay - the invasion of the e-book.
Suddenly, very few old books were out of print. Instead of having to hunt them down in secondhand shops, you could get them for as little as a quid, or even free, with just one click. Within the past couple of years, half a dozen bookshops have vanished from the winding streets of Hay.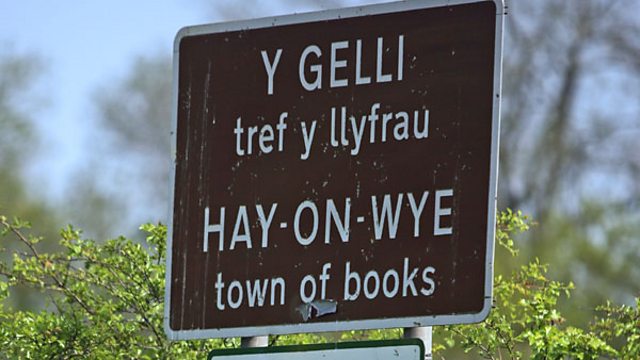 Hay-on-Wye: still the town of books?
Crisis. Can the town, as we know it, survive? Is its reputation as Wales' most popular inland resort solid enough to withstand a collapse in its core industry?
After a year researching aspects of its recent history, I like to think it can survive... that ideas and eccentricity, as usual, will bring it through. 
An encouraging sign is the expansion this year of the Hay Festival's Winter Weekend, from which we bring you this weekend's edition of Phil the Shelf on Radio Wales.
The Winter Weekend almost doubled in size this year, with over 50 events, because of a major new venue for writers' events and performances. Welcome back, Hay Castle, now in the hands of a local trust committed to patching up the shambolic fortress and bringing it into the heart of the community. 
There's a long way to go, but the Christmas trees are alight under walls that light up green and purple, and it's good to drink mulled wine before a gig, in a place where it must have been drunk when wine was first mulled.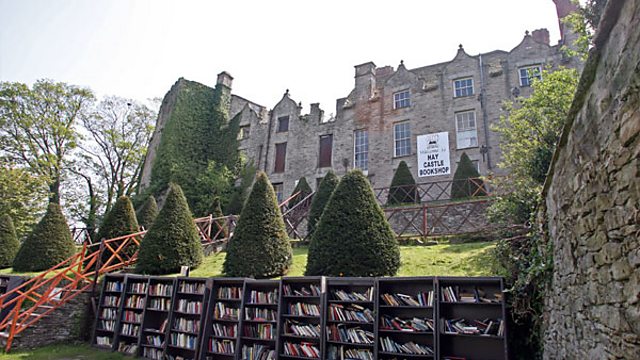 Hay Castle
This year's events varied, as usual, between the cosy and the cutting edge. We talk to Vicky Pryce, whose new book is probably not one a high-powered economist would have expected to write. But then, if negative situations make for better books, an economist who winds up in prison for taking motoring penalty points for the politician she was married to at the time... is bound to emerge with more than economics in mind. 
Economics, however, has been a big subject in Hay this year, and for the UK book trade generally, as the last of the bookchains, Waterstones, starts selling - from prominent tables - the very e-book readers that are eroding its trade. 
And writers don't know where to turn either. We collect higher royalties from e-books, but e-books do tend to be a lot cheaper. And we don't make a penny from secondhand sales of our books... which makes you wonder why so many of us have found homes near Hay-on-Wye, which doesn't have a single shop devoted to new books. 
Barbara Erskine, author of the million-selling Lady of Hay, has now moved into the heart of the town. And Jasper Fforde, king of comic fantasy, is just over the river, along with former Oasis manager Alan McGee, whose autobiography, Creation Stories, will be featured on a future Shelf. Maybe the musty fragrance of old tomes acts like a drug.
Anyway, this week, we had to wind up with Jasper, whose books are bonkers enough to win him the keys to the streets of Hay... and who reveals just how unpredictable and precarious this business is.
That's Phil the Shelf, on Sunday, at three minutes past five. From Hay... fighting back.