Live reviews: Bank Holiday Weekend whirlwind of events in Cardiff
It's one of the many witty and funny introductions in the Bronx set, and consistently he manages to switch the pace, and set the place ablaze with energy. Its phenomenal to watch, and this show in my ten years of living in Cardiff is among one of the best.
I've arrived at Cardiff's Solus just in time for The Mariachi, a Bronx side project which is a pure musical celebration of Mariachi-style music, full of death and sadness, delivered beautifully by the band, showing pure mastery of many instruments including classical guitar, trumpets, and again Matt with the incredible voice.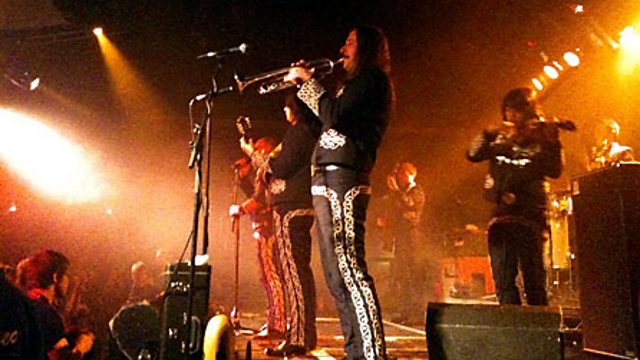 Sandwiched neatly between these two bands are Pulled Apart By Horses, a firebreathing rock assault with many musical echoes of Jarcrew, perhaps with more stage acrobatics.
Barely Regal record label launch
Man Without Country: Clwb Ifor Bach, Cardiff, 30 April
There's a fine excitement in the air in anticipation of the Barely Regal record label launch tonight, and Samoans first on is a pretty good way to launch the ship. The banter between Dan and Calvin on form, the music frenzied, dark, sharp and clever. Theo comes on next, from Worcester, a one-man noise avalanche that keeps coming, wrecking, building, shuddering the ground beneath your feet and by the end an explosion of 'too much' in my head and ears. Good, and crazy talented but relentless barrage on the senses.
Headliners Man Without Country are on next, fresh from their 6 Music Maida Vale session, and news of label hunters and record labels falling over each other to sign them. They display a firewall of beats, swirling sounds, soaring vocals and are a tight outfit, befitting of all the hype and definitely its exciting to see what might happen in the next 12 months for the band.
It's a great atmosphere for the label launch and Barely Regal have a compilation and magazine to hand too.
You can Get in touch with the nice chaps at the label via the blog to get a copy of the CD, featuring Kutosis, Hail! The Planes, Man Without Country and many many more.
Also, listen in this week to my Introducing show to hear from the label as tipsters.
Brainlove Records night
Stairs To Korea, Pagan Wonderer Lu, Matt Rivere, and A Scholar And Physician: Buffalo, Cardiff, 29 April
Last Thursday, as part of the weekly Buffalo night, I curated a showcase of Brainlove artists, who are all maverick performers, pushing the boundary of the technical possibilities of music. They are all solo performers, and all unique in outlook and vision.
Perhaps sometimes difficult to swallow, sometimes, endearing, but in today's homogenized pop market, its really refreshing to see so many artists force their own path, and hail to John at Brainlove for seeing the beauty in this music.
Feel free to comment! If you want to have your say, on this or any other BBC blog, you will need to sign in to your BBC iD account. If you don't have a BBC iD account, you can register here - it'll allow you to contribute to a range of BBC sites and services using a single login.
Need some assistance? Read about BBC iD, or get some help with registering.