Singing for the Land of Song
There was a palpable air of excitement in St David's Hall last night - as there always is when the home competitor is scheduled to sing - and there was not a spare seat to be had in the house.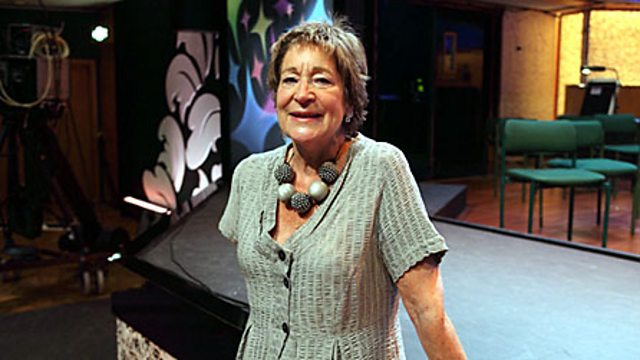 Stage presenter Beti George
In her introduction to the evening, stage presenter Beti George, a popular fixture of the competition whom the TV audience never sees (see above), announced that we would hear competitors from Australia, Chile, USA, Czech Republic and... Morriston, a certain section of the audience went wild! Of course, she was referring to Natalya Romaniw's home area, up the road in Swansea.
Each singer presented something quite unusual in the annals of Cardiff Singer repertoire choices. Australia's Katharine Tier sang a moving Wagner song, Im Treibhaus from the Wesendonck Lieder, a first appearance of this piece in the competition. Javier Arrey from Chile brought one of his Song Prize Biblical Songs by Dvořák to the platform, a piece only performed once before in the competition, and then sung by an east European.
Mozart's Idomeneo made a rare appearance on the stage, as Natalya Romaniw from Wales sang Ilia's aria, and Vira Slywotzky from the USA gave us the chance to hear Barber's Do Not Utter A Word from Vanessa.
Czech bass Jan Martiník's programme was pieces were all familiar, but Colline's overcoat aria from La Bohème does not often get an airing in Cardiff Singer.
Of course, there were many competition repertoire staples as well. Katharine Tier sang Dalila's dramatic aria from Samson et Dalila; Natalya Romaniw sang Juliette's Waltz Song; Vira Slywotzky brought us Donna Anna's aria; Jan Martiník sang Mephistopheles' serenade - and of course, a Cardiff Singer 2009 concert would not be complete without Figaro introducing himself nightly in Largo al factotum, and it was Javier Arrey's turn to provide that for the audience last night.
The winner of concert four was Jan Martiník from the Czech Republic.
See a gallery of pictures from concert four.
If the audience were looking forward to another rendition of Largo al factotum tonight, they will be disappointed - there is only one baritone in concert five, Marc Canturri from Andorra, and he has not included it in his programme.
Also taking part tonight are Wade Kernot, a bass from New Zealand; Irish soprano Helen Kearns; the youngest competitor, 21 year old Italian tenor Giordano Lucà and Portuguese soprano Dora Rodrigues.
Once they have sung, the preliminary round of BBC Cardiff Singer of the World 2009 will be over. As usual, the winner of the round will be announced, and the eagerly-awaited moment will come as jury chair John Fisher gives the names of Sunday's finalists. In order to ensure that the five strongest competitors overall reach the final, winning your round is not a guarantee that you will appear in the final. It was even the case one year that the competition was won by someone who had not won her round (1993, Inger Dam-Jensen). So everyone in the hall will be waiting with bated breath!
Then, the Audience Prize goes into full swing. Full details on how to vote for your favourite singer will be available on the Audience Prize page.