Joy Formidable tour diary - day three
Today was my last day in New York, so I tumbled into it sadly. Today would also be my first day sleeping on the tour bus, so I crawled into it with a certain amount of terror. I'm a man who likes his personal space. And a bathroom. A tour bus has neither.
My hosts, The Joy Formidable, are finishing off their second album from the confines of the tour bus. They're due to start mixing it in a couple of weeks time - but there's a lot of housework that needs to be done on the reams that they've recorded before they start that task: favourite takes to be identified and 'topped and tailed', superfluous bits and pieces dumped so that they don't confuse the issue, that kind of thing.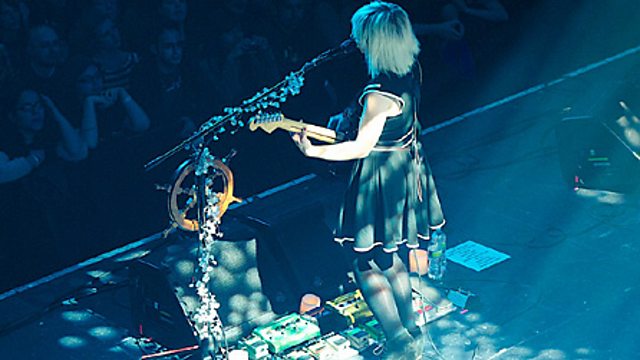 The Joy Formidable on stage
What this means is that the band are incredibly busy during the day. So, an afternoon we'd scheduled to begin our session of interviews with each other gets postponed. That's no problem, I get to wander New York, picking up some cheap Levis and a gargantuan pizza.
Tonight's gig is at Terminal 5. It's an excellent mid-size venue; probably holds in the region of a couple of thousand people. Huw Stephens came here the day he got engaged, I learn later that day.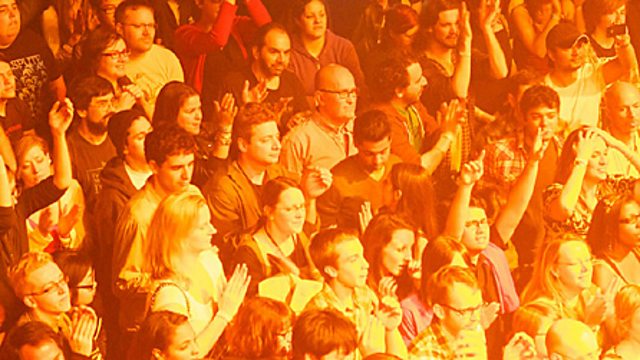 The Joy Formidable crowd
My engagement is with a camcorder. My official task for the band is to film them for their tour DVD. I haven't filmed anything, ever. They seem to think that this will give my footage an original angle. If original is a euphemism for 'unusable' and 'out of focus', I'd tend to agree with them.
So, I spend a couple of hours fighting with a Panasonic manual and a camera that seems to be the size of my little finger. It's somewhat intimidating. Everyone else on this tour is so, so professional I feel compelled to raise my game. But there is only so high game can realistically be raised.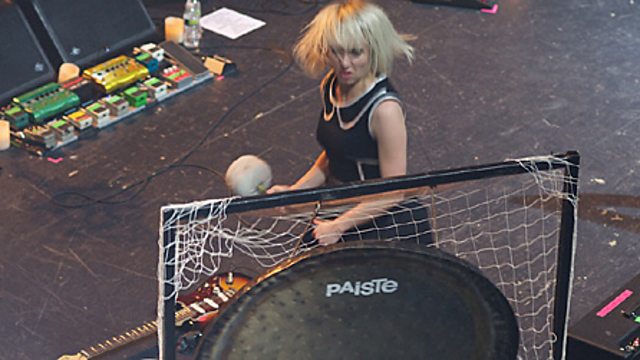 Ritzy of The Joy Formidable
The band do a meet and greet with part of their audience. Apparently you pay a little extra on the price of your ticket for this. The fans - and the band, who are good natured and affable - really enjoy this. It forges a stronger connection between them and the people who pay to come and see them: no bad thing, at all.
I wish someone had arranged a meet and greet with this flipping camcorder before the day I'm destined to use it for the first time. I'm quite high maintenance, you may have noticed.
Sound gets checked; meals get eaten (but not by me, still wrestling the Panasonic!); then the doors open and people - lots of people - begin to file in.
I'm aware that The Joy Formidable aren't the first Welsh band to tour the States - that a good few have come before them and entertained audiences in the thousands, but the size and fervour of Joy Formidable's audience is impressive. They've played 120+ shows in 60+ cities in the States in the last two years. That's some serious legwork, and it's paying off. A band who can pull near two thousand people in their own right in New York, who rarely get in the local papers at home...
Their set is an avalanche of awesome. I'm allowed to use that word, in that context, while I'm in the States. Consider it my first Joss Stone-ism, bless her. I'm drawn up in the undertow of sound, it's a thrilling set: massive tunes, but with a real leftfield sensibility, strange washes of shoegaze ambience infiltrate the songs and make them sound stranger, more intriguing than if they were bare bones.
Some of the details are lost to me because I'm fighting the camcorder. And the venue's security. You have to pay a sizeable fee if you want to license footage shot in this venue for official use. Hilarious, in retrospect, if they'd seen any of the shaky handed, fuzzy as hell footage I shot. But I got some good photos, I think.
The band play a few new songs - including something very different, very excellent, and very acoustic in the encore. It's a fascinating glimpse of what they've been up to on the back of the bus.
Ah, the bus... my first night on the bus didn't go so well. I ended up in the 'junk bunk' minus a 'comforter'. There was mental-ness going on in the front that may scar me for eternity... actually, it was all good natured valve releasing, and much-deserved, when you consider how hard these people work. Ritzy and Rhydian retire to the back of the bus - despite it being Rhydian's birthday - to get themselves ready for another day of hard, album preparation. That's dedication for you. It's what you need, so they say. And Joy Formidable have it, in abundance.
Feel free to comment! If you want to have your say, on this or any other BBC blog, you will need to sign in to your BBC iD account. If you don't have a BBC iD account, you can register here - it'll allow you to contribute to a range of BBC sites and services using a single login.
Need some assistance? Read about BBC iD, or get some help with registering.