Wales' worst June storm since 2004
What a day it's been today. More like autumn than summer. It's the worst storm to hit Wales in June since 2004!
Andrew Morgan sent this picture to me on Twitter showing rough sea and waves at Bracelet Bay on Gower.
Shelley Page took this one: waves crashing over the harbour wall in Porthcawl.
Elise Jenkins captured this fallen tree on the Taff Trail in Cardiff.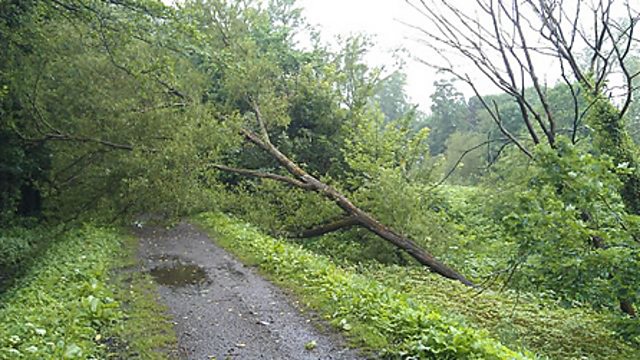 Fallen tree. Photo: Elise Jenkins
The strongest winds and gales have been in the south and west, especially on the coast. Mumbles Head in Swansea recorded a gust of 67mph. 50 to 75mm of rain (2 to 3 inches) has also fallen in places in the last day or so. So many rivers are swollen. At the time of writing, there is one flooding warning in force in Aberystwyth and 14 flood alerts.
And we're not out of the woods yet. There is still a Met Office warning in force for both heavy rain and strong winds until midnight on Friday. Stormy weather at this time of year is not welcome but it does happen from time to time. You may remember the Fastnet Storm of August 1979.
By 7am tomorrow morning the low pressure responsible for the inclement conditions will be over the North Sea so tomorrow the weather will gradually improve. Mid Wales and the north will start off cloudy with some rain but during the day, the rain will turn lighter and clear so the whole country will turn drier and brighter during the afternoon with some sunshine. The wind will continue to ease as well so feeling warmer than today. Top temperatures 14 to 17 Celsius.
I will be in Rhossili tomorrow to open the Gower Walking Festival. After the weather we've had today, tomorrow will be lovely in comparison!
Tomorrow night I wouldn't rule out a shower in the south and west otherwise it should be dry. Some mist forming and quite cool as well. At the moment, I'm not 100% sure about how Sunday will turn out. There is a risk of some rain, especially in Mid Wales and the south but it may miss us. So keep an eye on the forecast over the weekend.
Next week looks mixed. Sunny spells and showers. Heavy downpours likely in places with thunder. But there is a hint of better weather later in the month so don't put the deckchair away just yet and enjoy the sunshine tomorrow.