Sally Moore: You Never Can Tell
The level of detail in Sally Moore's work is such that each fresh look at her paintings reveals hidden delights and nuances not seen at first.
The Barry-born artist's love of capturing mini psychological dramas on canvas and her meticulous style has won her much critical acclaim - winning her awards at the National Eisteddfod, and at the 1996 Discerning Eye Exhibition in London, where William Packer awarded her the critic's prize. In 2005 she also won the Welsh Artist of the Year award.
And from next week 16 new paintings by Sally will be on show at the Martin Tinney Gallery in Cardiff.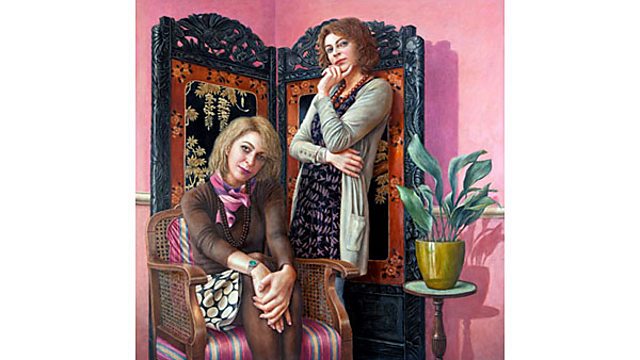 Beneath Suspicion by Sally Moore
Sally told me that several of the pieces mark a slight departure for her, moving away from explorations of her own state of mind, to intense and often unsettling observations of human behaviour.
"I'm fascinated by the way we behave and several of the paintings do try to capture a troubled state of mind," she said.
"In this collection two pieces, Beneath Suspicion and Home Histrionics, explore the behaviour of those characters we all meet in life who love drama for drama's sake and thrive on it. They are captured from the observer's perspective to underline the ridiculousness of the situation.
"They are loosely based on a friend of mine who enjoys complex relationships with men and follows a specific pattern of destructive behaviour.
"She gets herself in these ludicrous situations and seems to relish the drama it creates, when it's all driven by fake emotion."
I asked if the friend might be annoyed to see herself portrayed thus and Sally answered: "I don't know, possibly. I don't know whether she will see them!"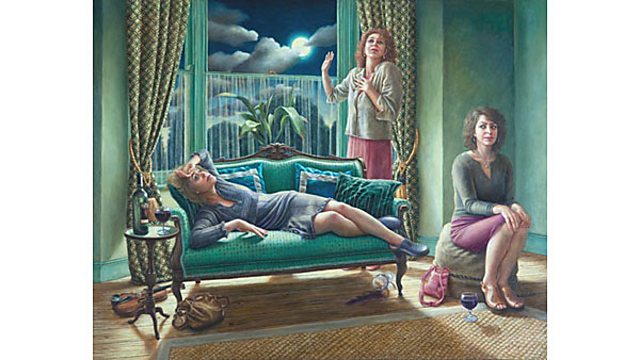 Home Histrionics by Sally Moore
In most of her paintings, the observer is usually present and pictured but in Beneath Suspicion Sally removes that character from the painting, instead transferring that role to the viewer, so both women captured look out seductively.
"I think it will provoke a different response in men and women. This is a new route for me as most of my previous work has been based on my own feelings, feelings of desire, isolation and longing and how I relate to others."
Sally lost her 87-year-old mother two years ago, just as she was beginning this latest body of work, and says that sense of grief and loss is very much present in the paintings.
"Each painting attempts to capture an intense moment. These moments can be pleasurable but sometimes they can be confusing and distressing. Their memories stay with me both in reality and in my dreams."
Because of the painstaking level of detail in her paintings, Sally can work on several pieces at once over many months, returning to each in turn to add more content or means of expression.
Another painting, Laced, explores issues of trust and uncertainty in human relationships, where telling sideways glances reveal intentions might not perhaps be as honest as they first seem.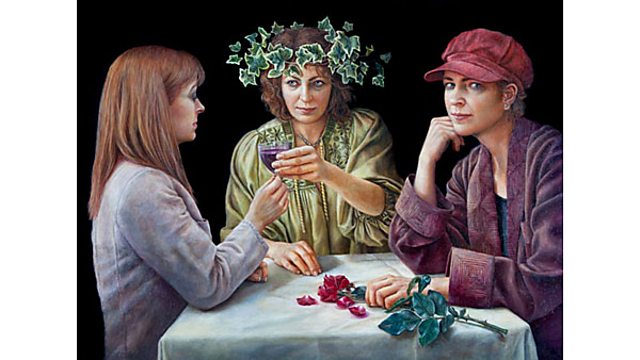 Laced by Sally Moore
Much of Sally's work in the past has included a lively cast of animals, popping up in even the most humdrum of domestic situations. While there are no tigers in this collection, dogs and butterflies do star.
She said: "I am drawn to animals because they often help to accentuate human emotions or convey innocent onlookers."
Sally trained at the Ruskin School of Art, Oxford, and subsequently won a scholarship to study at the British School in Rome.
She was influenced by many of the greats of the early medieval Renaissance and was impressed by artists like Fra Angelico, Vermeer and Caravaggio.
In fact, one image in the collection revisits Vermeer's famous Girl With a Pearl Earring and attempts to put her own unique stamp on it.
Work from the You Never Can Tell collection is currently on show at St David's Cathedral in Cardiff but moves to the Martin Tinney Gallery from 13 June to 4 July. For more details visit the website.