Douglas, The Take - Le Pub, Newport
This weekend I attended a gig at the Le Pub venue in Newport, featuring the bands The Take and and Douglas. Who? you may well ask. And you'd be right to do so; they're not exactly household names.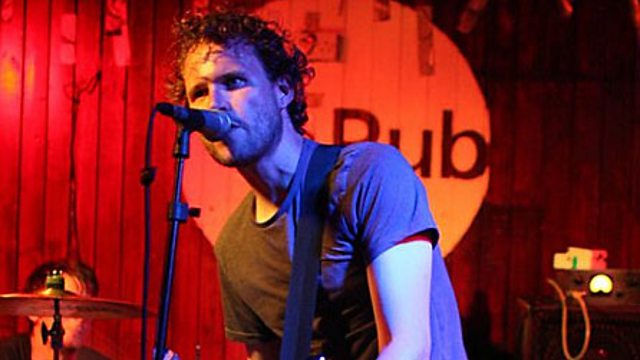 The Take (photo: Chris Hudson)
But that's not the point; for me and for the people who saw them play at two gigs over the weekend, this was special. To give a bit of context, both bands dealt in melodic, punk-influenced indie rock and both were leading lights of the local scene a few years ago.
Douglas (photo: Chris Hudson)
Douglas were a kinetic, frenetic, deliciously tuneful outfit who in 1999 released an album called Persona on GFY; they toured with Pennywise and were ones-to-watch before they split. From their ashes The New 1920 was formed.
The Take were signed to Household Name Records then Bombed Out, and were influenced by US indie-punk, wonderfully off-kilter in their melodies and purveyors of big riffs and beautiful, sparkling guitar lines. Jim and Charles from the band now play in Markers.
At the gig (staged in celebration of the life of TJ's John Sicolo and in aid of his favourite charity) both bands played their socks off, obviously enjoying themselves and the fact that old friends had turned up to enjoy the moment. This was like we'd clambered inside a DeLorean, set the controls to 2002 and hit 85mph.
There was a roll call of bands and fans there who in the early part of the last decade were making the Cardiff and Newport rock scene a vibrant and exciting place: Daf Williams and Jason Addicott of Panel, Tom Willecome from Bedford Falls, Ian Watkins from Lostprophets, Iain Mahanty from Dopamine (now of Kids In Glass Houses) and many more.
It really brought back to me how exciting that time was - quality bands who supported each other through thick and thin. And it brought back to me how much bands can be missed after their demise. I had a flashback to Douglas' last show, at Cardiff's Coal Exchange. It seemed as if every punk fan in south Wales had turned out to see them as I DJ'd, cranking out Michael Jackson's Beat It to 900 people. It was the scene of my last stage dive too.
There were gigs, parties, road trips, exaltation, disappointment and everything else you'd expect in a scene. It was great to see Lostprophets taking Douglas out on tour with them, to hear Adequate 7 being played on Radio 1, and to see records from the area's bands being given great reviews in everything from Fracture magazine to Kerrang!
I don't care what genre of music you like, or where you live, but go see shows, buy good music and be there when you have the chance, because suddenly this stuff has been and gone and you realise what you're missing. Bands don't have to be huge to be important. They just have to mean something to you.
Are there any bands you'd like to reform? How about the songs that remind you of a place and time? Feel free to comment! If you want to have your say, on this or any other BBC blog, you will need to sign in to your BBC iD account. If you don't have a BBC iD account, you can register here - it'll allow you to contribute to a range of BBC sites and services using a single login.
Need some assistance? Read about BBC iD, or get some help with registering.