Wynford Vaughan Thomas, Welsh broadcaster
To put it in the vernacular, the Welsh have always been portrayed as having 'the gift of the gab.' As someone knowingly, but confusingly, once said "the Welsh could talk for England."
However that might be, no Welshman was ever better at spinning a tale and keeping an audience mesmerized and spellbound by the power of his words than the writer, journalist and broadcaster Wynford Vaughan Thomas.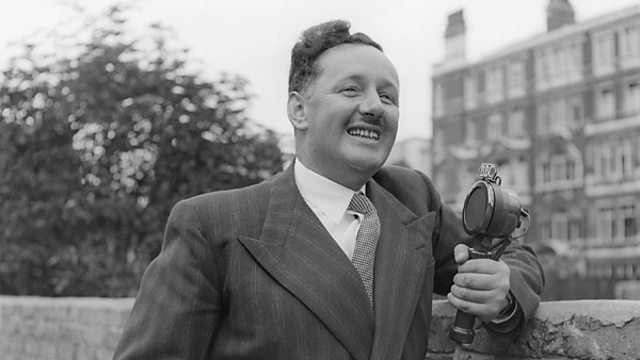 Wynford Vaughan Thomas
All those who heard him hold forth - often in places like the County Club in Cardiff - have never forgotten the man or his themes, whatever they might have been on that particular day.
Born on 15 August 1908 at 9 Calvert Terrace, Swansea, Wynford came from impressive stock. His father was professor of music at Swansea University while his mother was descended from Daniel Lewis, one of the Rebecca Rioters in 19th century Glamorgan. So from an early age the twin elements of academic excellence and rebellion were in his blood.
Wynford Vaughan Thomas was educated at Swansea Grammar School where his English master was none other than DJ Thomas, the father of the poet Dylan Thomas.
Wynford left the school to continue his studies at Oxford just as Dylan was starting. He emerged with a second class honours in Modern History and was soon working for the National Museum of Wales as the curator of manuscripts.
In the middle years of the 1930s Wynford decided on a change of career - partly because it meant he could be close to the girl he later married, Charlotte Rowlands - and went to work for the BBC in Cardiff.
His rich and distinctive voice made him ideal for presenting programmes on the radio and in 1937 he gave the Welsh language commentary for the coronation of King George VI. Other broadcasts soon followed.
However, it was as a war correspondent during the Second World War that Wynford Vaughan Thomas really made his name. Initially, he was employed to make broadcasts about the Home Front but his reporting on the Blitz was so moving and so effective that the BBC decided to use him for other, rather more dangerous duties. He became something of a roving reporter.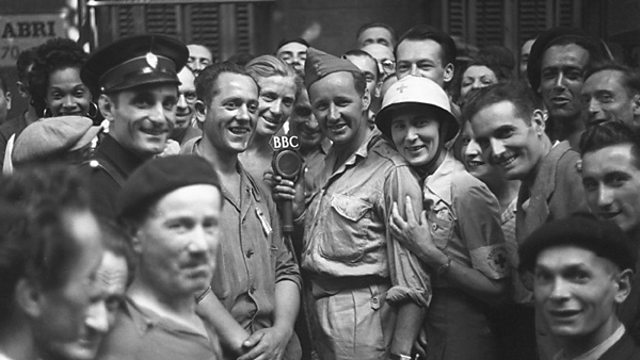 Wynford Vaughan Thomas recording interviews in Marseilles during the Second World War.
His most notable broadcast came in September 1943, given from the belly of a Lancaster bomber, high over Berlin. With anti-aircraft shells bursting all around, the aircraft was caught in the beam of a searchlight and Wynford's dramatic commentary vividly captured the danger and the excitement of the bombing raid.

"Berlin burning seen from 19,000 ft was the most beautifully horrible sight I've ever seen".
You can hear more about the story of Wynford Vaughan Thomas's report recorded during a raid on Berlin in BBC Radio 4's Archive on 4.

Other famous broadcasts from these wartime years included several from the Anzio beachhead, a memorable one from the broadcasting studio of Lord Haw Haw in Hamburg and a powerful and stunning commentary from the newly liberated concentration camp at Belsen. He wrote a book on the Anzio landings, a work that was later made into a major Hollywood film.

In 1945 he was awarded the Croix de Guerre by the French government after being present at the liberation of Burgundy. As he later said, tongue pressed firmly in his cheek, he had spent several contented days in a wine cellar, along with his soldier comrades, and emerged with a medal.

After the war Wynford Vaughan Thomas continued to make regular broadcasts, usually at events of national importance. These included the 1953 coronation of Queen Elizabeth and, in 1965, the funeral of his BBC colleague Richard Dimbleby.

In due course, Wynford moved on from the BBC and became one of the founders of Harlech (later HTV and now ITV Wales) independent television. As director of programmes for the new station he had a great say in what was actually broadcast to the Welsh nation.

Wynford wrote several books in his long career, notably Madly in All Directions and Wales: A History. However, it is for his joint presenting with Gwyn Alf Williams of the landmark television series The Dragon Has Two Tongues that he will always be remembered.

In later life he became president of the Council for the Protection of Rural Wales, in which capacity he formally opened the Pembrokeshire Coast Path in 1970. He had always been passionate about Wales and the Welsh countryside and this was an opportunity to give something back.

In 1974 there was further recognition when he was made an honorary druid. That same year he was given an OBE, an award that was raised to CBE some 12 years later.

Wynford Vaughan Thomas died at his home in Fishguard on 4 February 1987, his passing undoubtedly creating a vacuum in Welsh broadcasting and in Welsh cultural life in general.

Some years after his death a memorial was erected in his honour at Aberhosan - it is in the form of a telescope, looking out over the countryside of Wales. Wynford would undoubtedly have been very pleased.