What a difference a cold front makes
Well, what a difference a week and a cold front makes!
Last Thursday it was hot and sunny with temperatures reaching 23 Celsius in Snowdonia whereas today it was only 10 Celsius.
Our correspondent Iolo af Dafydd took this photo on the A5 near Capel Curig today. It looks like snow but it's actually hail which we can get at any time of the year - even in the summer.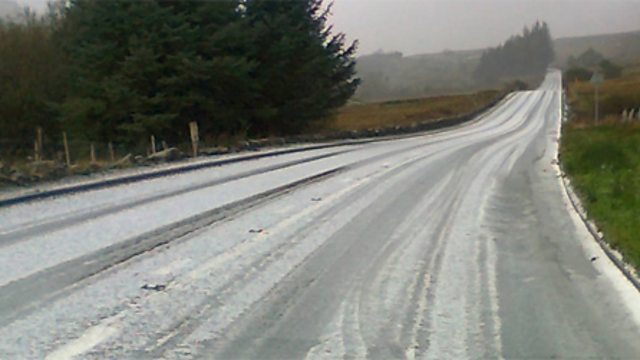 It's chilly and windy today with gales on some coasts and hills and gusts of 50 to 55 mph.
Tomorrow will be a better day with less wind and a few showers but most of the showers will be in the north and west. Powys might also get some rain too but not as heavy as today.
The south east will be drier with the best of the sunshine and top temperatures between 12 - 14 Celsius and a north-westerly breeze. Friday night will be dry but on Saturday it's all change.
A bright start in the south east but clouding over with some rain and drizzle. Most of the rain will be on the high ground in the north and west with the wind picking-up but it should turn milder.
The
Hay on Wye Walking Festival
starts tomorrow and runs until Sunday, 9 October. A little rain is likely on Saturday afternoon but it'll be wetter on Sunday, so keep the waterproofs handy!
Derek