The suitcases are being packed. Hopefully, so is the sun-cream (lather up responsibly, folks). We're off on the road for the next few weeks.
We start at the Royal Welsh Show in Llanelwedd where Felicity Evans has already been sampling the sights and sounds on today's Good Morning Wales. Gilbert John is reporting throughout the show, as ever. Eleri is live between 1-4pm today and tomorrow, and on Wednesday afternoon, it's Wynne Evans' Big Royal Welsh Show. And join us for a star studded Royal Welsh Pub Quiz on Saturday at 1.30pm.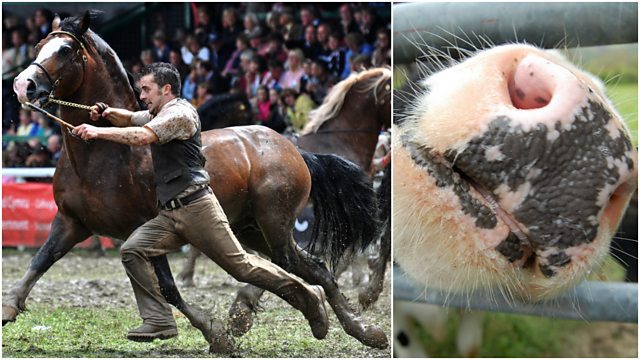 Royal Welsh horse show by Tony Llewellyn and cow's nose by Samantha Wright
Both Eleri and Wynne are then hot-footing it to Glasgow, where the 2014 Commonwealth Games begins on Wednesday. You can catch up with the opening ceremony on Radio Wales Sport (presented by Simon Davies live from Royal Porthcawl at the start of the Seniors Open golf) and on Chris Needs.
On Thursday, Ollie will be in Glasgow for Good Morning Wales, Eleri will be there in the afternoon and Ian Hunt will present Radio Wales Sport there between 7 and 9pm. On Friday, it's Ollie again and Wynne's Big Welsh Weekend. On Sunday night at 8pm, Deacon Blue's Ricky Ross presents Another Country - an Americana and roots-themed concert for the Commonwealth Games; the second of our simulcast Glasgow 2014 concerts with BBC Radio Scotland.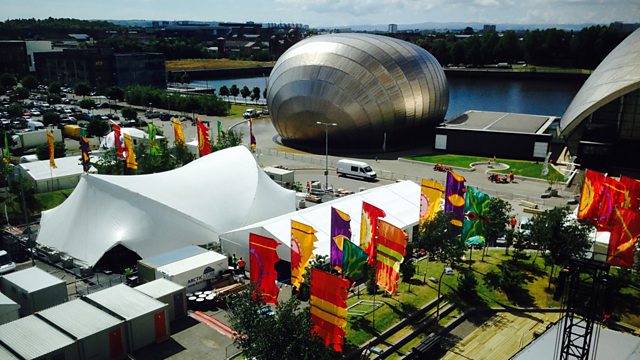 BBC at the Quay site
Much more in the way of outside broadcasts next week. And whenever there is a major moment for Wales at Glasgow 2014 and a chance of a medal, you'll hear about it here on BBC Radio Wales.
Staying on the subject of sport, there's live football (yes, the new season has already started) on Tuesday's Radio Wales Sport, with The New Saints hoping to overcome a 1-0 deficit against Slovan Bratislava in the second qualifying round of the Champions League. It's an earlier 6.30pm start there.
Meanwhile on Friday, Glamorgan need a win against Gloucestershire in the T20 Blast to progress to the Quarter Finals. The action is live on the BBC Sport Wales website from 5.30pm and on Radio Wales from 7pm. Win or lose, it's an early start for Glammy the following day with the start of their One Day Cup campaign against Middlesex. Commentary of this and all One Day Cup games will be live on the BBC Sport Wales website.
The brilliant Cardiff band The Earth are the Radio Wales Artist of the Week with their new single Old. They'll be with Steffan Garrero on Wednesday.
Elsewhere this week, Bethan Elfyn has Horizons highlights from Gwyl Gardd Goll on Anglesey including Houdini Dax and Candelas (Saturday at 7pm). Swansea jazz pianist Huw Warren talks about his forthcoming performance at Brecon Jazz to Roy Noble (Sunday, 10.30am). And Friday sees the start of our very own Gareth Gwynn's new sitcom, Passing On (6.30pm), which was inspired by his mother's plan to make sure that he and his brother stay close after her death. You can read all about it here and watch a behind the scenes video. Gareth's Saturday afternoon show continues next week with his excellent six degrees of separation experiment. We've gone from the owner of an ice cream van to Birds of a Feather's Linda Robson in four steps so far. Where next?