Former miner and campaigner stars in new Ken Loach film
It's not often you can say that an 83-year-old has given you a new lease of life. But after chatting to lifelong social activist and anti-war campaigner Ray Davies about his passion for politics, I feel strangely inspired.
Davies, who is still a sitting member of Caerphilly Borough Council and chair of CND Cymru, plays a starring role in the latest film by acclaimed director Ken Loach.
The Spirit Of '45 is a documentary which aims to capture the zeitgeist of a generation who had seen their country brought to its knees by war, yet never stopped dreaming of a fairer future and a kinder, more united society.
Britain was on the brink of economic ruin, yet the beginnings of a welfare state were emerging and the idea of society as a collective rather than a series of individuals was being embraced.
Under the new Labour government led by Clement Attlee, Health Minister Aneurin 'Nye' Bevan took responsibility for establishing the National Health Service. Soon after moves were made to bring utilities and transport into public ownership.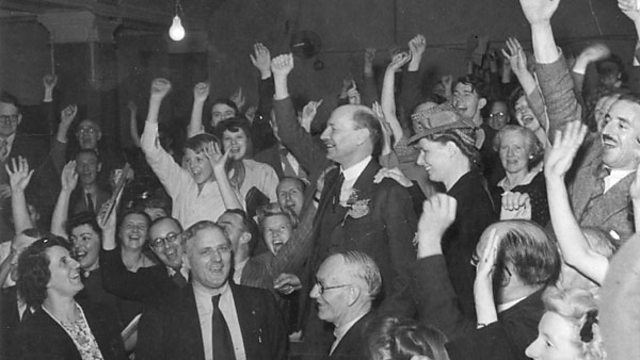 Clement Attlee on the Labour party's victory night in 1945, taken from The Spirit Of '45. Photo: People's History Museum
Loach's documentary is a tapestry of interviews from people who lived through that era, interweaved with films and sound recordings from Britain's regional and national archives.
Davies, who stars alongside the pioneering valleys GP Dr Julian Tudor-Hart and Tony Benn, is featured in conversation with Keri Curtis, a community project worker from the Welsh valleys.
The film sees him describing the moment his political soul was galvanized amid appalling personal tragedy, what he and his friends hoped for as the war ended and why, in his 80s, he still feels the need to campaign for change.
Davies told me: "When I was 13, my mother died in childbirth.
"She was in labour with her ninth child and I heard the doctor tell my father that if there had been a hospital bed or a blood transfusion available, she would have survived.
"I was screaming and my father was crying and something changed in me - I couldn't believe she could die like that and I was politicised from that moment on.
"I saw all my younger brothers and sisters taken off in a van to the orphanage and two months later I went underground in the mines to work."
It was in Llanbradach Colliery that he first experienced that collective optimism and spirit of unity that Loach attempts to capture in the film.
"The miners all wanted a new world and they felt hopeful that this new generation of politicians could deliver that," he said.
"I was underground with around 40 others when we were waiting for the election result. When we heard it was going to be a landslide all these big, strapping men had tears rolling down their cheeks.
"I asked one of them why he was crying and he said: 'This means we will take control of our own lives for the first time and have a better hospital service and people like your mother won't die like that anymore'."
Davies admits this is when he realised his burning desire to be part of that radical future, and after a brief flirtation with the Communist party, he joined the Labour party in 1958.
His passion to bring about social change has seen him thrown in prison several times – three times for refusing to pay his poll tax, once in Palestine as he campaigned for peace there and twice for acts committed in protest against the second Iraq war.
Ray Davies, who stars in Ken Loach's The Spirit Of '45
He first met Ken Loach when the director visited him on the picket line during the steel strike of 1980 and Loach was so impressed by his political fervour that he asked him to star in his documentary about the strike, A Question Of Leadership.
Davies will join Loach and Dr Tudor-Hart for the Welsh première of the film, which takes place at the Chapter Arts Centre in Cardiff on Wednesday 6 March, ahead of the film's general release on 15 March.
The screening will be followed by a Q&A session with the men.
At the same time as the showing in Chapter, The Spirit Of '45 will be screened at The Factory in Tonypandy. After the film the Q&A will be streamed live from Chapter so the audience in the valleys can also ask questions.
On Sunday 17 March, there will also be a special UK-wide satellite screening of The Spirit Of '45, followed by a Q&A event.
Speaking about the film Ken Loach said: "The achievements of the 1945 Labour government have largely been written out of our history.
"From near economic collapse we took leading industries into public ownership and established the welfare state.
"The consciousness was: we've achieved things and we have things that will never be taken away from us, like the health service, like public ownership of the mines, of the transport, of the gas, electric - it was ours.
"And now, that's gone, we've just given it away... Allowed politicians to give it to their friends."
He refers to the current trend as "the cult of the individual", something, which emerged from 1979 onwards, which New Labour followed, and which dominated the party.
"So the consciousness now is not: "How can we work together?" It's: "How can I get on, at the expense of you?" So that's pretty horrible."
The Spirit Of '45 is on at Chapter on Wednesday 6 March at 6pm. For more information visit www.chapter.org.
The preview is presented by WOW One World Film Festival, which runs from Friday 15 March to Wednesday 3 April. A partnership between Aberystwyth Arts Centre, Chapter and Taliesin Arts Centre Swansea, WOW gives audiences throughout Wales the opportunity to enjoy world cinema.