In the last years of the 19th century and in that short, seemingly idyllic period before the outbreak of World War One, the fame of one small man from Merionethshire was so great that newspapers all over the country led with tales of his exploits. Postcard publishers happily produced visual records of his life and, ultimately, his death.
The man in question was John Jones, better known as Coch Bach y Bala or, sometimes, the Welsh Houdini. Coch Bach was, quite simply, a criminal - not, perhaps, a great criminal but for a few short years his numerous escapes from prisons, police cells and holding gaols ensured him a renowned place in Welsh folklore.
He was born at Bala in 1853 and from an early age became involved in petty crime. He stole eggs from farmers' hen coops and unguarded property from people in the village.
By the age of 20, Coch Bach had served no fewer than three short terms of imprisonment for crimes such as riotous behaviour, loitering with intent and theft.
In October 1879 Coch Bach was sent to Ruthin Gaol to await trial - for the theft of a dozen watches. However, with sheer brazen effrontery he simply waited until his gaolers turned their backs to cook and enjoy their supper and then walked free through the front door of the gaol.
In order to get out through the front door he had actually picked the locks of four other doors, including that of his cell, which does bring into question the effectiveness both of the gaol and the gaolers!
After that escape, Coch Bach y Bala was "on the run" for several weeks before being arrested at the Swan Inn in Colwyn Bay. Tradition says that he was apprehended while asleep in bed. A reward of £5 had been promised for information leading to his recapture but whether or not it was ever claimed remains unknown.
As a result of his crimes (and subsequent escape) the Welsh Houdini was sentenced to 14 years hard labour but by 1891 he had been released on licence. And it was not long before he resumed his criminal ways.
He was not a clever criminal mastermind. The term 'career criminal' might be best applied to his exploits. Over the next few years Coch Bach was arrested many times. He was invariably convicted and went on to serve numerous prison sentences.
In 1900, waiting to be transferred from Caernarfon to Dartmoor Prison, he undertook one of his most famous escapes. He simply barricaded his cell door and while his gaolers were attempting to break in, he dug a tunnel through the floor and under the wall. His escape was daring enough but he was soon caught and sent off to serve his term at Dartmoor.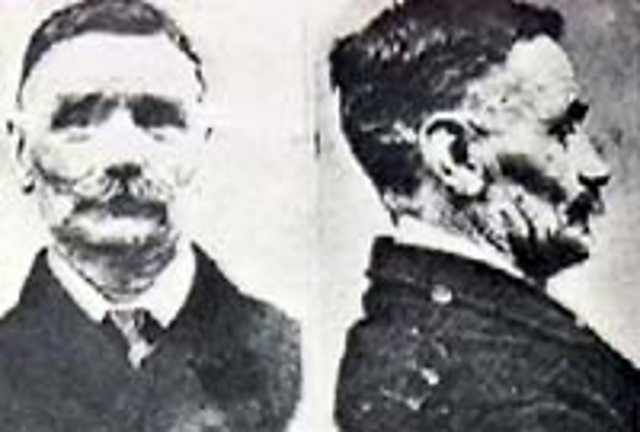 John Jones, better known as Coch Bach y Bala
In 1913, further escapes were made from the police cells at Bala and from the inefficient Ruthin Gaol. This last bid for freedom, on 1 October, was destined to be his last.
With amazing ingenuity, Coch Bach managed to cut a hole in the wall of the cell and then, between four and five in the morning - while the prison, prisoners and guards included, was still asleep - made good his escape.
By knotting his blankets together and using them as a rope the daring criminal was able to lower himself down the outside of the prison wall and disappear into the darkness.
The North Wales Times called it an escape of a "sensational manner" and went on to say that:
"He (Coch Bach y Bala) gained his liberty as a result of indomitable pluck, great astuteness and wonderful"
It really did seem as if no prison could hold him. Just five days later, however, he was unaccountably shot in the woods near Nantclwyd. On the run, hunting for food to keep himself alive, Coch Bach had come across 19-year-old Reginald Jones Bateman who challenged him to stop and then fired his shotgun. The Welsh Houdini was wounded in the leg and groin. He died from shock and haemorrhage later in the day.
John Jones, the redoubtable Coch Bach y Bala, was seen by many as the classic case of the little man fighting against the powers of authority.
He was, when all was said and done, a criminal but by his many daring escapes not the criminal activities that had brought him to prison or gaol in the first place he seemed to capture the hearts of the Welsh people. His really was a case of the lovable rogue for whom most people had a sneaking admiration.