Well, it was a pleasant change not having to scrape ice off the car windscreen this morning!
Across much of Wales, temperatures stayed above freezing although Pembrey on the Carmarthenshire coast dipped down to -1 Celsius.
The air over us today has come from the Atlantic so it is milder & moister but as this air flows over cold ground - low cloud, mist and fog patches will form.
Another thing to bear in mind is that, although air temperatures are higher, the ground is still very cold so there is still a risk of icy conditions developing almost anywhere, particularly when there are clear skies overnight and early morning.
Some drizzle is likely today and tomorrow, mainly in the north and west; in Snowdonia and on the Cambrian Mountains. Otherwise it will be dry and if you're lucky the sun will make an appearance.
Saturday will be the mildest day with temperatures rising as high as 8 or 9 Celsius in the north and west but closer to 4 or 6 Celsius in Powys, the south and south east with light winds.
On Saturday night temperatures will fall close to freezing in places with fog patches and a slight frost.
Sunday will be colder but dry with the best of the sunshine likely in the west and the north west, from Pembrokeshire around the coast into Gwynedd and on Anglesey.
Next week will turn colder with more frost and later in the week it looks like we might see another Arctic plunge with even lower temperatures and a risk of snow.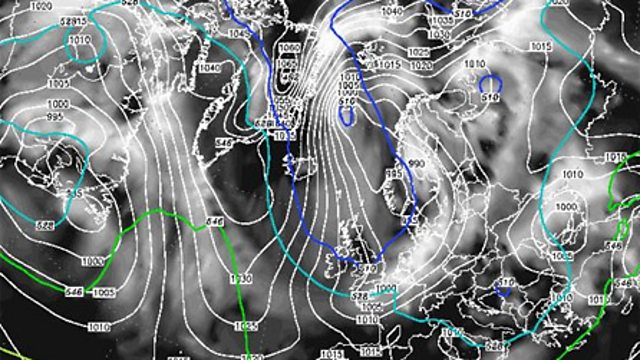 The forecast chart for 6pm next Thursday from the American computer model (GFS) shows northerly winds across Britain.
The blue line numbered 510 is a measure of temperature and indicates very cold air from the North Pole spreading south across the UK and Ireland - providing perfect conditions for Santa's reindeer (if it stays in place for Christmas Eve).
December 1981 was the snowiest and coldest of the last century but the way things are looking, this December could turn out to be the coldest since 1894 when Queen Victoria was on the throne!

Derek