There's a moment tonight when Cerys asks, politely, for a member of the audience to stop filming the gig:
"Let's live in the moment," she says.
I can almost sympathise with the miscreant. He just wants a memento of the night for posterity's sake, to show friends who weren't fortunate enough to get tickets for this sold out gig.
However, Cerys demands our full attention: in the manner of the grooviest head teacher imaginable - George Clinton retired from educational duties last week - she has plans for us. Almost every song she sings tonight invites us to participate, whether as a good ol' singalong (impossible-to-read song sheets are provided for us to squint at), providing kazoo-less kazoo backing, filling the venue with distended, ghostly miaows or hitting off-beats that'd make Smokey Robinson proud.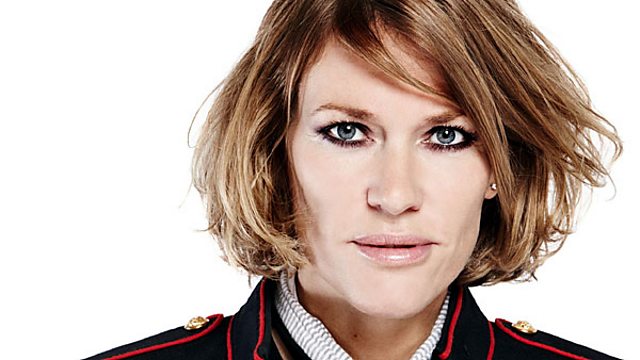 Cerys Matthews
I've been coming to Telfords in Chester, whether as a musician, DJ, promoter or drinker, for nigh on 20 years. One of the first bands I ever booked here was Catatonia. We won't let the fact that they had to pull the gig spoil the story.
So, this has been my second home for longer than I care to imagine. Cerys has managed to learn more about its history in a couple of hours than I have in two decades. She tells us about its 18th century origins - I knew that much - but then tells us all, in the flicker of candlelight - that the bottom bar, the bit that I DJ in, once used to house French slaves.
"Some died in there," she whispers.
It's a wonderful bit of Victorian theatre. Everyone enjoys a ghost story at Christmas. I thought the only things that had ever died in there were my DJ sets. Hundreds of them.
This is emblematic of Cerys' philosophy - an insatiable curiosity for the world around her and a genuine and generous desire to share what she finds with whoever cares to listen.
Anyone fortunate enough to repair their broken, Sunday morning heads with her peerless 6 Music radio show knows this - but I think Cerys has always been wide-eyed and generous. Catatonia did a (brilliant) session for my radio show in 1994. We paid for them to stay in a hotel in Oswestry; when I interviewed her a couple of days later, every detail of that hotel room - the pattern on the bedspread - was clear in her mind. You'd think she hadn't stayed in a hotel before.
It's somewhat unusual for someone so wise to also have that childlike wonder about them. Especially someone like Cerys who has seen so much and met so many remarkable people. I get the sense that having lived through all of the amazing places and the brilliant people has emphasised to her how the simple wonders of home, family, good friends and an attentive audience cannot be bettered.
All of this cod pyschology! Sorry.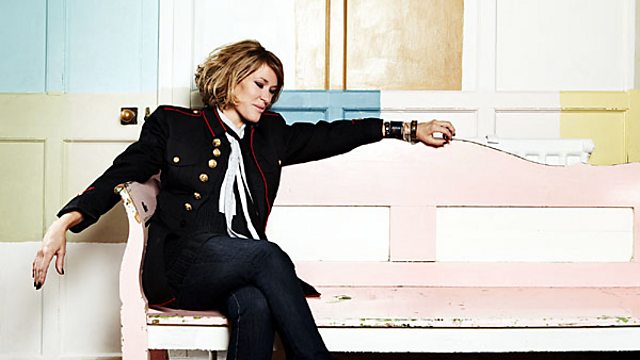 Cerys Matthews
"I dreamt about doing this when I was a little girl," she says. "Travelling around and singing songs, just me and a guitar."
And you can tell. I've rarely seen a happier and more genial artist - nor one so naturally blessed with music.
Time has a liquid and ineffable quality when you communicate through songs, especially when you have a love for song as gracious and restless as Cerys. During her set, we move from ninth century Irish poetry to songs Cerys learnt a few years ago when she was living in Nashville.
The stop-offs along the way are frequently surprising: we hear about Woody Guthrie; pamphleteers from Merthyr; brutal Scottish folk songs, a Welsh Christmas poem embellished by a couple who got engaged at one of Cerys' gigs a couple of years ago: him on bell, her on strange rattle. We hear wonderful versions of Blueberry Hill, Ring Of Fire and Love Me Tender.
Cerys starts one song, something effulgent with hiraeth, and it isn't until just before we reach the chorus that I realise it's International Velvet - the title track of Catatonia's best selling album. That album lived on my... I was going to say iPod... must have been a portable CD player, no doubt skipping every time I had to climb a piece of gravel, for 18 months. I remember being very angst-filled and lost and seeing Catatonia at The Tivoli in Buckley. Cerys sang Strange Glue and I felt better. Whatever desperation there had been in my heart got shorted out by her singing.
That's some gift, is that.
Following a break for us all to enjoy something 'medicinal' from the bar, Cerys returns to lead us through a singsong of festive tunes. Christmas carols are the perfect example of folk songs with a life of their own. What else could get us all singing loudly in Latin, in two parts, in the middle of a pub in December?
Cerys' new album Baby, It's Cold Outside is all about her interpretations of Christmas songs. I suspect she wants us all to be singing along to it while we're doing the washing up after Christmas dinner. I'm in. Although not, probably, entirely in tune.
As the concert draws to a close with a rousing version of Sospan Fach (it's always rousing, isn't it? Maybe Leonard Cohen should have a stab at it?) the three pints of Guinness I've had on an empty stomach are washing me this way and that on a sea of memories: I remember Cerys at In The City in Manchester in, I don't know, 1994? We're all a little off our faces, talking to Ray Davies from The Kinks. Cerys and the wonderful Mike Cole (60ft Dolls) at TJ's in Newport one Christmas, all half-cut smiles, exuding joy and excitement. Sitting next to Cerys backstage at their massive Home International gigs in Llangollen, watching the FA Cup Final... being horrified that a band I loved should be so... so... Manchester United! Other fragments of memories... but most of them kept alive because of the songs that soundtracked them.
If we could imbue our memory cells with the memory kindling-magic of unforgettable songs, we'd never need contemplate Fish Oil capsules again.
All of these echoes and reverberations. This is the life that great songs carry with them.
"They last forever," says Cerys - and she's right. Certainly the memory of her interpreting all of these great songs will live long even in my addled mind. An iPhone ironing the experience onto YouTube can't even begin to encompass all of the strands.