A Christmas Carol - as told by Jacob Marley (Deceased)
James Hyland's unique stage adaptation of the classic Charles Dickens novel A Christmas Carol sees the experiences of miser Ebenezer Scrooge told through the eyes of his former business partner Jacob Marley.
The acclaimed one-man show is touring the UK and will be making pitstops at the Lyric Theatre in Carmarthen, the Met in Abertillery and the Blake Theatre in Monmouth for one night apiece.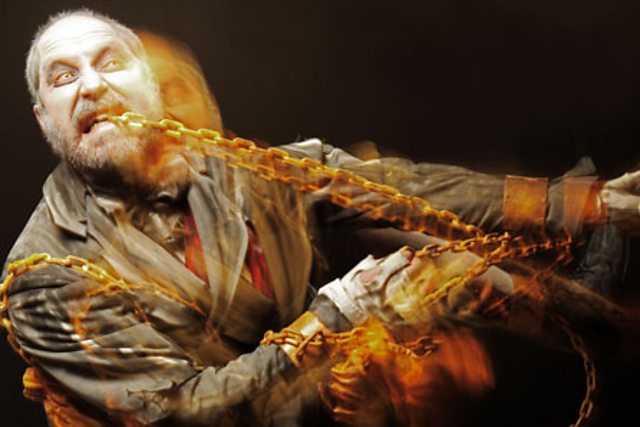 James Hyland as Jacob Marley
Hyland's show makes much of the Victorian somewhat ghoulish obsession with the supernatural, bringing Marley back from the dead, not only to haunt Scrooge, but to haunt the audience in an eerie and chilling display of physical theatre which manages at once to be comic and tragic. For this reason, parents are advised to use their discretion if bringing children under seven.
Hyland, who has won several awards for his work in the past, said: "My objective in adapting A Christmas Carol as a one-man show, told from the point of view of Jacob Marley's ghost, was to emphasise the differences between a saved soul and one that is lost, Scrooge being the former and Marley being the latter.
"This contrast serves to highlight both the themes of redemption and forgiveness, by comparing Marley's temporary liberation from his chains to that of Scrooge's full reclamation of spirit; shining a light on the necessities of changing one's outlook upon life, in regards to acknowledging and taking account for one's fellow beings as well as adding a certain poignancy to the proceedings since Marley can never really escape his imprisonment and must continue to suffer in death on account of his behaviour in life."
Hyland acts as both protagonist and storyteller in the play
The gripping tale of crime and punishment sees Hyland both as protagonist and storyteller, switching guises through Dickens' cast of characters while remaining faithful to the original text. This is the third year he has staged it, after performances sold out in London during the first run.
It comes hot on the heels of his warmly received previous production Fagin's Last Hour, a one man show based on that other Dickens classic, Oliver Twist, and is produced by Brother Wolf, Hyland's own production company.
Hyland began his career by winning the Guardian International Student Drama Award at the Edinburgh Festival and performed with the Royal Shakespeare Company, before setting up Brother Wolf, which has produced a wide array of projects.
His work includes penning the dialogue for an appearance in Tinie Tempah's music video Disappoint You, which won Best Urban Video at the UK Music Video Awards.
A Christmas Carol will be at the Met in Abertillery at 7pm on 7 December. It then moves to the Lyric in Carmarthen on Thursday 8 December before ending its Welsh run at the Blake Theatre in Monmouth on 9 December.
To view a trailer of the show visit YouTube. Visit www.jameshyland.co.uk/achristmascarol for more information on the production.