Butterflies have had a hard time of it this year, what with the droughts in March and April, followed by the downpours during May and June.
But now is your chance to help, by taking part in the Big Butterfly Count this weekend. Last year's survey saw nearly 10,000 people registering their sightings but organisers would love a similar turn out this year in order to help correlate all the data.
Getting involved is as simple as making a brew - just choose a place, sit down and spot butterflies and moths for 15 minutes. Then add your findings to the website.
Download the field guide before you start or browse our Wales butterfly picture gallery to help identify species.
Alternatively, log on to Flickr and check out our fantastic butterfly slideshow.
I don't know about you but I've hardly seen any this year - plenty of moths and I know they are basically the same creature but I've not seen any of the old favourites like the red admiral, peacock or tortoiseshell butterflies.
Last week whilst walking in North Pembrokeshire I saw quite a few ringlets, a few six-spot burnet moths, some speckled woods and a painted lady but that's probably the most I've seen all year and that was over a ten mile walk.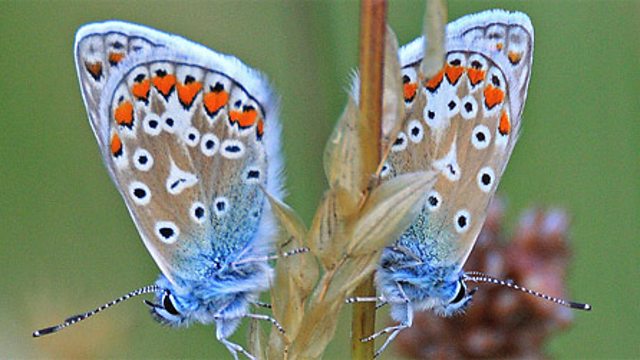 Common blues by Dr Murray on Flickr
Last year I was lucky enough to be visited in my garden by a hummingbird hawk moth but alas there is no sign of it this year and my flowering red valerian are currently going to waste.
I caught Sir David Attenborough talking about butterflies on Radio 4 on Wednesday morning and he had a similar story to tell, saying that his giant buddleia bush at home in London was devoid of butterflies this year other than a lone red admiral.
I was mowing the grass quickly on Tuesday night, determined not to be caught out by Derek's 'sunshine and showers' and disturbed numerous butterflies and moths, hiding in amongst the long grass at the base of my hedge. Unfortunately for me, they all flew off before I had a chance to start counting spots!
Last night however, (whilst carrying out my nightly snail raids on the vegetable patch), I noticed a lovely little moth hiding in the top of the hedge, brown in colour with lots of pale blue/ white spots.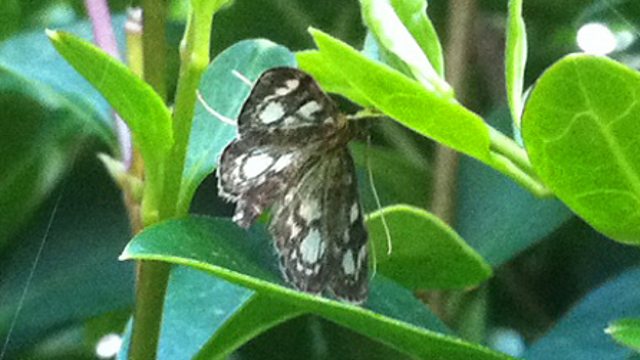 My mystery moth, Phlyctaenia Coronata. Apologies for the poor photo but it was taken on my phone in low light.
I grabbed my phone and took a few snaps but after scouring the inter web for a good hour trying to identify it - I gave up and submitted the photo to the excellent UK Butterflies website forum.
Thankfully, I'd already had a reply by this morning. My little, spotted moth was actually a Phlyctaenia Coronata - try saying that after a few drinks...It turns out that they are a fairly common species, although I'd not seen one before.
The weather looks pretty poor for butterfly and moth spotting in Wales this weekend but do let me know how you get on and leave a comment below. I think under hedges and in woods will be the best place to find them, seeking out refuge from the rain.