Archive sessions: Zabrinski
As 2010 comes to a close, and the end of another decade it seems a good time to re-visit some of my favourite sessions from bands who made quite a mark on the show back in the day. So many have sadly come and gone in the time that I've been broadcasting, but these pieces of music seem timeless, and just as fresh as they sounded back at the beginning of 2000.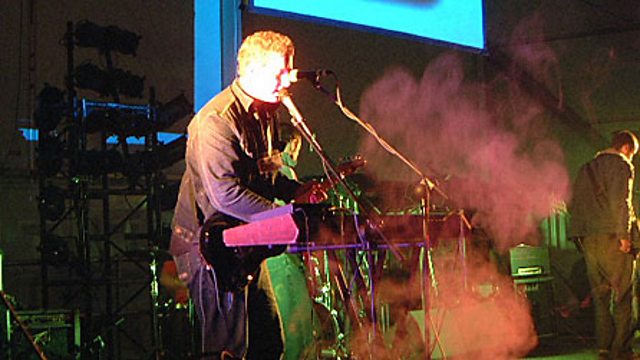 Zabrinski live at Maes B
In this blog I've interviewed Matthew Durbridge from Zabrinski, touring buddies with Super Furry Animals and a favourite of the Session In Wales, about how he felt about these recordings of his band recorded live on Maes B at the National Eisteddfod in Denbigh in 2001.Beth: What do you remember about the various Radio 1 Wales sessions you recorded?
Matt: I remember everything about the Radio 1 sessions. A favourite was recording in Rockfield - I was only 17 years old, I think! - and the producer was Tim from Spiritualized; mega chuffed! I remember being shown around the piano played by Freddie Mercury - cool! Then we were off to play table tennis. Also cool. We were so chuffed the radio show and the producers gave us a chance to have a session, and to produce it as we wanted too.
Beth: What did the support mean to the band?
Matt: It was invaluable. I remember you telling me in an eisteddfod in 1999 that there was a new programme being launched - Session in the Nations - and I had no idea at the time how important it would be to every Welsh band big or small over the next decade. We wouldn't have done half the things we did without the show.
Beth: What's your fondest memory of the Zabrinksi days?
Matt: Probably laughter, being able to travel with your best friends and being on a musical journey where we genuinely didn't know where we were going, and also playing with bands that we loved, lots that we didn't also but they were just as fun.
Beth: Can people still get hold of your music?
Matt: I think people can easily get hold of our music, as with nearly any band in the world now whether you have a record deal or not is irrelevant. We can simply type a band's name into Google and listen to them instantly. As for CDs, no I don't think people can get hold of our music!
Beth: Looking to the future - any projects on the go?
Matt: At the moment I am creating new sounds and tunes with Gareth from Zabrinski, and to be fair most of Zabrinski are on it. We have about 30 songs which aren't finished yet but when they are by the year 2018 they will sound amazing. If there is an increase in energy between us they may be completed earlier.
Listen to Mishi Brei from Zabrinski, recorded in session live at the National Eisteddfod in Denbigh in 2001:
Zanbrinski were Matthew Durbridge, Iwan Morgan, Gareth Richardson, Rhun Lenny and Owain Jones. Originally from Carmarthen, they released four albums: Screen Memories (2000), Yeti (2001), Koala Ko-ordination (2002) and Ill Gotten Game (2005).
They split up in 2007 after playing their last gig at Gwyl Macs but have recently started working together again though currently have no plans for releases. Some Zabrinski videos are still available on their Myspace page.
Feel free to comment! If you want to have your say, on this or any other BBC blog, you will need to sign in to your BBC iD account. If you don't have a BBC iD account, you can register here - it'll allow you to contribute to a range of BBC sites and services using a single login.
Need some assistance? Read about BBC iD, or get some help with registering.