Ceunant Cynfal - part of the jigsaw
Walking down to the national nature reserve beneath Llan Ffestiniog in Ceunant (gorge) Cynfal I was amongst members of the North Wales Wildlife Trust keen to learn what was to be seen.
Our guide, Doug Oliver from Countryside Council for Wales, began by saying: 'there's nothing special in terms of rare species but....'
The map at the entrance showed the extent of the oak woodland reaching up from the gorge with a red line indicating which section was part of the reserve, a bit like a jigsaw piece.
What Doug went on to explain was the rarity of this type of woodland across Europe and how we were standing in the centre of a puzzle with interconnecting pieces stretching northwards beyond Beddgelert and southwards to Dolgellau.
The names of the individual woods slipped off his tongue like the names of old friends.
Groups of five or six took it in turns to stand with Doug on the viewing point perched at eye-level with the Rhaeadr (waterfall) Cynfal.
A key feature of this type of woodland, and a prerequisite for many plant species, is the high degree of moisture which is amplified close to the river and by the fine spray from water crashing down on rocks far below.
Various ferns on nearby rocks were pointed out and described but a comprehensive list will remain incomplete until a suitably agile expert is prepared to dangle from ropes within this deep part of the gorge.
Doug Oliver in Ceunant Cynfal: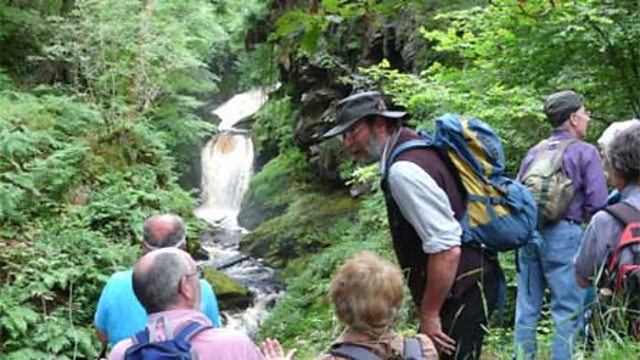 Walking carefully upstream on a steep-sided, narrow path we came to Pulpud Huw Llwyd, a tall column of rock with water flowing either side, brown with peat washed off the Migneint in last night's rain.
It's an apt and atmospheric setting for the many tales of Huw Llwyd and a great example of the underlying geology. The reserve has SSSI (Site of Special Scientific Interest) status, not just for its biological species, but for its geology as well - a double, triple SSI so to speak?
It's a favoured location for students to visit and see the impact of water on rock. The river has been gouged out of soft shalestone, probably along a fault line, and especially during the melting of glaciers over the last million years.
This makes it a 'young' river and in places the cliffs rise 30 to 40 metres up from the Cynfal. The points at which waterfalls start are the 'nicks' or end points of harder rocks less prone to erosion.
Standing among so many fine oaks in the dappled shade of their canopy it's difficult to find fault with anything but for Doug it's flawed.
'The trouble is these trees used to be harvested, they're all the same age and in about 70 years or so they'll begin to die and new trees won't succeed them quickly enough to maintain the shade and humidity. What we need is a mixed age population.'
The other problem is the lack of dead and decaying wood that supports insects and in turn the birds, bats and other wildlife. In an ideal situation there would be 30m³ per hectare. That equates to 30 to 40 mature oaks in an area the size of an international rugby pitch.
The gorge is protected from extreme winds and, in the absence of trees being cleared by natural forces, a bit of chain saw intervention might be needed to restore the natural order of the woodland.
It seems a crime to chop down healthy oaks and wasteful to leave the timber lying there - but that's what's needed.
Meirionnydd Oakwoods Habitat Management Project