Battle of Britain: Welsh aces
Seventy years ago the tide began to turn against Hitler's plans to invade Britain. By August 1940 the wave of German attacks that had overwhelmed central Europe and France, stalled in the skies over Britain and the English Channel.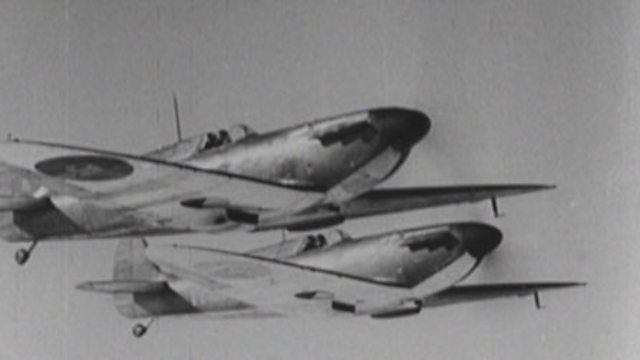 13 August is officially designated as Adlertag (Eagle day). On this day five waves of the Luftwaffe bombers and fighters attacked nine airfields from the coast of Kent in the east, to Weymouth in the west.
Since 30 June 1940, the Luftwaffe had threatened to break through Britain's defences as they pummelled airfields and runways. However, the Royal Air Force regrouped, aided by radar and a rapid influx of pilots.
The RAF's high performance fighters, the Hawker Hurricane and the Supermarine Spitfires were piloted by men from Australia, Canada, New Zealand, South Africa and from central European countries overrun by the Germans, in particular Poland and Czechoslovakia. They combined to thwart the waves and waves of German Heinkels and Junkers.
These men would be deemed the famous "few" by prime minister Winston Churchill. The heroic pilots included a few notable Welshmen. Wrexham-born Fred Rosier is arguably one of the most decorated Welshmen to have been on the Battle of Britain roll call. He was educated at Grove Park School in Wrexham and, in 1935 at the age of 19, joined the RAF.
Rosier was a Flight Commander in France, leading No. 229 Squadron as the country fell suddenly in May 1940. His Submarine Spitfire was shot down on 1 May. He bailed out of his burning plane with considerable injuries and, despite spending the crucial period of the battle in convalescence, he rejoined 229 Squadron just before the Blitz in September.
Post-1940, Rosier joined HMS Furious in the Middle East, piloting his Hurricane in the Mediterranean, and was awarded the OBE in February 1943. He went on to become Chief Air Marshall and retired from the RAF in September 1973.
Similarly illustrious is the story of St Asaph-born Denis Crowley-Milling. The Denbighshire man, educated at Malvern College in Worcestershire, was called up to the RAF on 1 September 1939 and, like Rosier, was eventually posted to France before returning to be based in Coltishall, Norfolk.
During the Battle of Britain Crowley-Milling claimed a succession of kills. On 30 August 1940 he destroyed a Heinkel He 111 and in early September claimed further victims before his badly damaged Hurricane P3715 was downed over the Thames Estuary and he was forced to land at a disused aerodrome.
Crowley-Milling's post-Battle of Britain escapades included crashing in France, receiving help from the French Resistance, and being awarded the CBE in 1963.
Ten years previously Crowley-Milling had the prestigious honour of leading the Odiham Meteor Wing in the 1953 Coronation flypast in the company of the legendary Douglas Bader.
Perhaps one of the better known Welsh stars of the summer and early autumn of 1940 is Frederick William Higginson. Born into a Welsh speaking family in Gorseinon near Swansea, 'Taffy' Higginson joined the RAF as an apprentice, aged just 16, in 1929.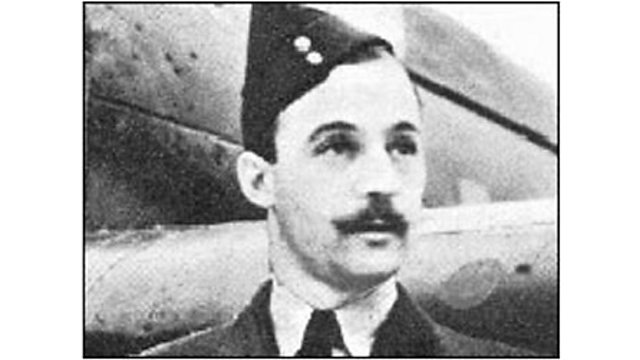 Higginson was one of the other Welshmen who went to France in May 1940 as German troops overwhelmed the country, where he claimed a hat-trick of German planes including a brace over Dunkirk on 29 May 1940.
This policeman's son thrived amidst the shrapnel and dogfights of August 1940. In the cockpit of his Hawker Hurricane he destroyed a Dornier D017 on the 16 August; the start of a purple patch that lasted between then and 30 September and amounted to no fewer than ten Luftwaffe aircraft being downed or damaged by Higginson's hand.
After the Battle of Britain, this ace's story entered the realms of a 'boy's own' silver screen fantasy. Higginson was shot down over France in June 1941 and attempted to escape to non-belligerent Spain before being arrested at the Franco-Spanish border. During internment in Perpignan he escaped.
Equipped with false papers and posing as a priest, he reached British-controlled Gibraltar. Following the war, he became sales and service director of the Guided Missiles Division in the Bristol Aircraft Company and also played rugby for London Welsh, Richmond and Surrey until he was 40.
Rosier, Crowley-Milling and Higginson faced death every day in the darkness and uncertainty of 1940. They, as well as many other pilots, went on to be decorated and held esteemed roles in the post-war world.
A glance at the remarkable and comprehensive book Men Of The Battle Of Britain by KG Wynn (CCB Aviation Books) reveals accounts of many Welsh pilots.
Edward Graham from Ebbw Vale joined No. 72 Squadron in March 1937 as Europe began its slide towards war. Following his role supporting the Dunkirk evacuation in his Spitfire, his squadron moved from Gravesend to Biggin Hill.
On 31 August 1940, amidst a mass Luftwaffe offensive Graham shot down a Messerschmitt Bf 110. After taking command of 72 Squadron at the tail-end of the Battle of Britain, Graham became an RAF Group Captain, retiring in December 1958. Some Welshman weren't so lucky, and paid the ultimate price along with so many other pilots.
David Francis Roberts from Penylan, Cardiff joined No. 25 Squadron in September 1939, as Germany invaded Poland, becoming a sergeant in June 1940. Roberts survived the Battle of Britain, but was killed the following April, aged 32.
Similarly, Cedric Watcyn Williams, educated at Maesyddywen County School entered the RAF in September 1926, passing out as a fitter in 1929. Williams was offered a cadetship, a common route for would-be pilots, and eventually joined 32 Squadron.
Following service in Iraq and training throughout the 1930s and settling into the Hawker Hurricane, Williams was briefly stationed at Aston Down in Gloucestershire in late June 1940 before commanding No. 17 Squadron at Debden in Essex.
In the heat of battle throughout August 1940, Williams claimed a number of enemy aircraft. However, it was to be his final kill that led to his own demise. On 25 August 1940, Williams was killed following a head-on attack. His Hurricane R 4199 hurtled into the English Channel, the graveyard of so many aircraft in 1940. He was 30 years old.
On 17 September 1940 Hitler cancelled Operation Sealion, the planned invasion of the British Isles. German strategy was now split between bombing cities and the invasion of the Soviet Union. Having heroically fended off the might of the German Luftwaffe, the British nation now had to face the Blitz.
Feel free to comment! If you want to have your say, on this or any other BBC blog, you will need to sign in to your BBC iD account. If you don't have a BBC iD account, you can register here - it'll allow you to contribute to a range of BBC sites and services using a single login.
Need some assistance? Read about BBC iD, or get some help with registering.