More mild weather to come
After last week's heavy rain, gales and flooding, the weather is in a quieter mood this week with the jet stream further north and high pressure over France.
Yesterday the warmest places in the UK was in Usk in Monmouthshire where the temperature reached 13 Celsius, 55 Fahrenheit - about 6 degrees above the January average.
So it's no wonder some plants and trees are flowering earlier than usual like this Magnolia tree which normally flowers in April!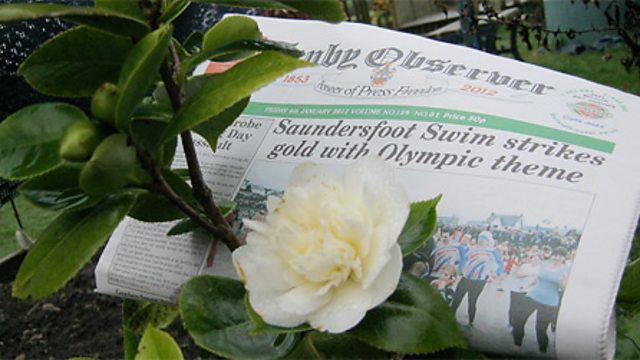 Magnollia, flowering extremely early as you can see from the local paper, dated January 6, 2012. Image by Mrs Rossalyn Morris.
Over the next few days, temperatures will remain on the mild side with winds blowing from the west or south-west. These winds will bring a little rain and drizzle at times, low cloud, mist and hill fog as well.
During Thursday, a cold front will move south bringing a little rain followed by much clearer conditions. It will also turn colder. Friday should be fine and settled with a ridge of high pressure bringing sunshine and a touch of frost.
Later in January, there is a hint of colder weather to come. However, this a long way down the line. Things could change but something to bear in mind.
In the meantime, Friday looks the best day this week for going for a walk and if you are after a few ideas on where to go - a new series of Weatherman Walking starts tonight on BBC One Wales at 7.30pm.
Check out website which has details of all the walks - including route descriptions, downloadable maps and some lovely photos taken on location by Martin Aaron.
Derek