Lostprophets, Cardiff Motorpoint Arena, 28 April 2012
As a homecoming present to their Welsh audience, they said they'd play Start Something, their second album, in its entirety. They promised us a special show. They delivered, in spades.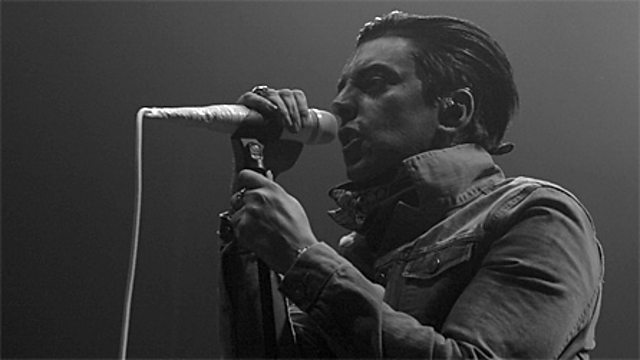 Ian Watkins of Lostprophets
Lostprophets, touring their fifth album Weapons, have a formidable canon of work behind them now. Twelve years after their début, Fake Sound Of Progress, it's unarguable that they have been one of the UK's most popular and significant bands of recent times.
In that context, Start Something is attaining an importance that perhaps wasn't recognised at the time of its release in 2004.
It's their most complete work, and distilled their love of hardcore punk, pop and the twisted LA alt-rock of bands like Faith No More. Eight years down the line, it's become a UK rock classic and so it's no wonder that tonight the band return - over all their other records - to that album.
A scrolling DOS-style backdrop with a portentous War Games-style invitation to 'boot the weapons system' draws a huge cheer from this arena crowd, and brings the Pontypridd six-piece to the stage.
So begins 'part one' of this two hour extravaganza - songs culled from their other four albums. Bring 'Em Down, from Weapons, is dispatched first, kicking off the moshpit, quickly followed by The Betrayed's lead single It's Not The End Of The World. As ever with Lostprophets, it seems to take singer Ian Watkins a couple of songs to settle his vocals, but the energy is palpable from both band and crowd; much like The Full Ponty 2007 there's a genuine sense of celebration.
Next up is one of their crowning moments, the new-wave-ish Adam Ant-meets-Incubus groove of Can't Catch Tomorrow, and it's as fun as ever. Channeling an inner Freddie Mercury, Ian Watkins leads the crowd in an extended to-and-fro chantathon during Town Called Hypocrisy.
Part one winds to a climax with Another Shot, Jesus Walks (both sounding a bit muddled), Where We Belong (epic), We Bring An Arsenal (rifftastic), Rooftops (biggest cheer thus far) and Shinobi Vs Dragon Ninja (ending with a stage dive from Watkins).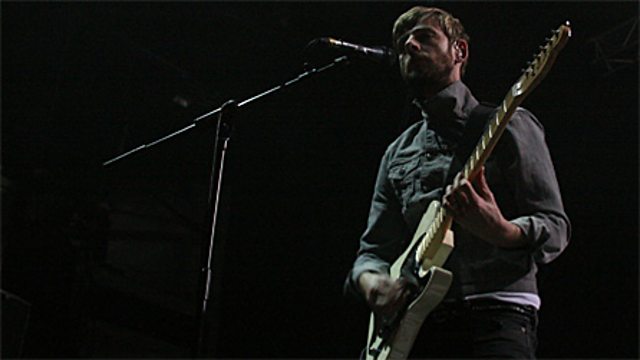 Lee Gaze of Lostprophets
So, after a short costume and backdrop change, to the main course: Start Something.
This is where it clicks. This, after all, was the album which allowed them to combine their influences into a fluid whole. On a major label they had the freedom to nail their hard rocking urges to their pop influences.
We Still Kill The Old Way is a statement of intent, and they bring the crowd with them. They may be the words of a younger band, but the positive themes of the album are in stark contrast to the more cynical, world-weary words of their later works. To Hell We Ride is a beast, followed in short order by their biggest single, Last Train Home, in all its overtly epic dynamism.The crowd bellows along to its main hook, as they do with the other singles Make A Move and Burn Burn (yes, that melodic larceny from Adamski's Killer still bugs me, but it's so damn effective).
For a now-veteran band they have a few wobbles (Goodbye Tonight and A Million Miles), but in probably 20 times seeing them, I've never known them deliver a perfect performance - and tonight it really doesn't matter. Fist-pumping rock music can mask technical inaccuracy extremely well.
The album's title track is delivered with gleeful heaviness, offering a contrast to the breezy singalong of Last Summer, the final single on the album's tracklisting.
And that's the sole major problem with tonight: by following the record so accurately, We Are Godzilla You Are Japan, for all its fury, dips at the end of the set. Instead of a triumphant, crowd-pleasing highpoint we're left with the sampled beat coda of Sway as Lostprophets slink offstage and the lights fade up.
Just a simple all-band bow, a salute to their frenzied fanbase, is all that's needed to cap a night that otherwise showed why Lostprophets, critically lambasted in their time, became kings of UK rock in 2004.
Did you go? What did you think? Feel free to comment! If you want to have your say, on this or any other BBC blog, you will need to sign in to your BBC iD account. If you don't have a BBC iD account, you can register here - it'll allow you to contribute to a range of BBC sites and services using a single login.
Need some assistance? Read about BBC iD, or get some help with registering.