Mostyn prepares for David Nash exhibition
Mostyn in Llandudno is currently gearing up for a new exhibition of the work of one of Wales' foremost sculptors, but as you can see from these pictures it's no easy task.
Blaenau Ffestiniog-based sculptor David Nash constructs works from wood, as well using living plants and trees to create art works - one of the most famous examples being his Ash Dome.
Many of Nash's works are often on a large scale. It took a specialist transport firm from Nash's hometown of Blaenau to deliver the pieces; three trucks, one fork lift, two pallet trucks and a lot of hard work was required to get the work into the gallery in about three hours.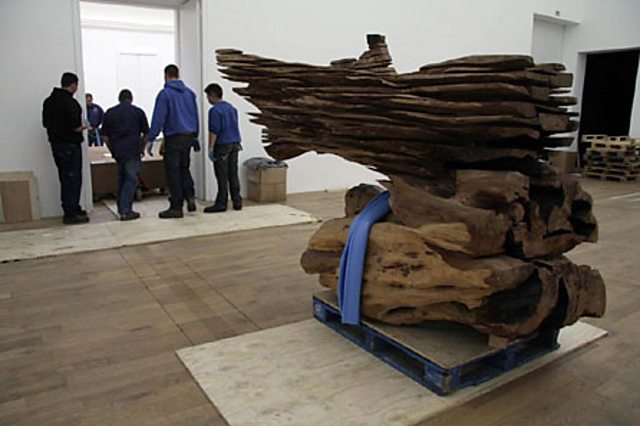 One of the Nash pieces on a pallet in the gallery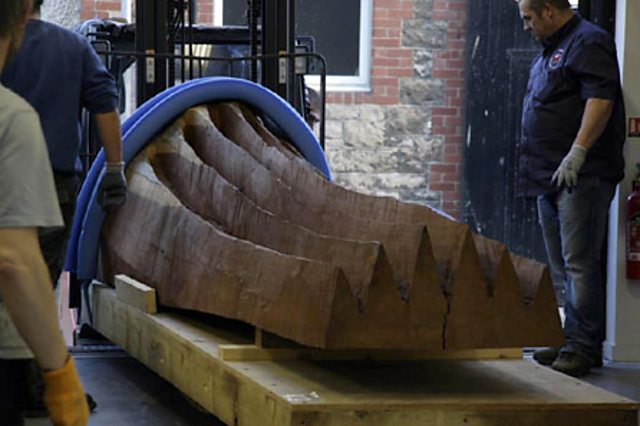 Another piece entering the gallery...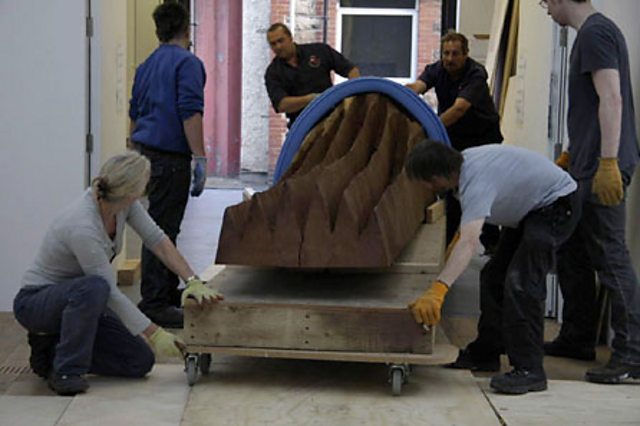 ... and being manoeuvred into position.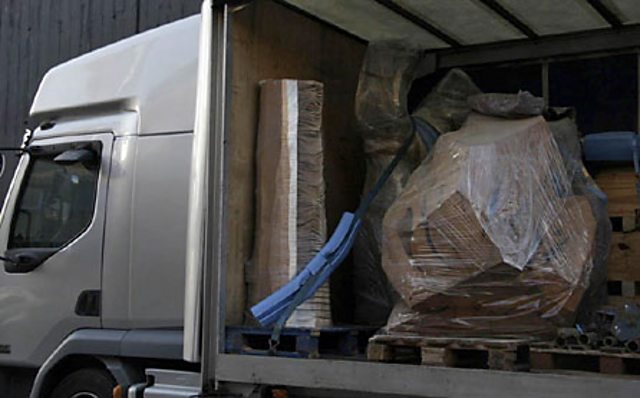 More sculptures waiting to be unloaded from the lorry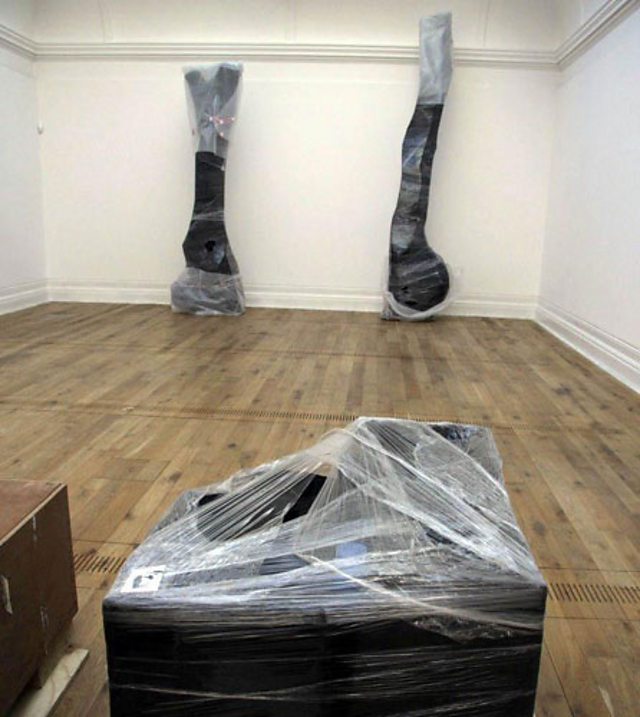 Some of the 'black' pieces by Nash. The sculptures can be seen, minus the protective Cellophane, in the exhibition that opens at Mostyn on 24 September.
All photos courtesy of Martin Barlow and Oriel Mostyn
This new exhibition of 25 works, four of which have been made especially for Mostyn, is entitled Red, Black, Other. It will examine the presence and function of colour in Nash's work, to date a largely unexplored theme in the artist's work.
Fire has been an essential component in Nash's work over the years, and some of the charred black pieces that will be on show include King and Queen, 1997 and Torso, 2009. Red pieces, made from yew and redwood, can be seen such as Red Sheaves, 2008 and Redwood Cutups, 2011 while other colours will be represented in works such as Blue Ring, 1992 and Sod Swap, 1983.
It will be the first time since the gallery reopened in May 2010 following its refurbishment and extension that an exhibition will take up all of the ground floor gallery space.
Red, Black, Other will open to the public on Saturday 24 September and will run until Sunday 13 November. Lord Dafydd Elis-Thomas will officially open the exhibition at 6.30pm on Friday 23 September.
You can see more photographs of the team unloading some of the huge sculptures on the Mostyn Facebook page. Plus browse the Mostyn website to see what else is happening at the Llandudno gallery.