I spent a nice couple of hours yesterday afternoon exploring
Newport Wetlands Centre
in the company of Bran Devey from the Countryside Council for Wales, Kevin Dupé - Reserve Manager and Dana Thomas from the RSPB.
The reserve is a partnership between the Countryside Council for Wales, Newport City Council and the RSPB and located a few miles south east of the city, right on the banks of the River Severn.
It's been on my 'to do list' ever since it first opened back in 2000 when it was created as part of a compensation package for loss of wildlife habitat, when the Cardiff Bay barrage was built.
Kevin and Bran: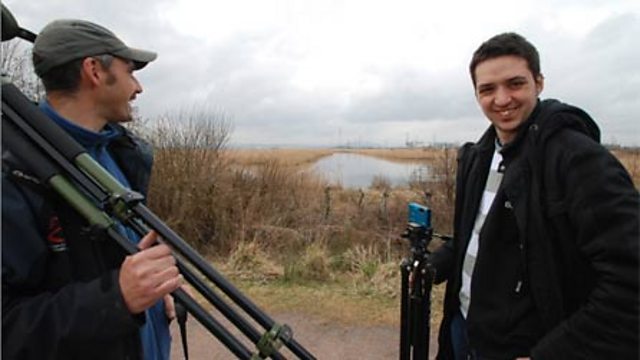 The site is located on former farmland and waste ground from the nearby Uskmouth power station, and as a result - much of the site was initially covered by layers of ash.

This created it's own problems as the ash made the soil very alkaline but within just a few years - the reeds had taken hold. Small clumps quickly turned into acres, growing like wild fire, across the 65 acre site.

The beds are carefully managed and cut at regular intervals. Some of the lagoons are shallow, and some deep, so the staff use a small motorised punt to reach reed clumps in need of a trim.

The habitat here is diverse - ranging from the muddy estuary and salt marshes to reedbeds and saline ponds (where rare avocet have been seen). There is also farm and woodland bordering the edges of the site where barn owl nest and marsh harriers cruise by in search of their next meal.

Even yesterday on a fairly overcast day, the views were amazing - a mixture of wilderness and industry giving the whole place a sublime feel.

You stand in this little wildlife haven - fixated by little grebe fighting, only to realise that you're being overlooked by large power station stacks a mile or so away. It's amazing how quickly nature can move into an area.

A view over one of the reed beds: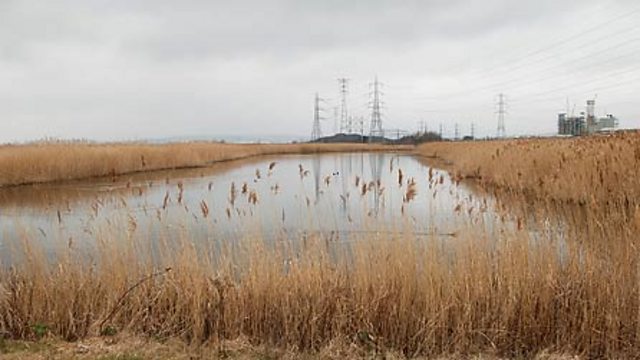 The swanky new visitor centre opened in 2008 and I've been reliably informed that it will eventually look like it's floating - once the reeds grow up around the edges. The cafe overlooks a large pond so a nice spot to have a cuppa and watch birds from.
I only saw around a third of the site but in the short space of time I was there, I saw: coot, great crested grebe, little grebe, shellduck, curlew, black headed gull, reed bunting, little egret, mallard, pochard, tufted duck, garganey, snipe, mute swan, greenfinch and blue tit - not bad for an hours walk!
I also heard cetti's warbler several times but never came close to seeing one of these shy little birds as they stay well hidden in the dense reeds. I also heard water rail calling but they too were staying well out of the limelight.
The East Usk lighthouse, constructed in 1893 and still going strong:
Crossing over one of the floating pontoons, Kevin pointed out some fresh otter spraint and told us he'd seen some fairly tame otter here on a few occasions, so that's great to hear.
Bittern arrive in the summer, once there are a few more fish around for them to eat but are not breeding at the reserve yet. Time will tell...
The fabulously exotic looking
bearded tit
does however breed here - one of the few sites in Wales, so I'll definitely be going back to try and spot one.
A highlight for me on this visit were seeing the small, but incredibly agile
reed bunting
- bouncing up and down in the wind on thin reed stems, whilst feeding on the seed heads.
Seeing a little egret, sat on a bed of reeds in the middle of a pond was great to see too. It's just a shame I took my wide angled lens by mistake, as it would have made a nice photo!
Feeling lazy? You can also cycle around a large section of the reserve on a designated track but don't forget to stop and look at the birds as you go!
A pile of old pallets is transformed into an insect hotel:
The site is popular with families and there are plenty of activities for the kids - including a children's play area (rare for RSPB sites as noise and birdwatching don't always go hand in hand!).
There are also raised ponds for kids to pond dip in safety from and various 'insect hotels' scattered about the place.
Pop into the reserve to find out more or visit the
RSPB website for a list of events
.
There's no postcode for the reserve so your Sat Nav won't be much use but here are the
directions on how to get there
. It's near Cardiff and only a stones throw away from Newport so give it a go one weekend.
Gull


Watch a video clip about Newport Wetlands Centre
Find out more about the bearded tit on the RSPB website.