Tom Jones and Stereophonics Brits duet tops poll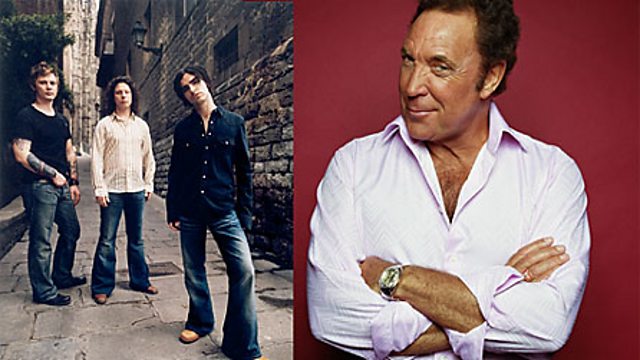 Stereophonics and Tom Jones
The annual music industry celebration has become well-known for its duets, but for me the best was PJ Harvey and Björk's version of The Rolling Stones' Satisfaction from 1994.
Unfortunately that didn't prove popular with the respondents, but luckily neither did Bon Jovi and Dina Carroll doing Sleep When I'm Dead, also in 1994.
In this week's news are Queen, who announced a performance at Sonisphere. In 2000 they performed with 5ive.
Rapping boybands with elder statesmen of rock? Whatever next?
In the Mastercard/ICM poll Jay-Z and Alicia Keys' performance of Empire State Of Mind also did very well, being narrowly pipped by the Welsh combo of Jones and Stereophonics. Lest we forget, that song gave the world Newport State Of Mind.
Three performances shared the accolade for Overall Favourite Brits Performance of All Time: Amy Winehouse's Rehab (2007), Take That's Back For Good (1995) and Michael Jackson's infamous Earth Song performance of 1995, when he was singularly upstaged by Jarvis Cocker's posterior.
Among the male respondents, embarrassingly, it was Phil Collins' Another Day In Paradise from 1990.
Music journalist Paul Lester said: "It makes sense that Stereophonics' and Tom Jones' performance at the 2000 Brits was voted the most memorable Brits duet of all time, because it followed Re-Load, the hugely successful duets album Jones released in 1999.
"What makes this duet so priceless is seeing performers from the same nation - Wales - but quite different generations trying to out-do each other for sheer energy and exuberance. No wonder it has gone down as one of the most popular duets in the history of the Brit awards."
Military Wives Choir are up, at tonight's Brits ceremony, for Best British Single for Wherever You Are, written by Wales' Paul Mealor.
Feel free to comment! If you want to have your say, on this or any other BBC blog, you will need to sign in to your BBC iD account. If you don't have a BBC iD account, you can register here - it'll allow you to contribute to a range of BBC sites and services using a single login.
Need some assistance? Read about BBC iD, or get some help with registering.