A Roman water wheel is being unveiled at the Dolaucothi Gold Mines in Carmarthenshire, two thousand years after the Roman miners left this part of Wales.
The wheel has been painstakingly recreated by local craftsman - Harry Guile, based on an original fragment found buried in the mines during the 1930's. It took him ten weeks carving full-time, using oak from the Dolaucothi Estate.
The finds, discovered underwater in one of the mines' vertical shafts, included Roman tools, which disintegrated as soon as they were brought into the light, The original piece of wooden wheel is now on display in the
National Museum of Wales
, Cardiff.
"I started with drawings and photographs of the original piece of wheel, then made a full-scale template in plywood, because it's such an awkward shape to create".
"The measurements to make a perfect circle have got to be exact and I have to admit there were times when it all got quite stressful."
"By the time the final oil finish was painted on, the whole thing just came to life. The only test then was to see if the wheel held water and after that was confirmed, I felt very proud of it."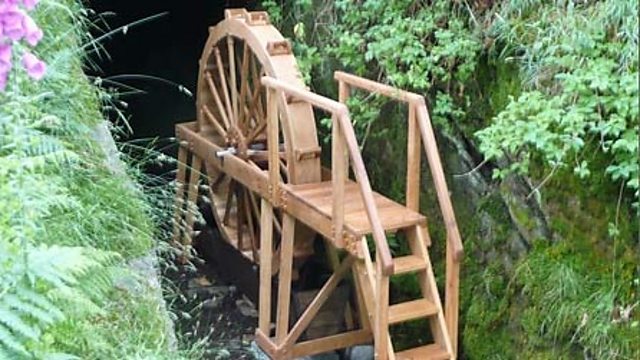 The wheel is a half-scale reconstruction of the original and measures six feet in diameter and is surrounded by a frame and staircase, so that visitors to the goldmines can try it out.
The structure was originally used by people who worked the wheel with their feet to clear water from the level where they were mining - a bit like a treadmill.
The new wheel has been installed in what is thought to be its original location, near the entrance to one of the two Roman 'adits' (tunnels) on the site.
Inside the tunnels, you can still see pick marks made by Roman miners two thousand years ago. The Roman themed season at Dolaucothi, begins on 1 May and runs until the end of July 2010.
It will include special Roman tours, giving an insight into what life was like for Roman miners as well as opportunities for children to dress up in Roman costumes and work the wheel.
You can find out more about
the Romans on BBC Wales History
.
Gull