Centre hopes to stop creative drain from Gwynedd
A group of young local artists in Caernarfon have teamed up for an exhibition which showcases urban art.
Happy Medium was originally formed locally in the Bangor and Caernarfon area, but recently branched out to include artists with similar ideas and interests from all over the world.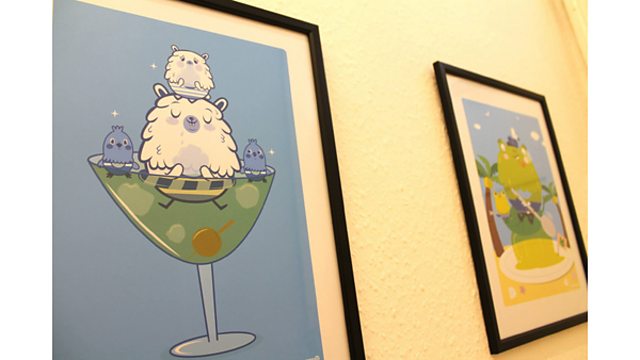 Work by Olla Boku on display at the Happy Medium exhibition. Image: Yvonne Tsang
Their show is currently on at an experimental arts hub which aims to promote young and emerging artists in the area and offer them careers close to home.
Ty Glyndwr is a non-profit young artist co-operative run by the arts organisation Bocs in Caernarfon and claims to be the first gallery in Wales where the programme of exhibitions is curated by young arts graduates.
Happy Medium opened earlier this month with a live music and art event and this weekend contributors will also be hosting a live art workshop and an artists' talk, which will also be made into a podcast.
I caught up with the arts centre's coordinator Dimitri Rastoporov, who said the space aims to give emerging artists a chance to exhibit as well as benefit from mentorship from those more experienced in the field.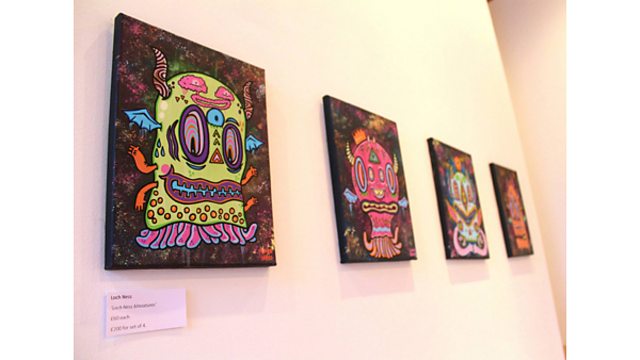 Work by Loch Ness on display at the Happy Medium exhibition. Image: Yvonne Tsang
He said: "We have been in our current space for just over a year but prior to that we were in the basement of Dafydd Hardy's estate agents for six years.
"The idea has always been to showcase young artists and counteract the drain of young art graduates from the area by providing a place they can exhibit, exchange ideas and get exposure.
"We hope the new space will establish a base that is accessible to all, with the ground floor providing an exhibition space but we are also working on opening up an incubation space on the other floors for young designers and a multimedia studio for designers, artists, and musicians. 
"There will also be a graphic designer who will help mentor those who are interested and they will have a space to meet and work with clients.
"We just want it to be a really vibrant centre for young artists with a supportive network so they can meet and grow their work rather than having to travel to Manchester and London to get the opportunity."
The Happy Medium exhibition runs until 2 February 2014. On Saturday 18 January, there will be an artist workshop at 1pm and a Q&A with the artists at 4pm.
The Bocs centre is open Wednesday to Sunday 11am-5pm at Ty Glyndwr, 20 Stryd Fawr, Caernarfon, LL55 1RH.
To find out more visit
www.bocs.org.uk
.