Gwen John, the other Pembrokeshire painter
Ask anyone to name a famous Welsh artist and the chances are they would respond with Augustus John. The wild, bohemian painter cut a swathe through British art and social circles in the 1920s and 30s and was widely regarded as the country's premier living artist.
But many people don't realise that Augustus was not the only artist in the John family. His sister Gwen was a fine painter in her own right and now, 75 years after her death, there are those who say she had considerably more talent than her rumbustious and publicity-seeking brother.
Gwendoline May John was born on 22 June 1876 in the west Wales town of Haverfordwest. Her father, Edwin, was a stern, hard-nosed solicitor in the community and his character, combined with the problems caused by an almost permanently sick mother, meant that Gwen's early childhood was not happy. However, her mother, Augusta, was a painter and she did attempt – successfully - to interest both Gwen and her son Augustus in the painter's art.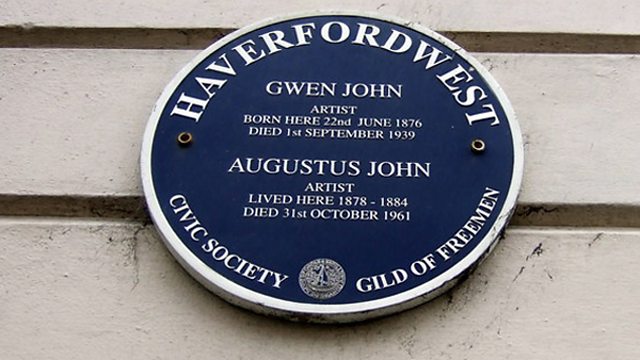 Plaque at Victoria Place. Copyright Ceridwen, licensed under Creative Commons
Matters did not improve after Augusta died in 1884 when Gwen was just eight years old. The family then moved to Tenby and care of the children was handed over to two spinster aunts. They were both staunch Salvationists and the chilly atmosphere in the John house did not improve. So it was natural that both Augustus and Gwen would choose to leave home at an early age.
Between 1895 and 1898 Gwen studied at the Slade in London, following in the footsteps of her already renowned brother. The two shared rooms for a while, living in what we would now call poverty and subsisting on a diet of fruit. In 1898 Gwen made her first visit to Paris, beginning a course of studies under the renowned James Whistler. Interestingly, she never returned to Wales after this visit to France.
Gwen held her first exhibition at the New English Art Club in 1900 but it was a form of selling or presenting her work with which she was unhappy. Apart from a solo exhibition in 1926 this was almost the only time she exhibited her work as an individual. Contributing one or two paintings to shows, yes; a whole exhibition to herself, no.
After spending time squatting in a derelict building in London, in 1903 Gwen and her friend Dorelia McNeil (later Augustus' second wife) set out to walk to Rome. They slept in fields and farmyards and survived by selling sketches that they made as they walked. They got as far as Toulouse before Gwen turned around and headed for Paris.
Over the next 10 years Gwen lived in Paris, well away from the furore that inevitably surrounded her brother. Augustus' personality and presence were overpowering and in order to be her own person Gwen knew there had to be distance between them.
She painted, drew and worked as an artist's model, particularly for Auguste Rodin. She became infatuated with him, became his lover and was apparently so persistent in her attentions that Rodin used to hide to avoid her. Such depth of feeling was part of Gwen's intense and highly charged character. Once she became involved with someone or something, she was there to the death.
In Paris Gwen met people like Picasso and Rilke but the new developments in the arts that were sweeping Europe in these years seemed to have little effect on her work. She was single-minded enough to know what she did well and nothing would cause her to deviate from her path.
In 1910 she moved to Meudon, outside Paris, and here she developed her mature style which, in the main, consisted of three-quarter length portraits of seated women. This began with her portrait of Mere Marie Poussepin from the Sisters of Charity Order in Meudon – perhaps an understandable subject as Gwen was received into the Catholic Church in 1913.
For the rest of her life Gwen John lived in Meudon, alone apart from her beloved cats. She did manage to acquire a patron in the shape of the American John Quinn. Starting in 1910, until his death 14 years later, Quinn bought many of her paintings. This meant she did not have to worry about exhibitions and selling to strangers, she could concentrate on her work. Quinn was also instrumental in persuading Gwen to allow one of her paintings to be included in the influential 1913 Armory Show in New York.
After the death of Rodin, the undoubted love of her life (even though they had long been apart), Gwen John was distraught. In her grief, she transferred her affections to Vera Oumancoff, a relationship that was to last until Gwen's own death some years later.
She continued to paint but on 10 September 1939, soon after the outbreak of World War Two, Gwen John collapsed. She was taken to a hospital in Dieppe and died eight days later.
Gwen's paintings, in particular the single figure portraits, are her version of 'intimism' and are startlingly but amazingly evocative in their simplicity and power. She produced paintings of her highly regarded cats, of townscapes and several still lives but it is by these portraits that she will always be remembered. The Encyclopedia of Wales comments:
"Gwen John was a quiet, reclusive personality whose paintings – contemplative in feeling and restrained in colour and brushwork – reflect these qualities."
She was the very opposite of her brother and may well have been a better painter because of it. She lived her life as she wanted and the autobiographical nature of the paintings she produced tell of a woman who felt deeply and had the skills to express her emotions.