Recording the new Doctor Who soundtrack
It has been a very pleasant week so far at BBC NOW HQ. On Tuesday, we were recording part of the new Doctor Who soundtrack. It's always lovely to work with Murray, Ben and the team, and it was nice to get to work on some of the new cues and themes for Doctor number 12! 
There was much excitement during our evening session as Peter Capaldi popped in to listen to some of the session. He was very lovely! He was also accompanied by another actor, but I won't say who, just in case they are in the new series and it's supposed to be a surprise. Spoilers and all that, you know!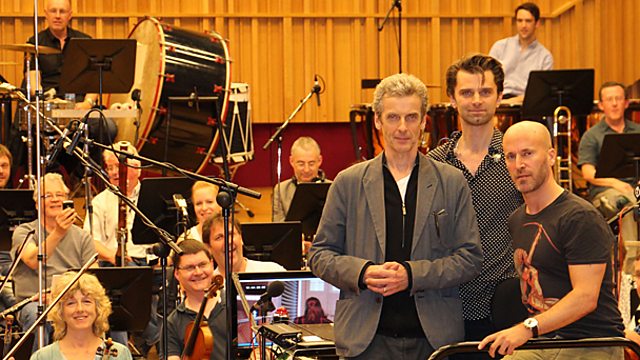 Peter Capaldi with conductor Ben Foster, composer Murray Gold and BBC National Orchestra of Wales
The next morning seemed to come very early as we began rehearsals for our season finale at St David's Hall. We started with a slightly reduced orchestra rehearsing Haydn's Symphony No 99. I like this symphony a lot, and it's quite a while since I last played it. It's always nice to come back to a work you enjoy, and I find there to be something particularly pleasing about Haydn's music. The viola parts seldom throw up the same technical demands as works by later composers, so you can enjoy concentrating on just making a really lovely sound. Also, the manner in which the bow is used in music of this period is beautifully simple and instinctive, so you can feel a really liberating sense of ease in the right arm.  
Later, we were joined by the rest of our colleagues to have our first look at Brahms' Ein Deutsche Requiem. Concluding their thirtieth anniversary season, it is fitting that our Cardiff season finale should focus on our Chorus, in a performance of the very first work they performed in 1983.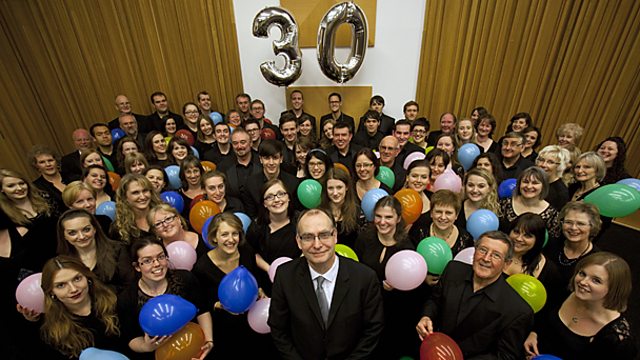 BBC National Chorus of Wales - 30th anniversary. Photo: Betina Skovbro
Brahms was in his early thirties when he composed the Requiem. This was almost a decade before he managed to conquer his symphonic demons and fully commit his first symphony to manuscript. I've always loved the drama of the Requiem genre. How chilling is the opening to the Mozart Requiem? How terrifying the Dies Irae of Verdi? Yet, in Brahms' hands, this Requiem at least tells a slightly different story.
The words of a Requiem normally follow that of the Roman Catholic liturgy, and focuses mainly on the fear of judgment, and prayers for the souls departed. However, Brahms pieced together his own text. Using passages primarily from the Lutheran bible, Brahms' Requiem focuses on comforting the living. During rehearsal, Thomas has sought to highlight the joy and happiness of belief and divine assurance apparent in this work.
And what a work of beauty this is. Unmistakably Brahmsian, the orchestral textures are lush but incredibly balanced, it is romantic without self-indulgence, tender without a trace of superficial sentimentality, and brilliant without a hint of brashness. I caught a snippet of the Chorus rehearsal last night, and they are in fabulous voice - I believe this will be a rather special season finale. Incidentally, if you have tickets to the First Night of the Proms, where our Chorus will perform Elgar's The Kingdom with BBC Symphony, I have no doubt that you are in for a treat.
On Friday, we will also be joined by soprano Gisele Stille (who you can also catch during WNO's new season, in Rossini's William Tell), and by baritone John Lundgren. We have had so many incredible guest artists this season and looking into the new season there are many more new names, as well as returning favourites, to look forward to. As we conclude the Cardiff season, we say a big thank you to our Cardiff audiences - it has been a pleasure to share this season's music with you, and we look forward to seeing you again in the new season.
BBC National Chorus of Wales / Corws Cenedlaethol Cymreig y BBC
To book tickets for the concert on Friday 13 June, call the orchestra's audience line on 0800 052 1812, or visit the St David's Hall website.