The Call Centre: The lows, the highs and global recognition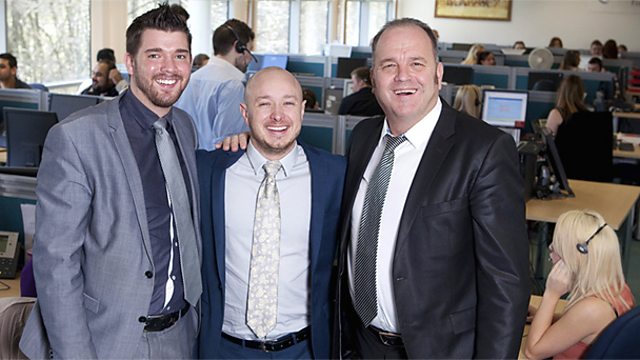 Phil Wilshire, Stephen 'Twe' Willams and Nev from The Call Centre.
I went from being on the front line of filming and dealing with the contributors, to dealing with all the things that go on behind the scenes that are essential to the smooth running of any production – schedules, budgets, contracts, copyright, paperwork, the list goes on.
Shortly after the first series aired, we headed straight back down to Swansea for nine months of intense filming.
In many ways it felt as if we had never left the call centre, many of the regular faces were still there - Griff, Twe, Thorpey, and of course the tea lady Hayley, but those of us who had worked on the previous series felt a difference when we returned.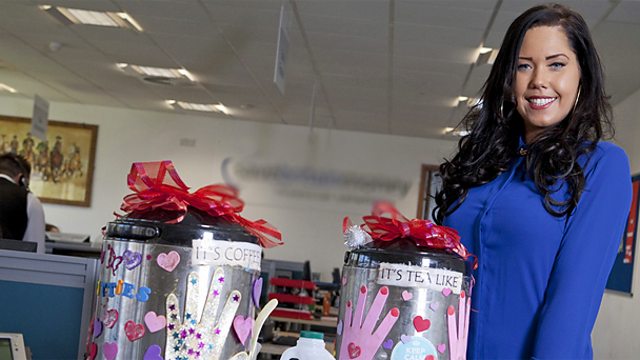 Tea lady Hayley Pearce who does not drink tea or coffee herself.
Nev and his call centre had gone through the lows of business and redundancies, to the highs of being part of a major BBC Three documentary series.
Many of the people we featured proved popular with the viewers and gained a fairly substantial following on Twitter.
This actually made filming somewhat easier for us as they were far more willing to trust our presence, knowing it had been successful.
The pressure of equalling - if not topping - the success of the first series was on.
I was glad to see that some things hadn't changed though - Nev was still up to his old maverick ways, involving himself in the romantic lives of his staff, and parading people on the sales floors.
Everyone's favourite maverick boss, Nev, and his extraordinary call centre staff are back
He even went as far as to challenge a member of his staff to a running race in exchange for his signature on a work permit to remain in the country - just another day at The Call Centre.
I don't think anybody could have predicted the success of the first series, nor the reaction it caused on social networks and the media.
By now, most people have heard of Nev and his unusual style of management and its success has even gone global. People as far as Australia have travelled to meet Nev at The Call Centre.
The Call Centre: Series two, starts on Tuesday 8 April at 9pm on BBC Three.