In man's 'roaming about' development, horse-riding followed walking, coaches followed horses, trains followed coaches, bikes slipped in there somewhere, along came motor cars and then, my favourite group movement conveyance trundled out: the bus.
Man oh man, my love affair with the bus goes back years. As I write I can see seven of them, all models, sitting on one of our bookshelves. My father was a coal-miner, but for years he changed to transport, and, when I was a little boy, his life was buses.
He worked nights in the James & Sons garage in Ammanford, fueling and cleaning the single and double decker buses, and, if a conductor or driver did not report in of a morning, he had to crew the service. I never wanted to be an engine driver; my dream was to be at the wheel of a Guy Arab double decker.
In fact, my dad arranged it on many an occasion. At night, when the buses turned round near my grandmother's house and then prepared to head down the road a couple of bus-stops to our house, I'd be lifted on to the driver's lap to cover the journey in the closed cab. It was a sacking offence for the drivers, but they didn't seem to mind.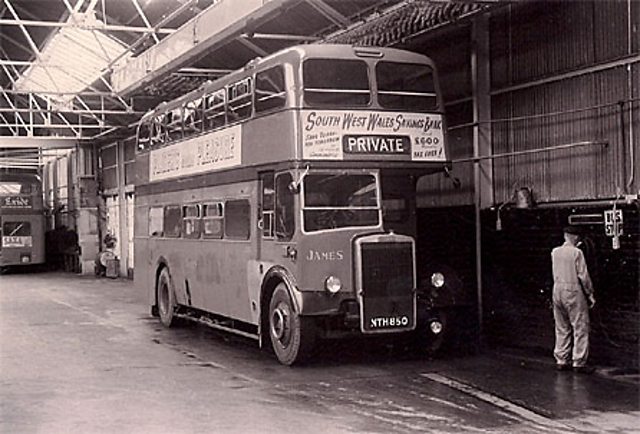 My father fueling a Leyland double decker in James' garage
The South Wales Transport AEC buses took us on shopping trips to Swansea from the terminus near the Derlwyn Arms. If we went to Swansea, it was a 'big shop', something like a suit for a funeral, otherwise we'd go on the lesser journey to Ammanford.
Buses took us to the grammar school every day. I remember one tipping over two miles from the school. No-one was hurt but it blocked the road, so in the following buses we all had a choice: a two-mile walk to school or five miles home. We went home.
Buses took us to Barry or Porthcawl on the Club and Institute annual trip, when over a dozen of them lined up to take the woman and children to the seaside. No-one wanted to go on Twm from Garnant's bus. He was a slow driver, always the last to get to the sea. On the journey I swear the bus, a 29-seater Bedford, was never further than two feet from the hedge or pavement. You could pick daisies as you went.
Once a year, on our holiday, an Ebsworth double decker would take us, as a family, from Carmarthen to Tenby to stay with my grandparents for week. I was allowed to stand all the way, grabbing the rail at the front window upstairs so that I could be first to see the sea and shout "I can see Caldey Island look... over there Mam... over there!"
Gwaun Cae Gurwen was Check Point Charlie. You could get a bus there for anywhere in the world, with connections. Western Welsh passed through the village, as did the United Welsh, the South Wales Transport and James of course. The James buses had a green light hanging in the front so that you could identify them in a fog and the older double deckers had wooden slatted seats, so coal-miners in dirty clothes could sit on them with no bother.
Pitted baths were not built in coal-mines then, and some bus companies were fussy, Miners coming off shift were not encouraged on the Western Welsh buses, which served the longer routes to Carmarthen and Cardiff, because they were 'posh' with plush seats.
When the sap was on the move, buses took us home from dances. They left the Regal Ballroom at a quarter to 12 and there was no point getting interested in a girl who was taking a bus in the opposite direction to you. After the question, "Do you want to dance?", the next one was "Where do you live then?" If she said Tycroes, there was no point having a second dance because that village was not on the Amman Valley route. If she was from Glanamman, Garnant, G.C.G., Brynaman or Cwmllynfell, that was a different kettle of fish. Things could develop as it were.
Oh yes, buses and me, we've been very close. Some years ago, on a New Year's resolution whim, I decided I wanted a bus licence. I got it too, although learning in Skewen was hell. It's all uphill, with double parking everywhere. I even bought half a bus - don't ask which half - an ex-Aberdare Council 1973 Bristol RE single decker. I haven't got it now, but I look back on it fondly.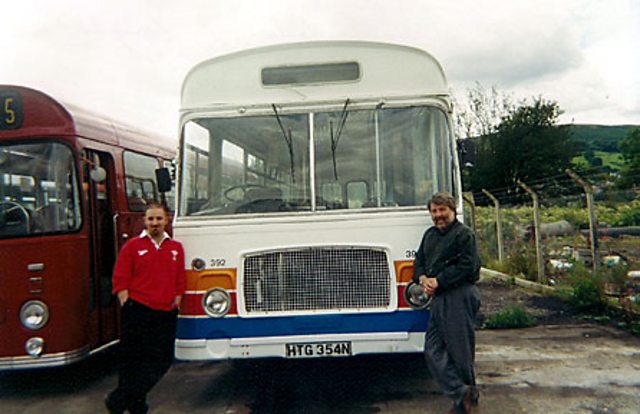 Me and my son Richard leaning on my bus, the ex-Aberdare Council 1973 Bristol RE.
I even wanted to have a series on television called Return Ticket. Someone could hire the bus, or coach, fill it with their friends and re-visit somewhere that held fond memories for them. I'd drive it of course. Now wouldn't that be something?
Roy
Roy Noble is bringing his famous storytelling skills to a computer near you as part of the BBC First Click Campaign - aimed at encouraging people to take their first steps to getting online. If you know somebody who needs help to get online, call the free BBC First Click advice line on 08000 150950.