Sobers hits the cricket world for six
The date is 31 August 1968. The great West Indian all-rounder Gary Sobers strides to the wicket at St Helen's in Swansea. He is playing for Nottinghamshire in a county match against Glamorgan. And he is about to make cricketing history.
In one devastating over Sobers proceeds to smash the unlucky Glamorganshire bowler Malcolm Nash for no fewer than six sixes. Words cannot hope to catch the excitement and the enthusiasm of the crowd as ball after ball is dispatched over the boundary ropes. It is cavalier cricket, as only the West Indies teams seem able to play, at its very best.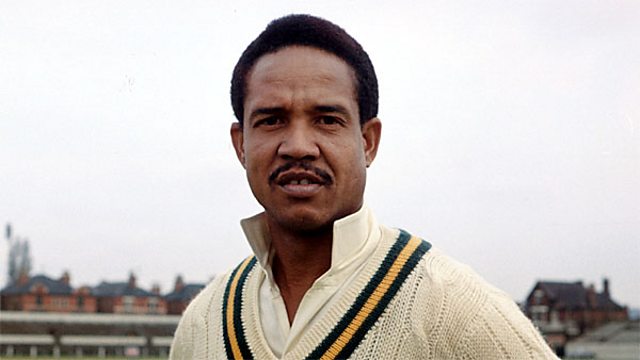 Gary Sobers
Sobers' score of 36 runs for the over is a new world record, beating the previous highest score - five sixes and a four - of 34. That old record was held by Ted Alleston and had stood for 57 years. Nobody ever thought it could be equalled, let alone beaten, but they reckoned without the mercurial Gary Sobers.
Garfield (Gary) Sobers was born in Bridgetown, Barbados on 28 July 1936 and made his cricketing debut for the island when he was just 16 years old. A good all-round sportsman who also excelled at soccer, Sobers knew where future lay in cricket, and it was not long before he was playing for the full West Indies team.
His rise to success and fame were meteoric. Although initially regarded mainly as a bowler it soon became clear that this was no ordinary talent. He could bat, bowl and field with skill and agility that left lesser mortals gasping in wonder.
Over the next few years he took the sporting world by storm. He recorded what was then the world's highest test score when, in 1958, he made 365 not out. It was a total that stood for over 30 years and was only beaten in 1994 when Brian Lara recorded 375.
Knighted by the Queen for his services to sport, Sobers' achieved many wonderful highlights in his career. But his greatest moment undoubtedly came at Swansea in 1968.
Malcolm Nash, the Glamorganshire bowler, was a very good cricketer who normally bowled medium fast deliveries. That day he was experimenting with slow bowling - as he later said, Sobers ended his slow bowling career on 31 August.
Five of his deliveries were smashed over the ropes, one of them disappearing into St Helen's Road. The fifth ball, however, was actually caught by Glamorgan fielder Roger Davis. Unfortunately for Davis - and for Nash and Glamorgan - he toppled over the boundary ropes as he caught the ball.
Sobers smiled ruefully. Only a season before that would have been judged out but the rules had just changed. From the 1968 season onwards, balls that were taken over the boundary fence by a fielder were to be given as runs. So it was another six for Sobers.
By becoming the first batsman to score six sixes in an over - in the first class game - Gary Sobers ensured himself a place in the record books. No matter how many times he played for the West Indies, no matter how many centuries he managed to score, people still want to know about the time he hit six sixes in one over.
And Malcolm Nash is not forgotten, either - although he would probably prefer not to be reminded of the occasion every time a journalist talks to him. After his retirement from the game Nash moved to California in the USA where, for years, he worked to encourage American youngsters to take up the game of cricket.
Sobers' record stood alone and unmatched - it will, of course, never be bettered - for many years. It was equalled when the Indian batsman Ravi Shastri hit six sixes off the bowling of Tilak Raj while playing for Bombay against Baroda in 1985, a feat that effectively ended Tilak's cricket career.
England fast bowler Stuart Broad also suffered the indignity of having his bowling smashed for six sixes in 2008 but this was in a Twenty20 game and conditions and intent were very different from the first class county game.
Gary Sobers remains one of the most magical cricketers ever to play the game. And it is good to think that Wales - in the shape and form of the old Glamorganshire ground at St Helen's - managed to play a part in one of his greatest achievements.