Before the rain washes away the memories
The alleged summer of 2012 has been the most musically intense of my life so far. I've been too busy to eat, for the most part; although my ballooning gut is a mighty contradiction to that statement.
And 'busy' in this instance isn't 'busy' as in 'work'. It's 'busy' as in completely immersed in the opportunities and experiences that have come my way. If I'd tried to detail them here as I went along, I wouldn't have been able to keep up with myself.
So, for the sake of all of the memory cells that have been irrevocably ruined by the late nights incumbent with musical experiences, I will aim to chronicle what has happened this summer as briefly as I'm able, before the key details are washed away forever.
This summer of sounds and fields began with 2000 Trees. That's detailed at great length elsewhere on these blogs. But that was something of a watershed. I hadn't done an outdoors festival before that muddy avalanche of a weekend in Cheltenham since 1997. I was about to make up for lost time.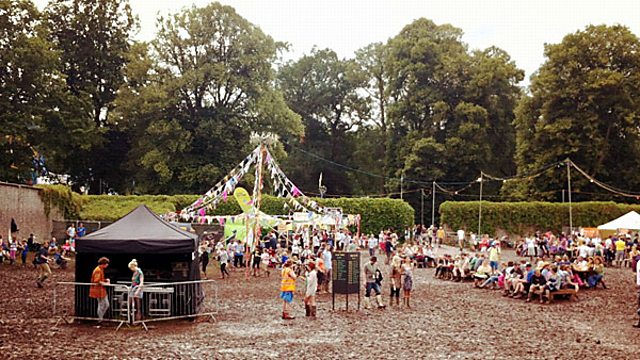 Walled Garden stage at the 2012 Green Man Festival
Green Man Festival encompassed so many different sights and sounds I could lay waste to tens of thousands of words on them, easily. I had never been before. That had been a source of shame for a number of years. Being self employed and only getting paid for Friday night and Saturday night work makes festivals necessarily someone else's luxury. But this year I'd had enough of missing out. I bought a tent and another pair of wellies and drove down to Glanusk.
I was there in my capacity as a DJ. My Crackling Vinyl friends and I had travelled down to play old records between bands on the Walled Garden Stage. We thought we were DJing on the Friday only, but it transpired that we DJ'd there for the whole weekend. Elin Bach playing her 60s 7"s; Ben 'Soundhog' Hayes was on fuzzy psych and occasional whimsy; me on ace Welsh and tropicalia.
I've never had that much fun in my life. Despite the records skipping for the first day due to a bouncy stage, and a prohibitively long scamper to the nearest toilet - praying that the record would last long enough for relief - it was a salad weekend long past the point where I thought I'd find salad salad that wasn't brown at the edges or as wilted as Liverpools FC's title ambitions after the first game of the season.
And I got to see more or less every band who played the Walled Garden Stage. Highlights? Well, on the Friday the stage had been programmed by Swn Festival. There was a mixture of artists I'd seen before (Cate Le Bon, Sen Segur, Greta Isaac, Mowbird); artists that I'd been lucky enough to support on my show, but who I hadn't ever seen (Chailo Sim, No Thee No Ess and Joanna Gruesome) and a handful of completely unknowns, from my perspective, at least (Vadoinmessico, Kwes and Lucy Rose).
Despite the rain that fell so biblically I could have sworn I saw an ark bobbing on its way to the main stage, the bands were unbowed and excellent. Greta's opening set was delicate and charming. Sen Segur grew wings and soared above the laden clouds as their set of Welsh psychedelia progressed. They surprise - and break the well-used Welsh psych mould - by being heavier than their contemporaries - more hallucinogenic Sabbath or Hawkwind than Forever Changes-era Love. They're not really fit to be mentioned in the same breath as those bands yet, but they're not an un-leap-able distance away, and they get the first bout of frenzied welly-glomping going in the mud soup front of the stage.
Wrexham's Mowbird don't seem to fit the Green Man ethos, on paper at least. They're rougher, less schooled and chamfered than the majority who'll grace Glanusk's stages over the weekend. The rain goes apocalyptic during their set. All the little droplets joining together in a ceaseless torrent.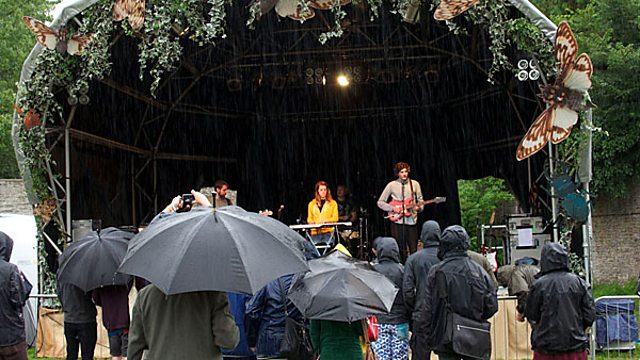 Mowbird at the 2012 Green Man Festival
But no one seeks shelter. Stage hands are poking the roof to displace swimming pools of water before the canvas splits. The rain's running down my back and I can hardly see - but I can hear and Mowbird's Fisher Price Dinosaur Jnr, all fuzz and fishing hook melodies, is uncontrived and very brilliant. The sizeable Wrexham contingent in the crowd look on with pride.
Joanna Gruesome are from a similar gene pool. There is more hardcore in their playlists of influence, no doubt. They manage to sound polished and thrilling - great vocals and twists and turns elevating them high above the morass of contemporary 'punk' bands whose songs may as well have been found in Paint By Numbers books. The rain backs off as a mark of respect.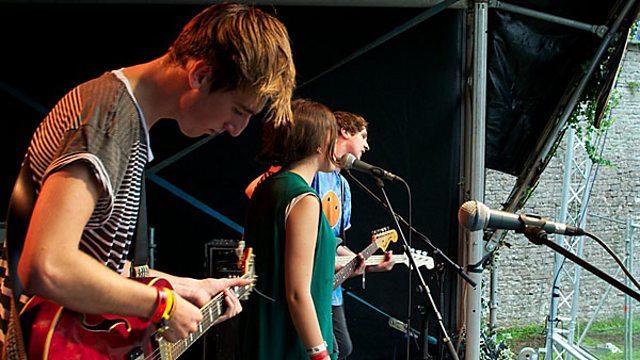 Joanna Gruesome at the 2012 Green Man Festival
My memory is that the sun shines for Vadoinmessico. Their music - vibrant with Latin rhythms and sparkles of melody and harmony as infectious as anything in Vampire Weekend's songbook - bathes us in warming rays and paints holiday grins on everyone's faces, regardless of what the slacker sun is up to. Who needs the sun? This is my joint favourite set of music of the whole weekend.
There are a number of joint favourite sets for the weekend. It was that kind of weekend.
No one surpasses Cate Le Bon's set, though. It's not a competition, obviously but hearing Cate's lysergic fairy tales - nursery rhymes for woozy grown ups - as the stars puncture the clouds, was a transcendental experience. I don't believe in ley lines. I do believe that nothing frees the human spirit better than great music. My spirit is giddy with excitement during Cate's set. Well, until I have to rip myself away to attend to DJ duties. Perfect, and unforgettable.
The first day ends with us playing records to a field full of the finest nutters.
And this was supposed to be 'in brief'. I'm doing my best, I promise you.
I'll compress the rest of the weekend's highlights into a couple of paragraphs. Georgia Ruth is sublime and surprising on the Saturday. She has evolved so much since the last time I saw her. Her roots are still in Laurel Canyon, but the new branches dare to reach out in different, frequently surprising, directions. Week of Pines has a motorik drive to it. Whatever the experimentation, all is sown together with great craft and soul by Georgia's voice - in my opinion, one of the wonders of the musical world. Her debut album will be as unique amongst the legions of folkish songwriters as Cate Le Bon's have been. Now is the time to be brave and distinct. There are few braver, or more distinct, than Georgia.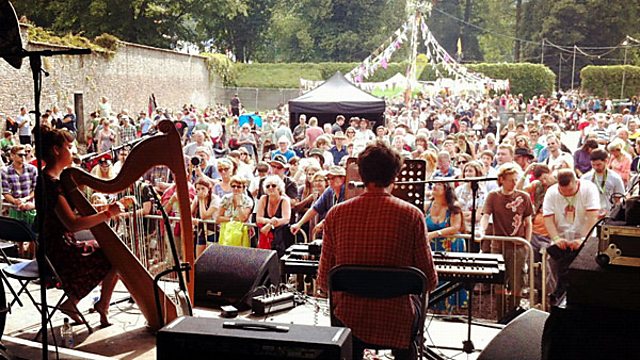 Georgia Ruth at the 2012 Green Man Festival
Laura J Martin's Saturday evening set - burnished by the first real sunshine of the weekend - clashes with Van Morrison's early headline appearance on the Main Stage. Laura is visibly delighted to see that a field full of people have chosen her quixotic and delightful charms over Van's wagon train of legends and history.
She casts the most unlikely of spells for one woman with a flute, a mandolin and a loop station. I write 'loop station' as if I understand the digital mojo contained therein. I don't. I don't need to. Laura's songs are as bright, cheeky and delightful as garden birds. Who doesn't love garden birds? We all love Laura J Martin.
By the time Daughter play on the Sunday night, despite trenchfoot and sunburn, I am wholly smitten by Green Man. There is so much more I could have written about. The abundance of friendly faces. Watching the dawn coming (no, not just mist Elin Bach) across the backs of the Black Mountains. Bumping into a friend from primary school whilst watching Time & Space Machine cover God! Show Me Magic. Kedgeree and doughnuts for breakfast. Pete Paphides' excellent Vinyl Revival set. Meinir and Gareth JustPlayed and Mr Mlynarski and Kai and Grace and Leo and Huw and Rebecca and Tim and countless others beaming. All the time beaming. Ben dancing round his umbrella in the mud. Cate doing a Britney Spears dance on a picnic table...
Better late than never, I hope. The new Welsh artists acquitted themselves gloriously. If this has persuaded you to try Green Man for the first time next year, bring waders AND suncream. And if you see a red-faced DJ who looks a bit thirsty, he is thirsty and his is a pint of ale. Or cider. Your choice.